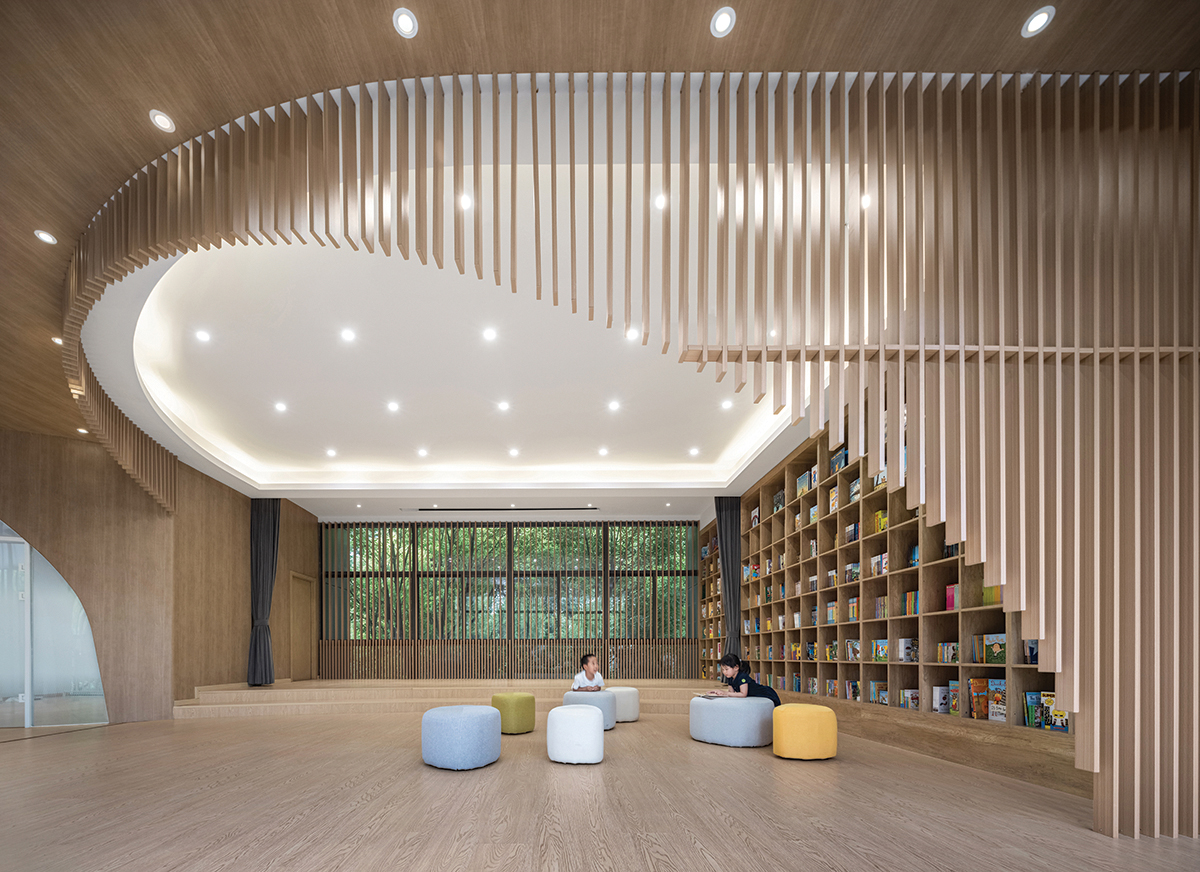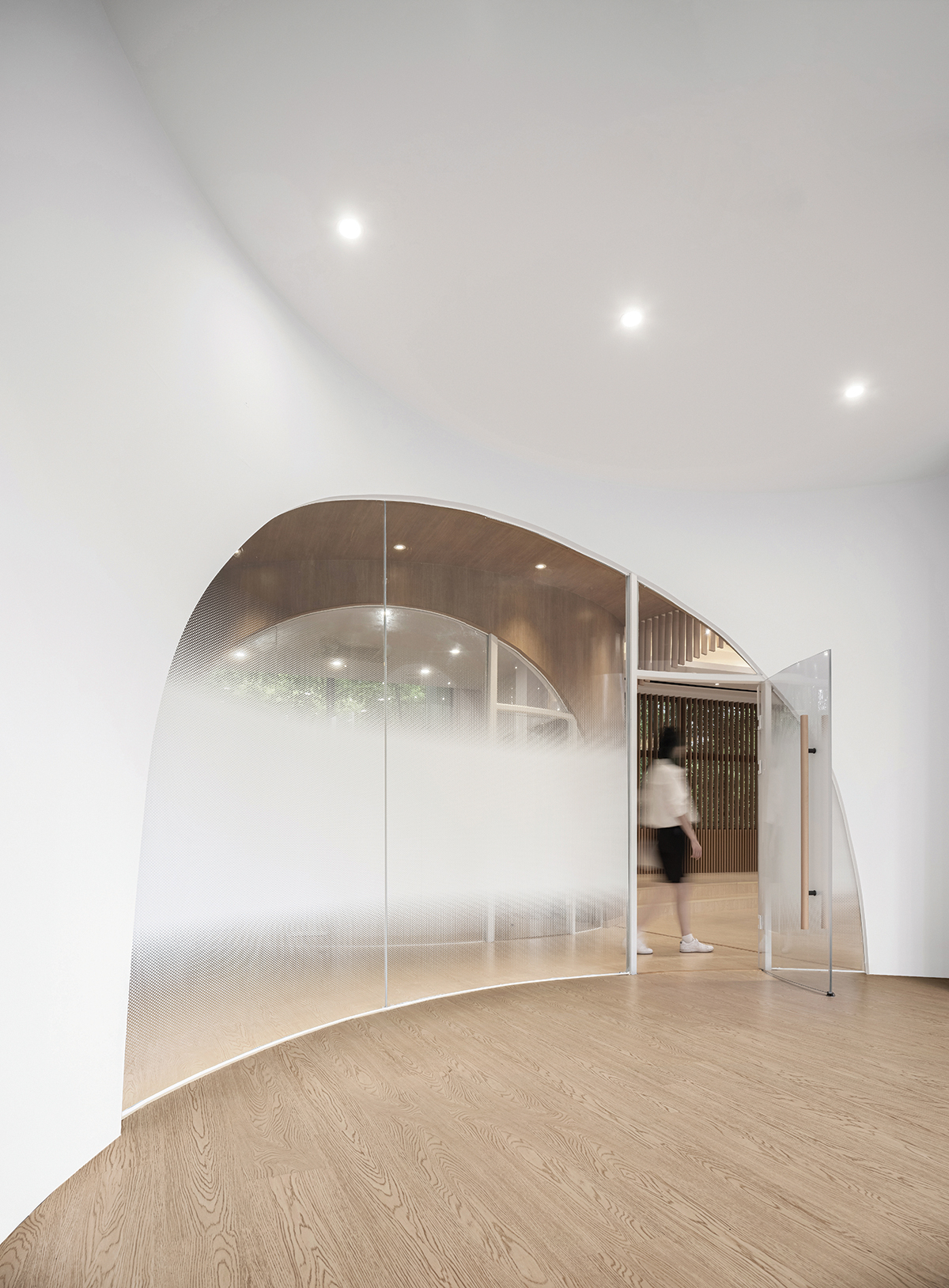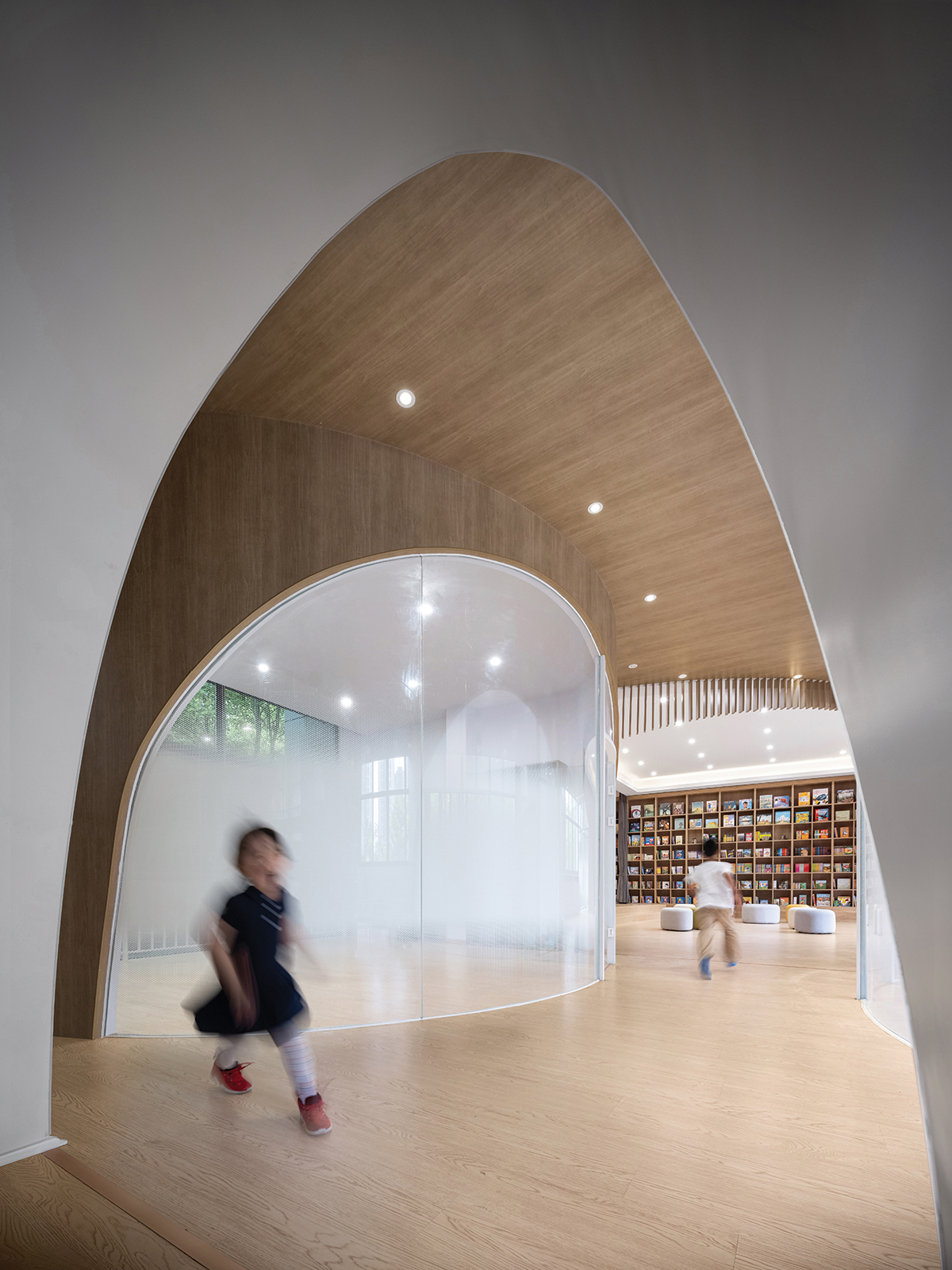 Jiangwan City Children's Activity Center is located in the west of the International Exhibition Center in Jianye District, Nanjing, on the former site of the original Yanlord International Jiangwan City Sales Office. Adhering to the concept of sustainable development and taking into consideration the beauty and practicality of the space also the safety and health of children, FANAF design team aims to create a small world different from the community in the fast-paced urban living space. On the basis of satisfying children's playfulness, In order to adapt to the teaching activities of different quality and level. The original building is a regular rectangle, and the internal space has a number of columns that hinder the division of the area. On the contrary, FANAF design team extended the stretch of the internal space by integrating the extra vertical lines in the space, at the same time, the space enclosed by multiple rounded corners was used the continuous curved walls are connected to make a zigzag corridor using the negative space generated to guide the transformation order of the functional space.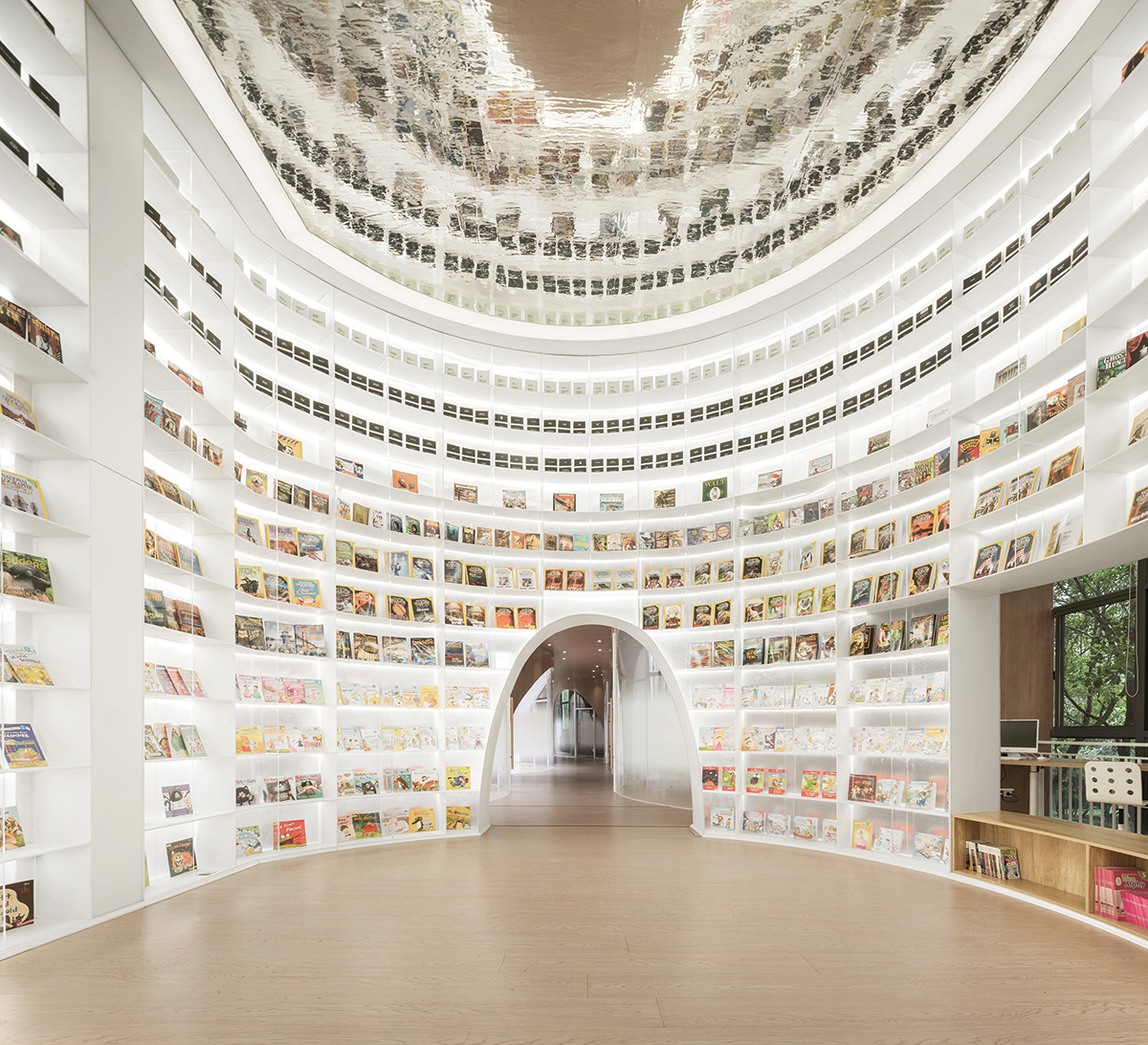 In the visual center of the space, a pure white "Pearl" book tower is set, and around it, there are multiple language learning classrooms, programming and practice classrooms, small performance stages, lounges for children aged 6-15. There are other supporting spaces to meet the needs of teaching, reading, hand-made and daily activities. Each space is extended with minimalist and soft colors. The development of the design concept is based on the theme of scallops and the ocean. The inspiration comes from the curve of the scallop's abstract form change. At the same time, it has both educational independence. In the entire fusion space, children are given more room for imagination.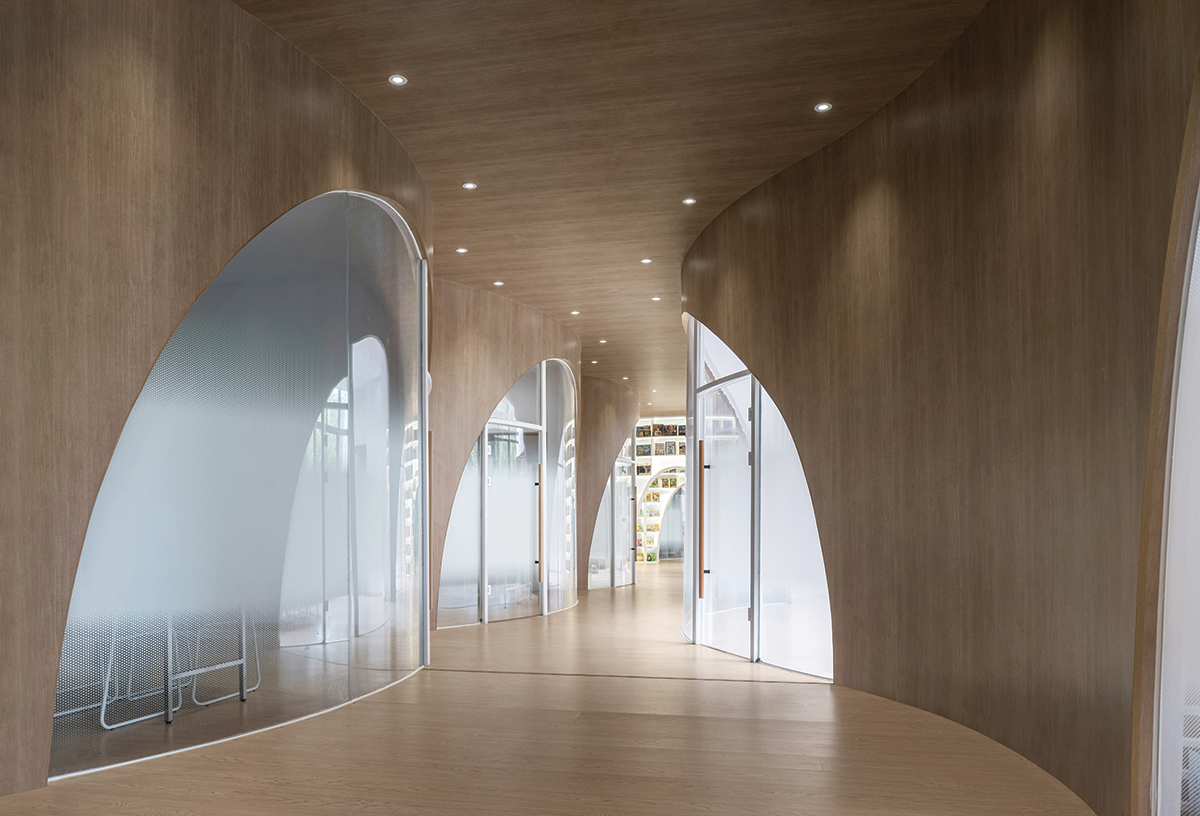 The "book tower" located in the center of the space vision is the core of the entire space. In addition to the decorative function, the stacked book tower can be linked with the children's "reading card". As the grade rises, the book tower can be lit up step by step until graduation. While adapting to educational needs, it can stimulate children's interest in reading. In the use of colors and materials, the overall space design is extremely simple but focused on the sense of detail. The wood decoration and white latex paint are used to lay the pure tone of the space; the semi-transparent polka-dot tempered glass is used for safety and boundary; the wall corner, Door handles and other facilities are treated with rounded corners, soft decoration in the space fully considers the scale of children and daily activities. Where children's hearts are directed, all educational spaces are optimized in a design way; where children's limbs are, all sharp edges are protected by soft arcs. Through the reorganization of the design language, it creates an educational and entertaining space for children.
저작권자 ⓒ Deco Journal 무단전재 및 재배포 금지