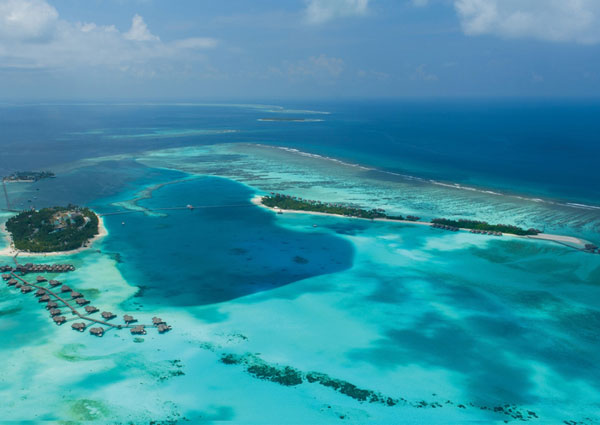 콘라드 몰디브는 독특한 비치 빌라와 스위트룸을 갖춘 현대적이고 고급스러운 리조트다. 환경과 완벽한 조화를 이루고 있는 생활공간은 실내와 옥외 공간을 통합하여 건축적으로 설계되었다. 촛불, 꽃 장식, 샴페인과 함께 하는 'Bathing Experience'는 콘라드 몰디브 리조트의 자랑이자 꼭 경험해 보아야 할 럭셔리한 입욕 체험이다.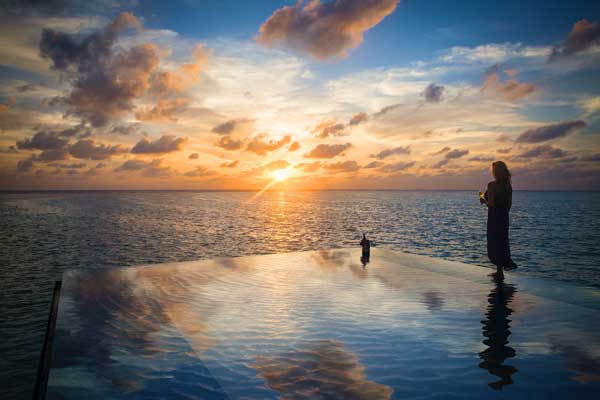 BEACH VILLAS AND SUITES

Conrad Maldives Rangali Island features three distinctive Beach Villa and Suites accommodations, spanned across two islands, featuring contemporary design and unpretentious luxury. Each villa features architecturally designed facilities and amenities that combine integrated indoor-outdoor living spaces that sit in perfect harmony with the environment.
The stand out feature of the Villas and Suites if the outdoor bathing pavilion with a deep sunken bath which can be filled upon request for a luxurious 'Bathing Experience' ritual, featuring candles, decorative flowers, a half bottle of champagne and a choice of essential oils.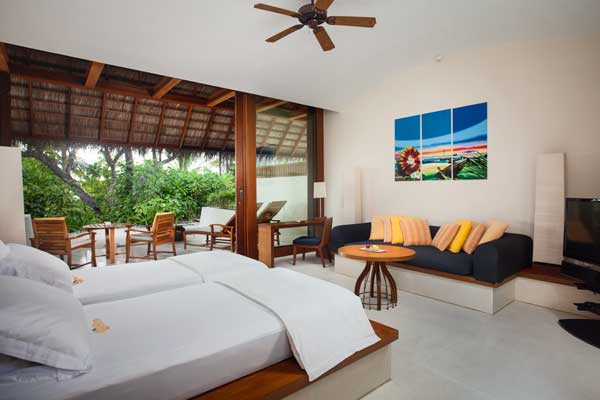 BEACH VILLA

Located on Ranglifinolhu Island, all 35 Beach Villas feature private beach access and an intimate terrace area as well as a unique open-air garden bathroom with a thatched roof bathing pavilion, perfect for romantic evenings or indulgent afternoons.

비치 빌라는 전용 해변과 개인 테라스를 갖추고 있다. 또한 따로 설치 된 지붕 아래 독특한 야외 욕실이 있어 로맨틱 한 밤, 오붓한 오후시간을 보낼 수 있다.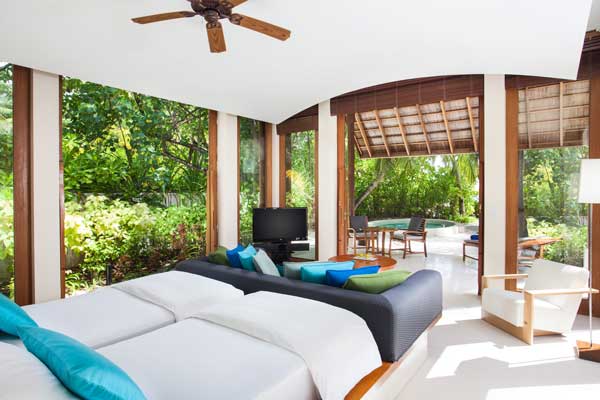 Deluxe Beach Villa

42 Deluxe Beach Villas are found on Rangalifinolhu Island, each featuring their own private garden and plunge pool and an abundance of space illuminated by light from floor to ceiling glass windows, a standout feature of all Beach Villas and Suites.
Rangalifinolhu섬에 위치한 고급 비치 빌라는 각각 개인 정원과 수영장을 갖추고 있다. 바닥에서부터 천장의 유리 창문까지 공간을 풍부하게 비추는 빛은 이 공간의 두드러지는 특징이다.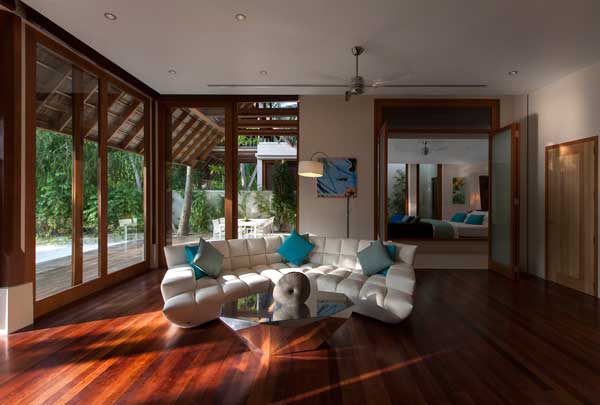 Junior Beach Suite

The two luxuriously appointed Junior Beach Suites are comprised of a spacious Deluxe Beach Villa with an additional living space overlooking the Suite's private pool and terrace area. One Junior Beach Suite is west facing and enjoys spectacular sunset views, whilst the other Suites on the east of the island benefits from a spectacular Maldivian sunrise daily.
2개로 구성 된 주니어 비치 스위트룸은 개인 수영장과 테라스를 포함한 부가적인 생활공간의 넓은 고급 비치 빌라로 굉장히 호화로운 룸이다. 서쪽을 향하고 있는 하나의 주니어 비치 스위트룸에서는 장관인 일몰을 즐길 수 있고, 반면에 반대쪽인 동쪽을 보고 있는 스위트룸은 몰디브의 눈부신 일출을 매일 볼 수 있다.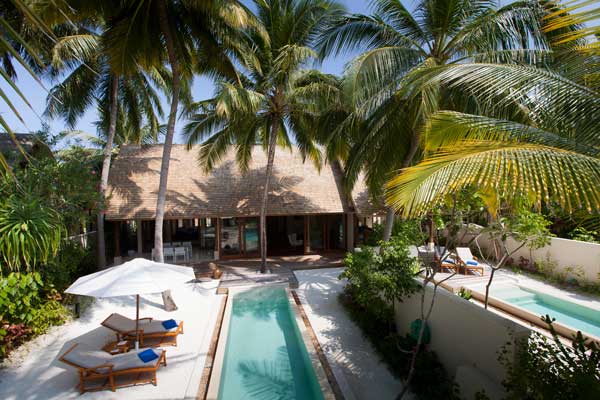 Beach Suite

Our most spacious and luxurious Beach accommodation, the two Beach Suites each enjoy private beach access as well as two private plunge pools, two bedrooms, two open-air bathrooms and one large, stylishly appointed communal living area overlooking the pool and terrace. Each Beach Suite is located on Rangalifinolhu Island, with one enjoying daily sunrises and the other being in a prime location to enjoy the spectacular Maldivian sunsets. Guests staying in a Beach Suite also benefit from the service of their own Private Island Host to attend to their every need.
리조트의 가장 넓고 고급스러운 비치 숙박 시설로, 두 개의 비치 스위트룸에서는 각각 전용 해변과 두 개의 전용 수영장, 두 개의 침실, 두 개의 야외 욕실과 하나의 큰 욕실 그리고 수영장과 테라스를 바라보는 세련된 공동생활 공간을 즐길 수 있다. Rangalifinolhu섬에 위치해 있는, 비치 스위트는 아름다운 몰디브 석양과 일출을 즐길 수 있고 프라이빗한 서비스 혜택을 받을 수 있다.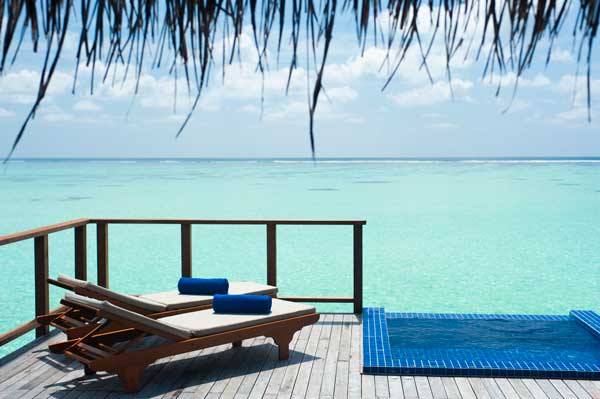 Water Villas & Suites
There are a total of 72 over-water villas and suites on Rangali Island, perched on silts above the Indian Ocean. Each room type offers guests a completely different style of accommodation and overall island experience. Each Villa and Suite features its own private plunge pool or Jacuzzi and stairs leading into the Indian Ocean.
인도양 위의 미사에 자리한 물 위의 빌라와 스위트룸이다. 각 방에는 개인 수영장과 자쿠지(거품욕 욕조) 그리고 인도양으로 통하는 계단이 있어 유형에 따라 손님들에게 완전히 다른 숙박 시설과 섬 체험을 제공한다.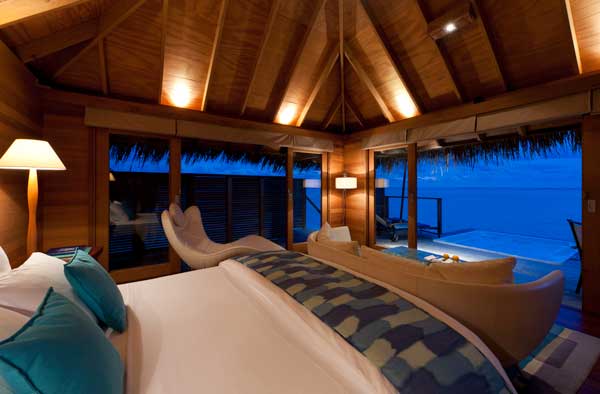 Water Villa
Each Water Villa on Rangali Island blends traditional Maldivian design seamlessly with stylish and contemporary features. A private sun terrace comes complete with a plunge pool and stairs leading directly into the Indian Ocean, whilst the white sand beaches are only moments away.
워터 빌라는 전통적인 몰디브 디자인과 세련되고 현대적인 특색을 융합한 방이다. 백사장과는 조금 떨어져 있지만 수영장으로 바로 갈 수 있는 일광욕 전용 테라스와 인도양으로 통하는 계단이 있다.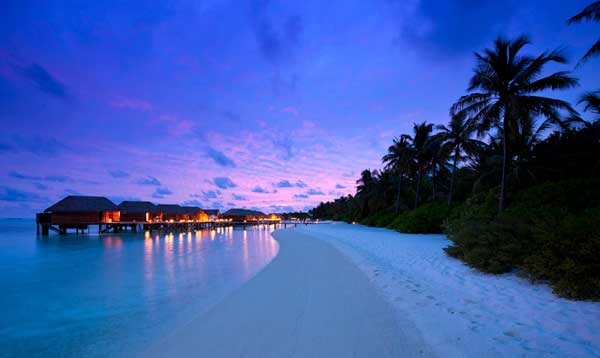 Superior Water Villa
Offering all of the pleasures of a Water Villa, the Superior Water Villa also features a jacuzzi on the sun deck and a luxurious king size bed which faces directly to the ocean, ready for those awe inspiring Maldivian sunsets.
모든 즐거움을 제공하는 우수 워터 빌라는 테라스에 태양을 바라보고 있는 자쿠지와 킹 사이즈의 침대가 가슴 뛰게 하는 몰디브의 석양을 만날 수 있게 준비되어 있다.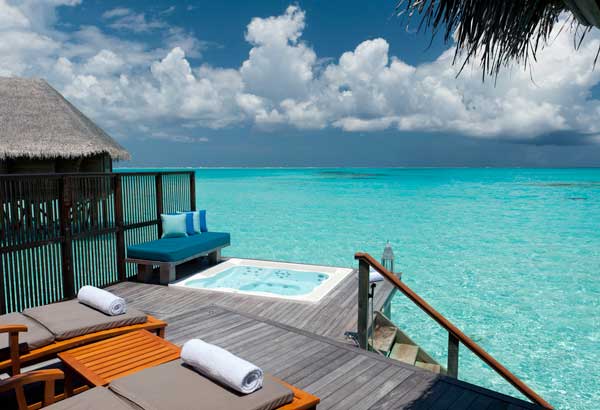 Retreat Water Villa
15 spacious Retreat Water Villas offer unique and luxurious accommodation within the Spa Retreat area, with both the Spa Retreat and Mandhoo Spa Restaurant close by. These two roomed villas come complete with their own double spa treatment room as well as a jacuzzi on the spacious sun deck. Offering complete seclusion from the rest of the resort, the Retreat Water Villas have been created with pure relaxation in mind.
리트릿 워터 빌라는 Mandhoo 스파 레스토랑을 포함한 스파 휴양을 즐길 수 있는 독특하고 럭셔리한 별장이다. 스파를 할 수 있는 두 개의 방이 있고 넓은 테라스에는 자쿠지가 설비되어있다. 나머지 리조트들과 완전히 고립되어 있으며, 마음의 순수한 안정을 찾을 수 있다.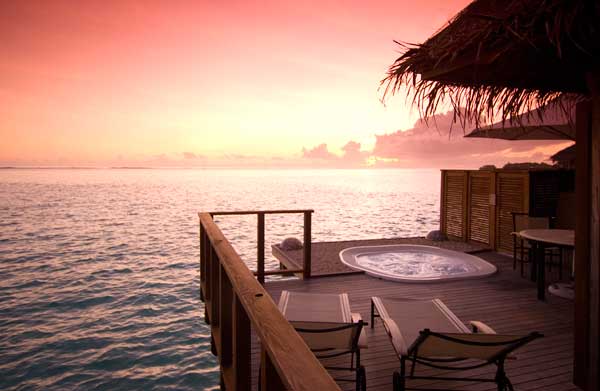 Deluxe Water Villa
Benefitting from sunset views, a large private sun deck and a private jacuzzi, the spacious Deluxe Water Villa is a popular choice for couples seeking a romantic getaway. The large bedroom offers ocean views from every angle, whilst top of the range audio and video entertainment can be enjoyed either in the villa or outside on the sun deck.
일몰 전경과, 대형 개인 테라스 그리고 개인 자쿠지의 혜택이 있는 최고급 디럭스 워터 빌라는 로맨틱한 휴양지를 찾는 커플들에게 많은 선택을 받는다. 모든 각도에서 바다의 전망을 볼 수 있고, 최고의 오디오 & 비디오는 실내뿐만 아니라 야외 테라스에서도 즐길 수 있다.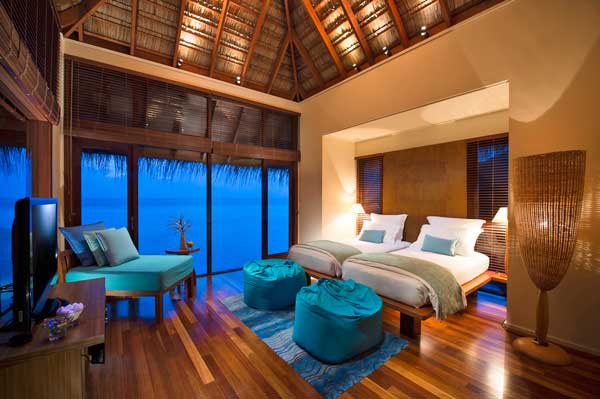 Family Water Villa
Sleeping a family of four in two separate bedrooms, the Family Water Villa is an ideal choice for those travelling with children of friends. The master bedroom houses a king size bed, whilst the second bedroom offers guests two twin beds in their own enclosed space. Much like the Retreat Water Villa, these Family Water Villas have a jacuzzi and ample outdoor space in which to relax and soak up the Maldivian sunshine.
가족과 또는 친구와 함께 하는 여행에서의 최상의 선택인 별장이다. 리트릿 워트 빌라처럼 따로 분리되어 있는 세컨드 룸에는 두 개의 트윈 침대가 있다. 패밀리 워터 빌라에는 자쿠지와 몰디브의 햇살을 맘껏 누리며 쉴 수 있는 충분한 야외 공간이 준비 되어있다.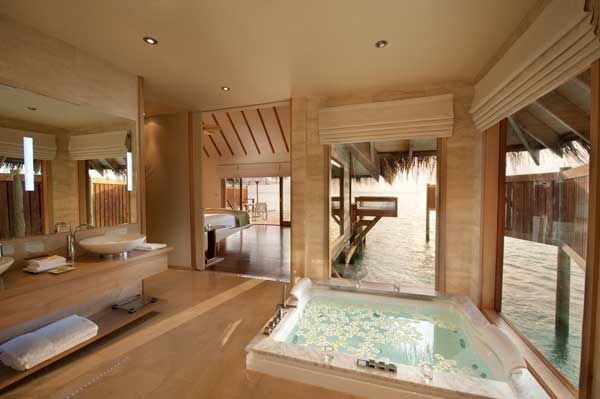 Premier Water Villa
Rangali Island's architecturally designed Premier Water Villas feature stylish furnishings, a 50-inch television and a large infinity pool on the out door sun deck. Whitewashed walls and sloping ceilings compliment a selection of artworks by Maldivian artist Eagan Badeeu and the breath-taking Maldivian sunsets can be best enjoyed with a cocktail beside the private pool each evening.
세련된 가구와 야외 테라스엔 굉장히 큰 수영장이 있다. 하얗게 칠해진 벽과 경사진 천장이 매력적이고, 매일 저녁 개인 수영장 옆에서 해질녘 하늘을 보며 칵테일을 즐길 수 있다.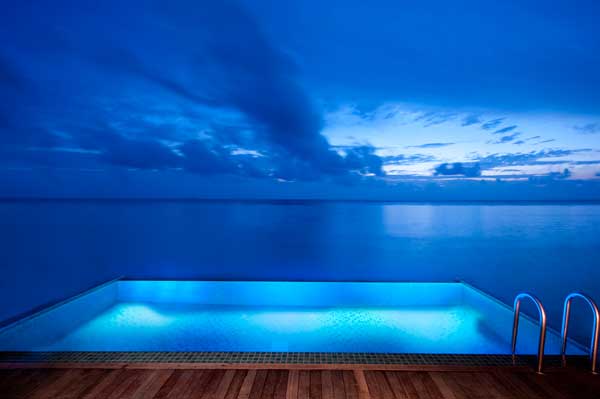 Premier Water Suite
Two Premier Water Villas are seamlessly combined to create the spacious and luxurious Premier Water Suite. Benefitting from two bedrooms and two infinity pools, the Premier Water Suite is perfect for families or for groups of friends who wish to enjoy the peace, tranquility and privacy of this luxurious Maldivian hideaway.
Guests staying in the Premier Water Villa or Suite also benefit from the services of a Personal Island Host 24 hours a day.
두 개의 프리미어 워터 빌라가 합쳐진 형태의 더 넓고 고급스러운 프리미어 워터 스위트는 두 개의 침실과 두 개의 인피니티 풀을 갖추고 있고 몰디브 휴양지의 고급스러운 혜택을 24시간 프라이빗 하면서도 호화롭게 누릴 수 있다.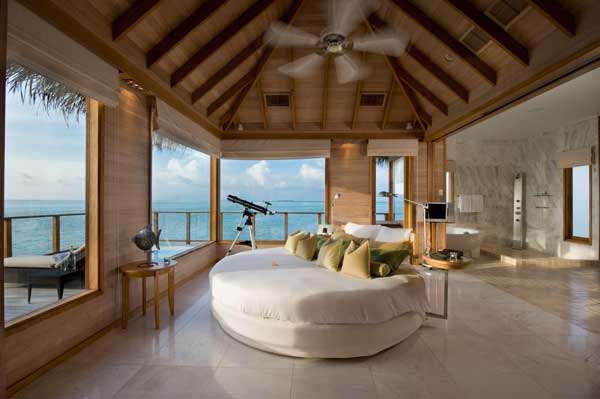 Sunset Water Villa
The ultimate luxury island escape, both Sunset Water Villas are set in their own private area of the lagoon and are reached only by jetboat or the private walkway. An indulgent Maldivian hideaway, the Sunset Water Villa is the most luxurious accommodation at the resort, each offering two bedrooms, a large infinity pool, spacious living area and contemporary features and furnishings.
궁극적인 고급 아일랜드에서 벗어나 제트보트 또는 공개 되지 않은 비밀의 공간에 위치하고 있는 썬셋 워터 빌라. 제멋대로 할 수 있는 몰디브 은신처로, 각각 두 개의 침실, 대형 수영장, 넓은 거실, 현대적인 특색과 가구를 제공하며 리조트에서 가장 고급스러운 숙박 시설이다.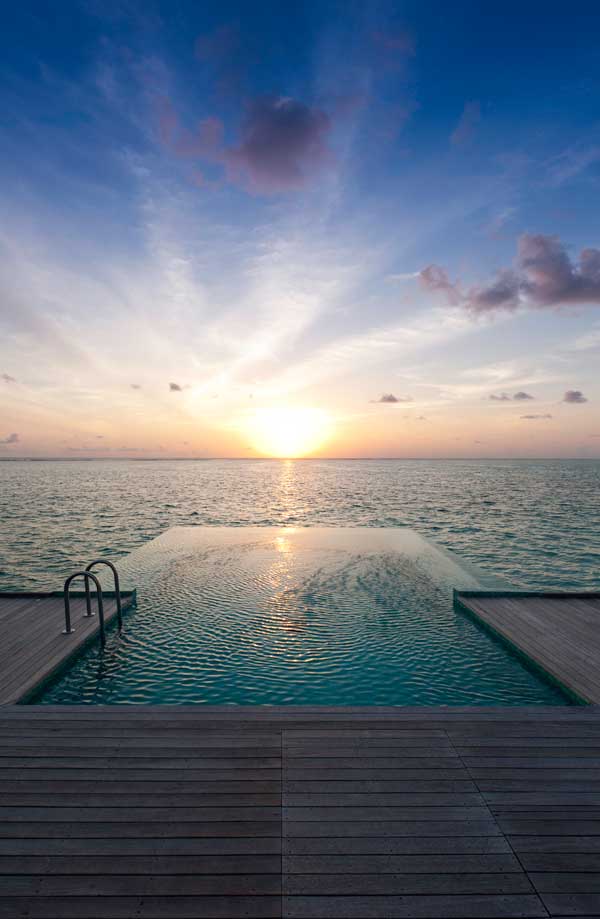 저작권자 ⓒ Deco Journal 무단전재 및 재배포 금지