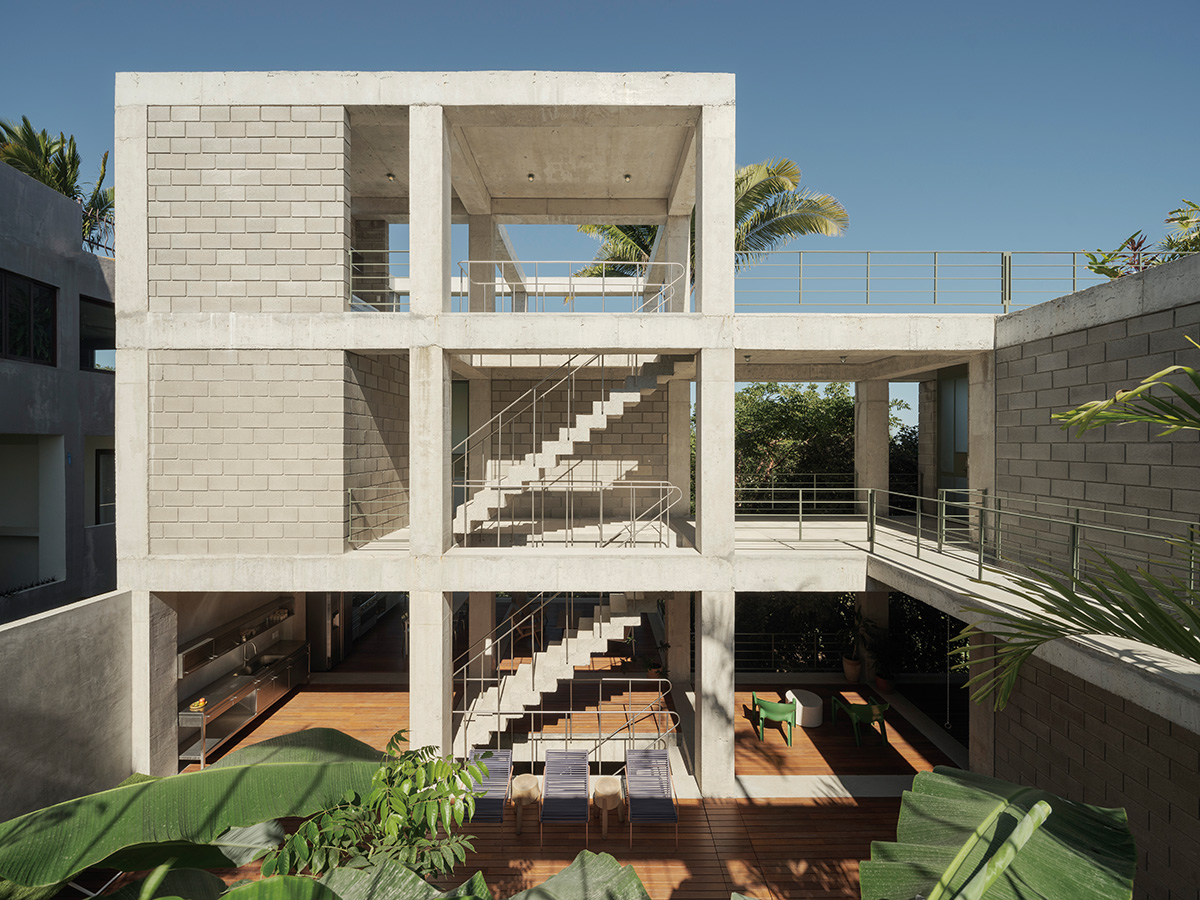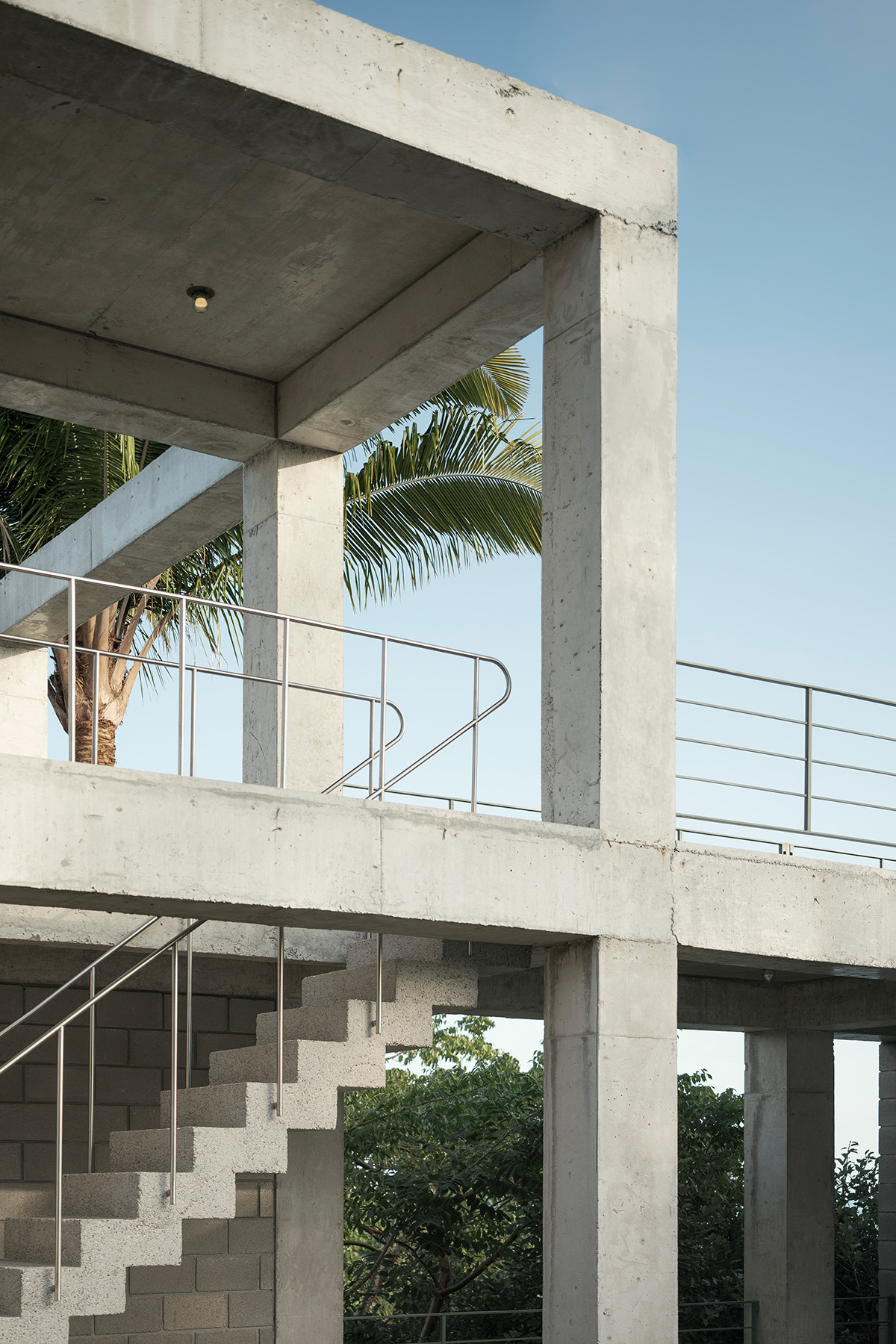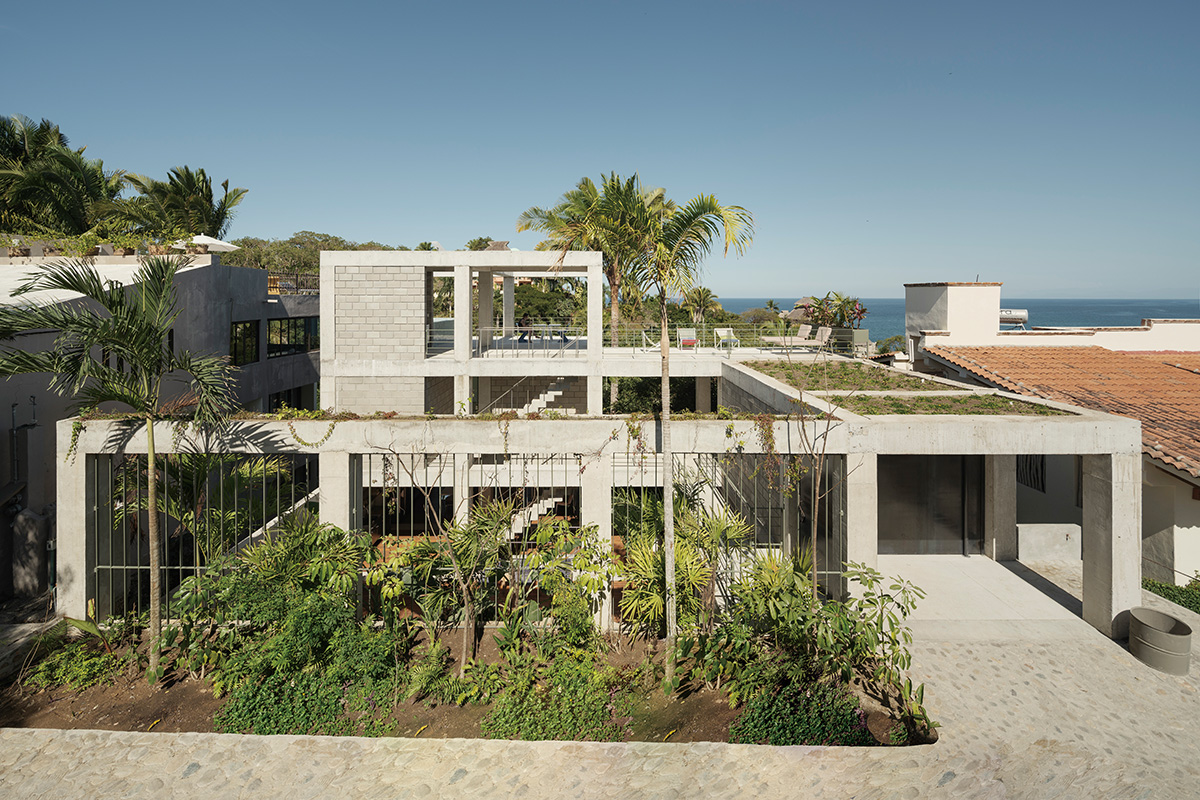 Immersed in the jungle-lined coast of Sayulita, Mexico—a bohemian surf town an hour north of Puerto Vallarta—is NICO, a micro hospitality experience with elevated suites, open-air common spaces, and boutique hotel-style comforts. NICO offers a unique lodging environment where each space has been thoughtfully designed for people to experience the distinctive surroundings and connect with each other in spaces that sit within a varied gradient of privacy and openness.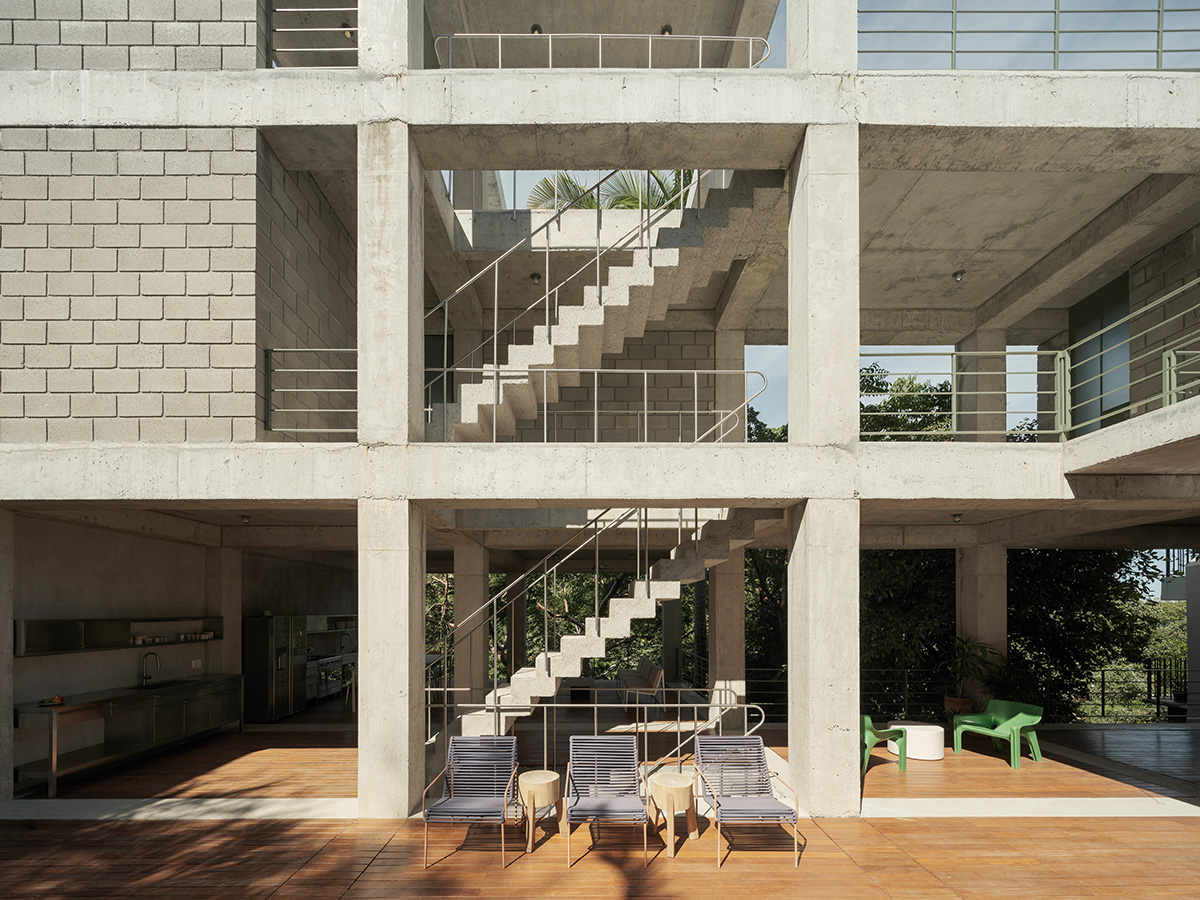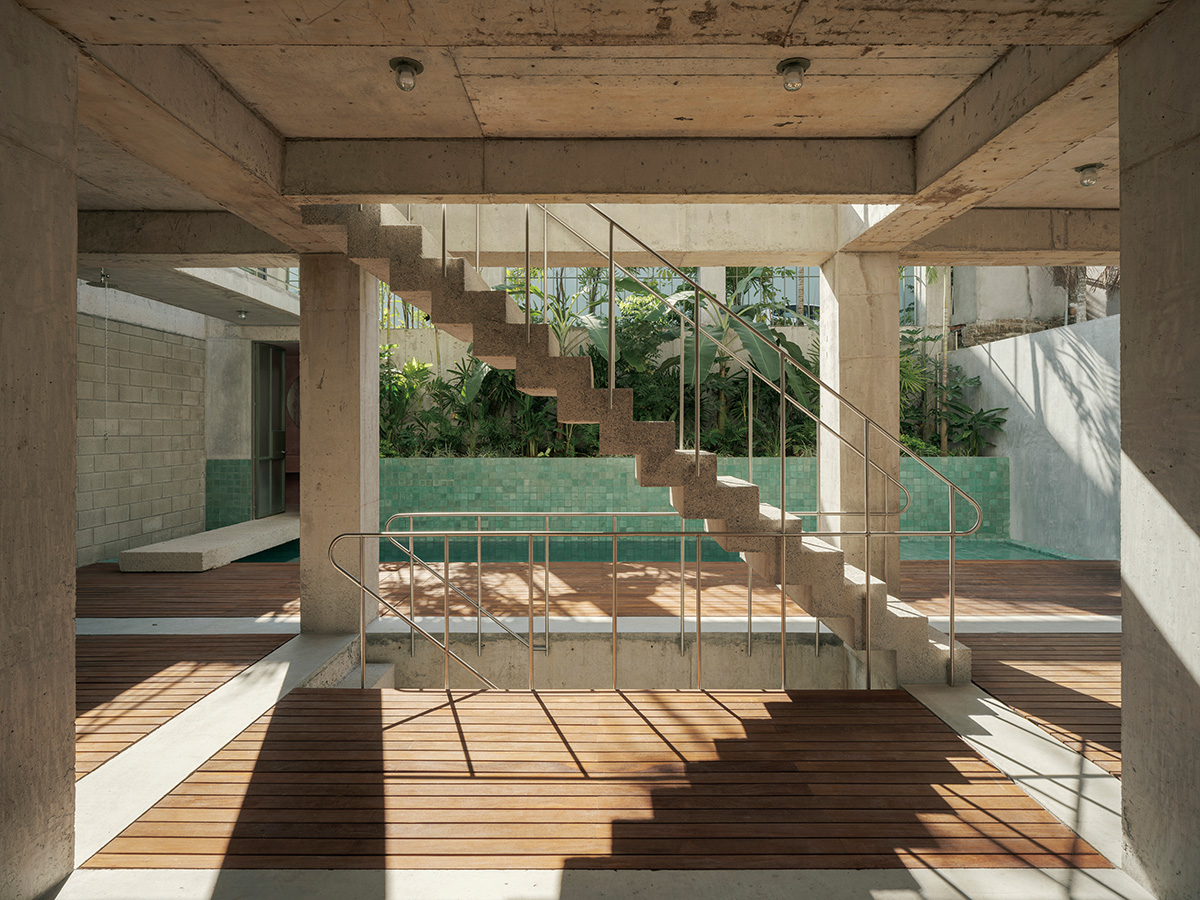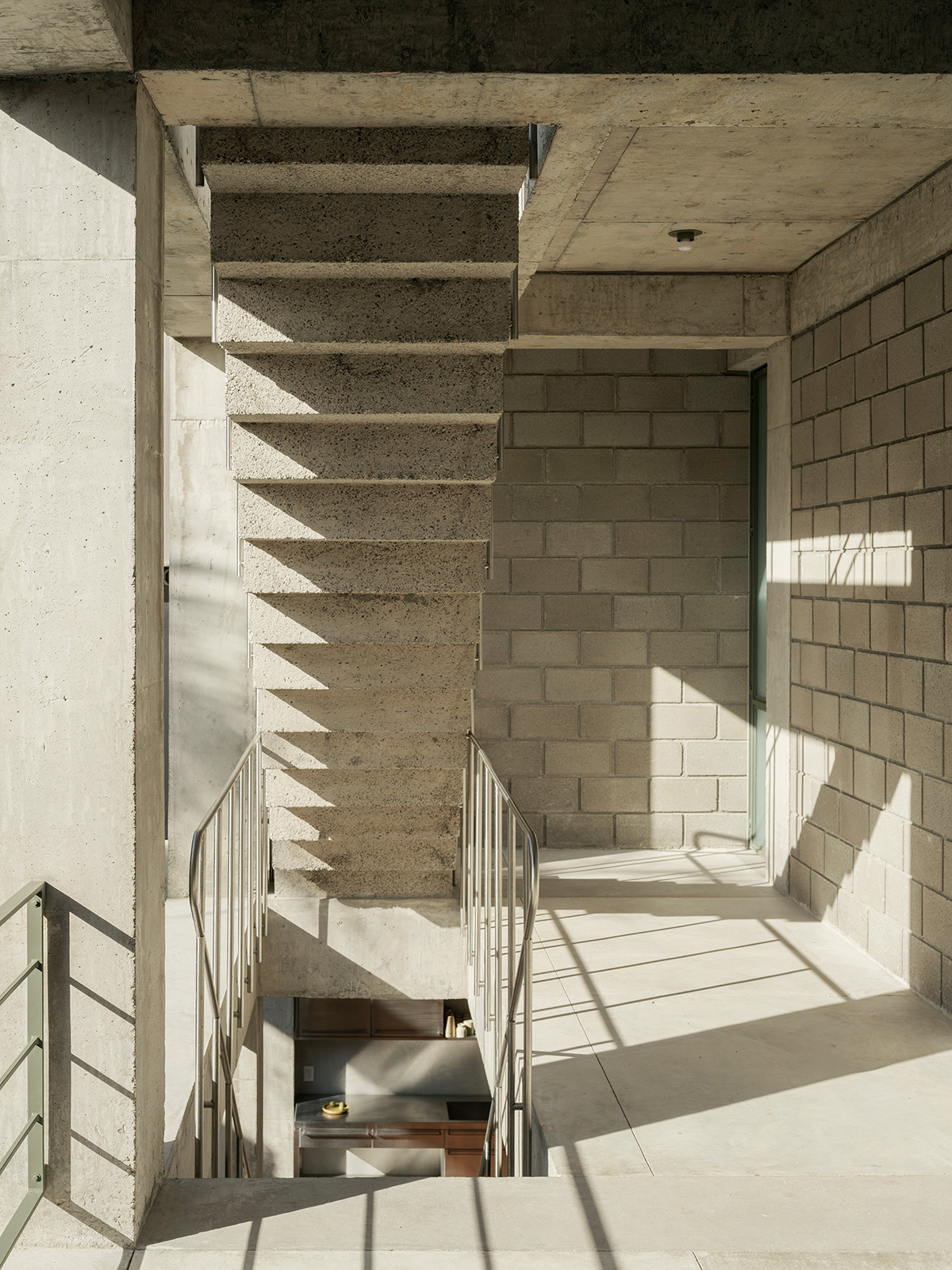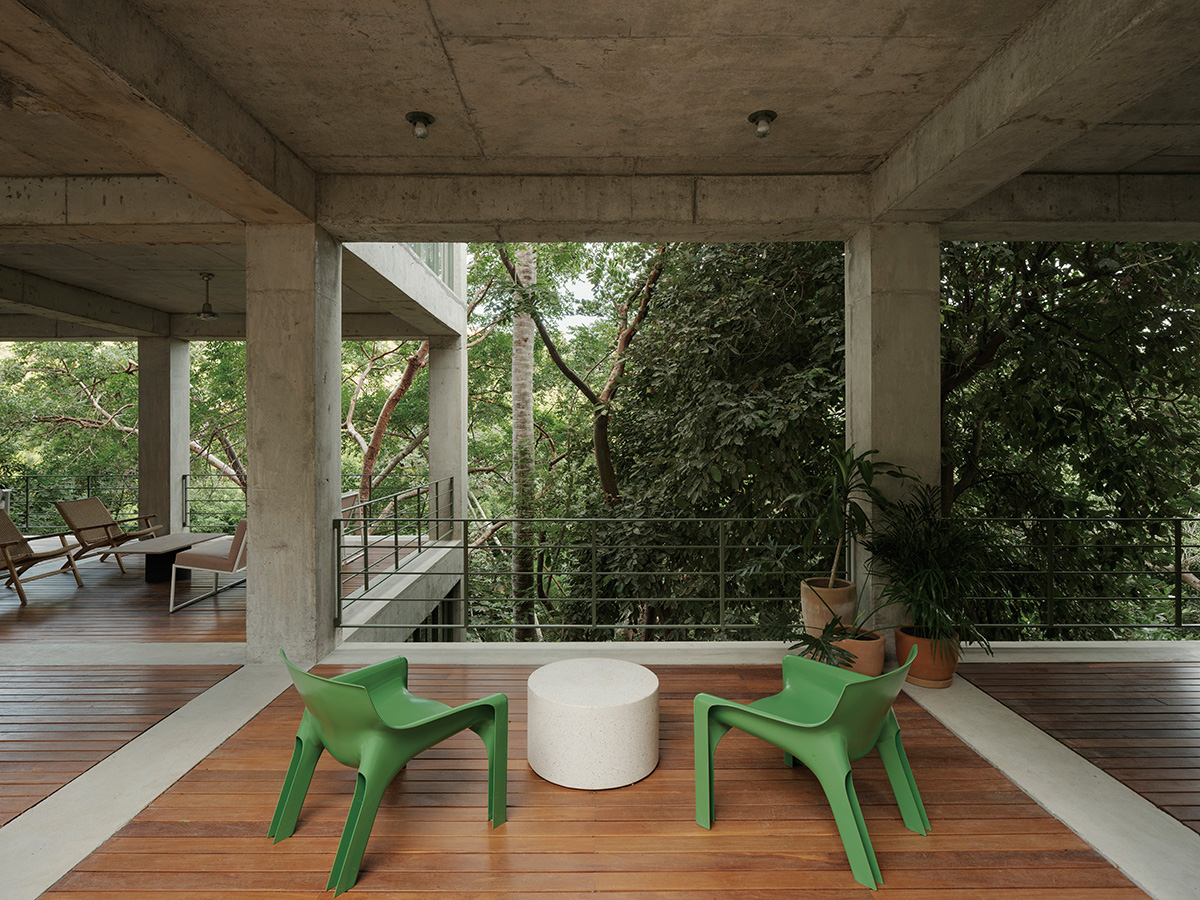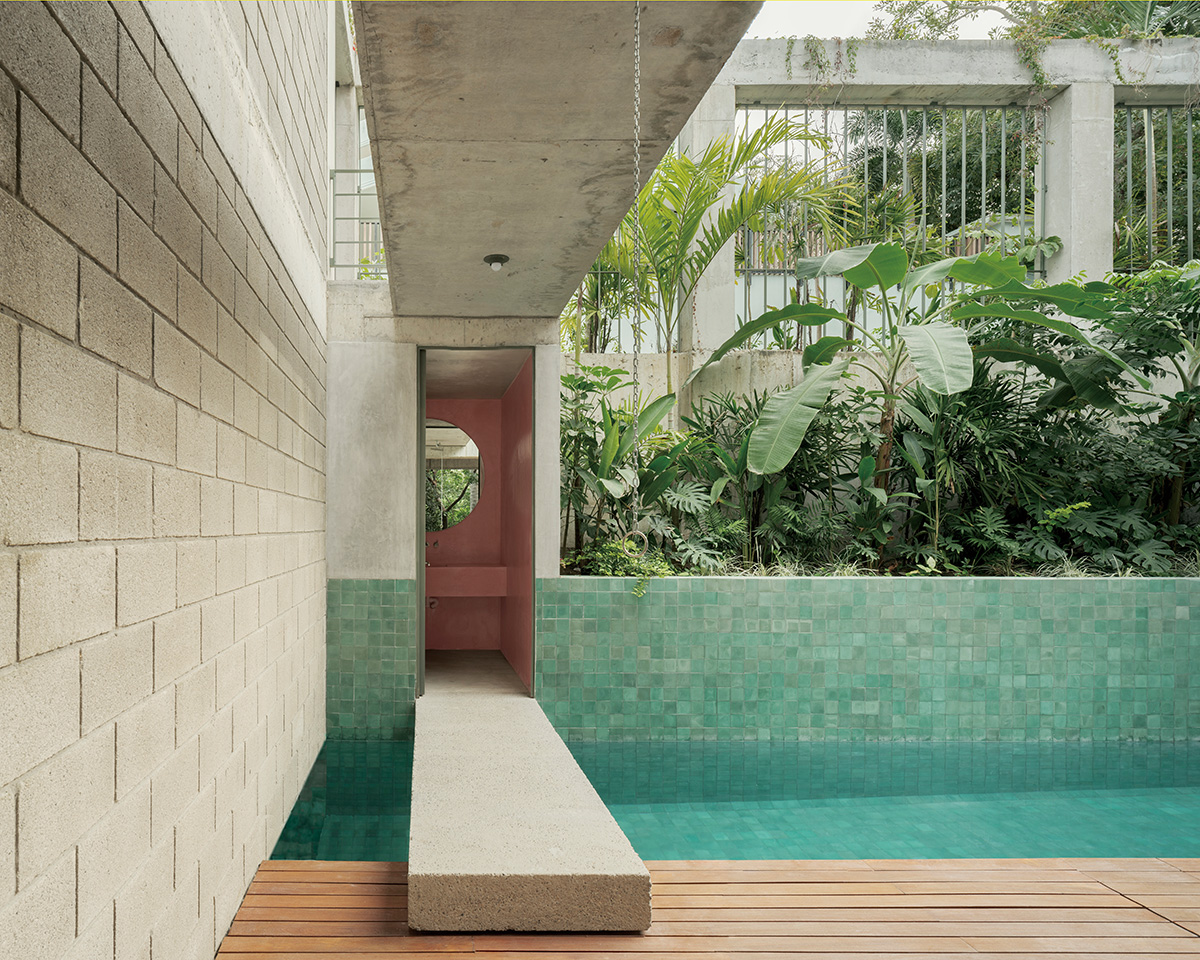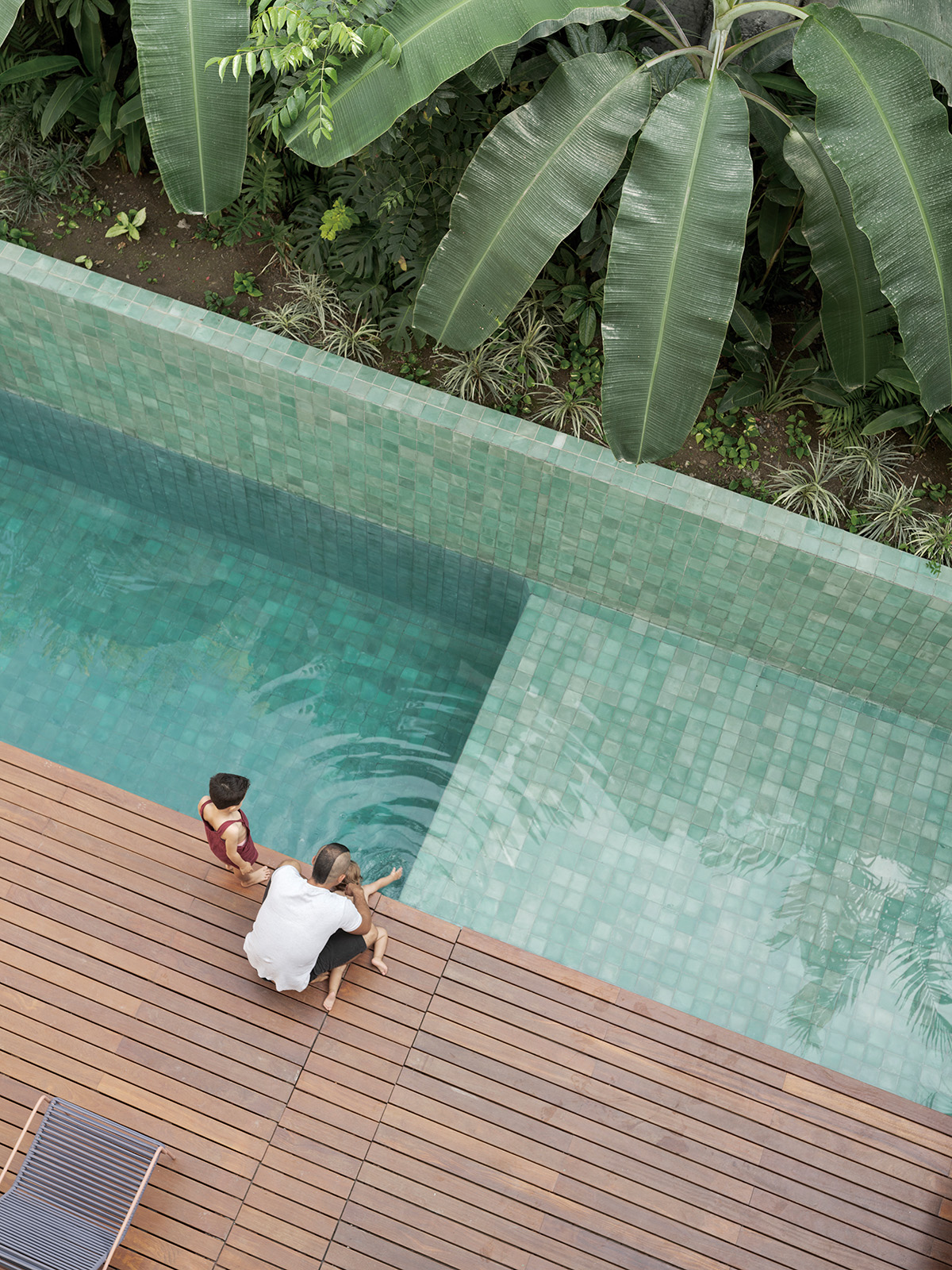 멕시코의 보헤미안 서핑 마을 Sayulita에 위치한 NICO는 보호와 개방의 경계에서 색다른 머무름의 경험을 제공한다. 지역 고유의 건축 양식에 멕시코 신진 디자이너들의 독특한 아이디어가 반영된 NICO는 현대적이면서 신선한 디자인을 자랑하며, 소재의 물질성, 색상 등을 창의적으로 활용해 흥미를 더했다. 복잡하게 뒤엉킨 정글 숲 사이 곧고 단단히 뻗은 직선 그리드 형태의 파사드를 시작으로, 실내외가 공존하는 내부로 들어서면 정글과 바닷속에 온전히 몰입되는 순간을 만끽할 수 있다.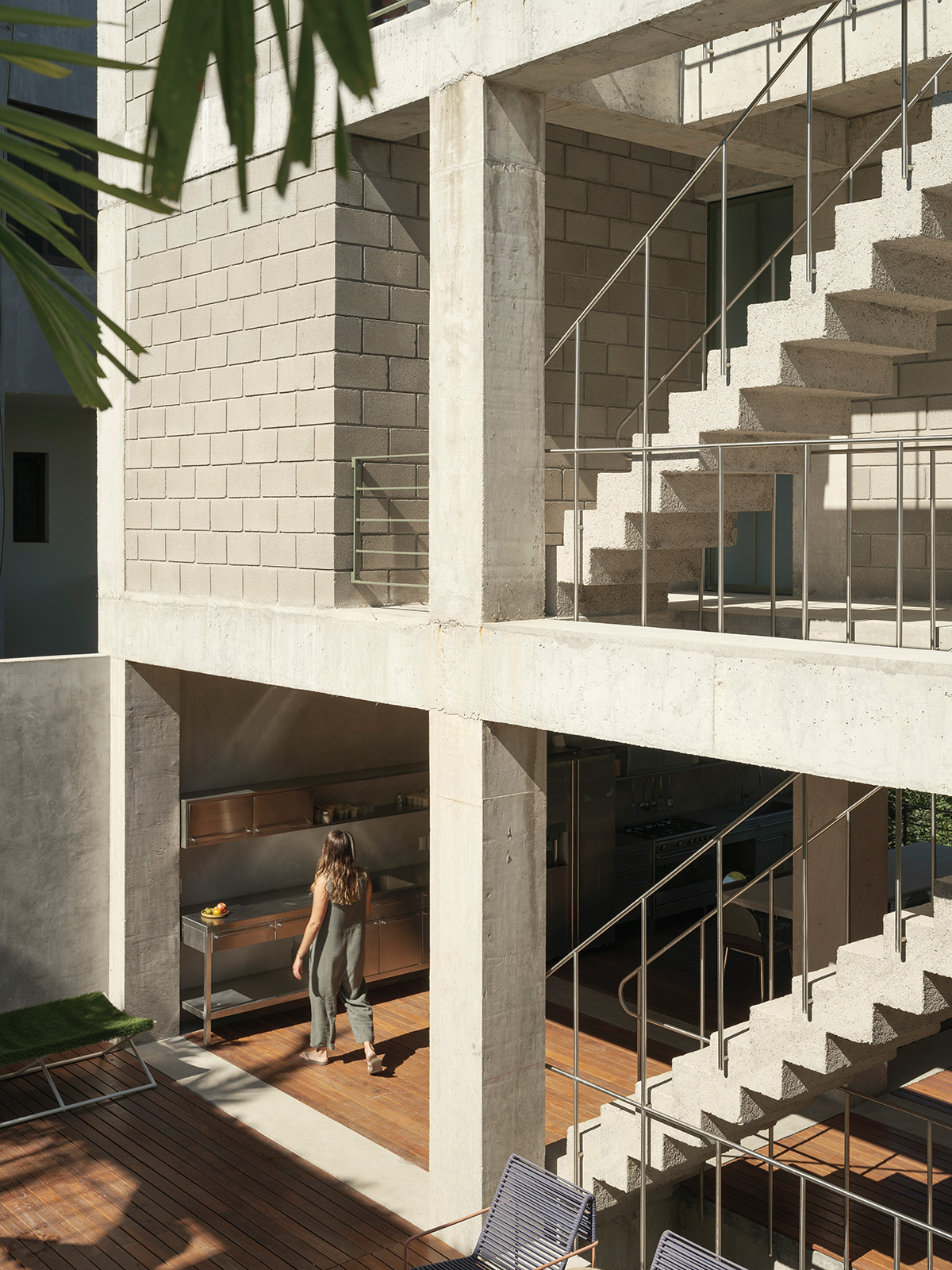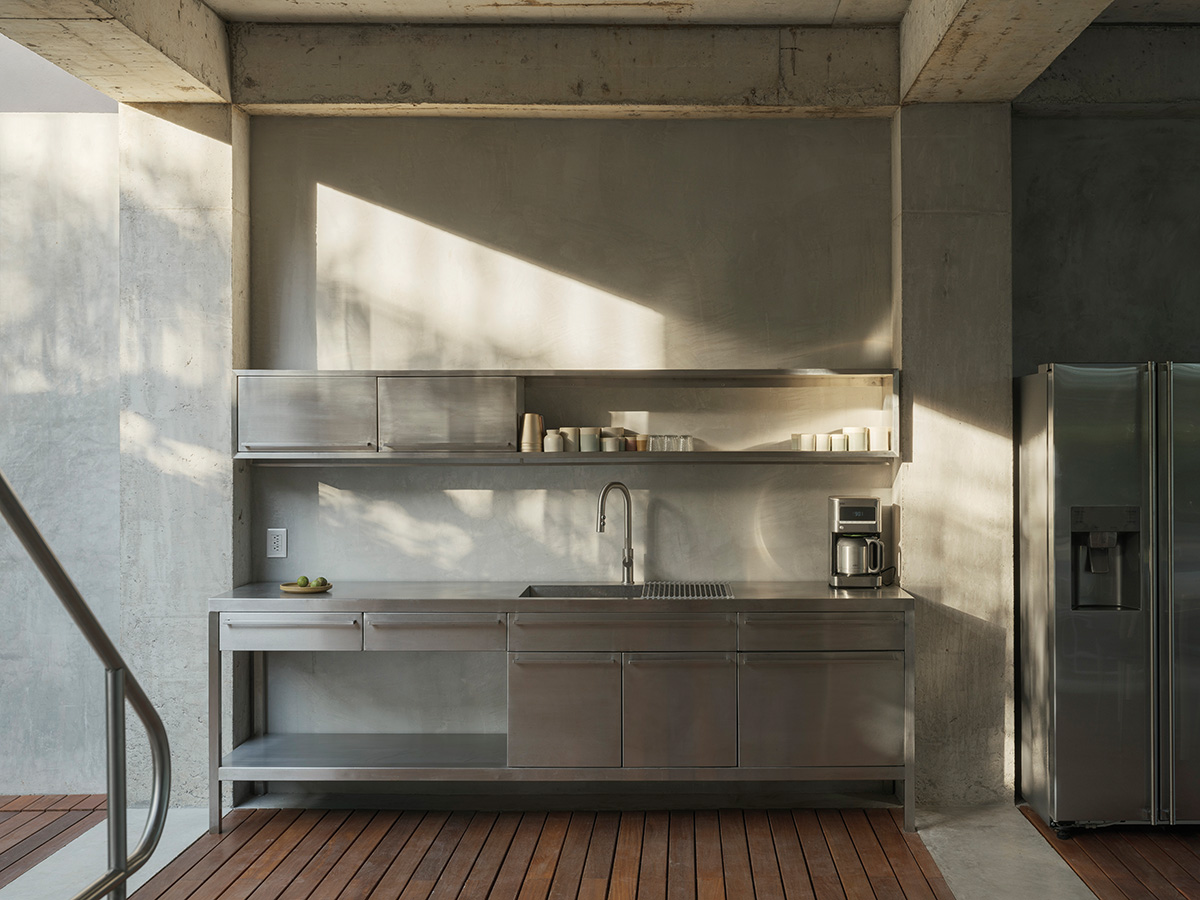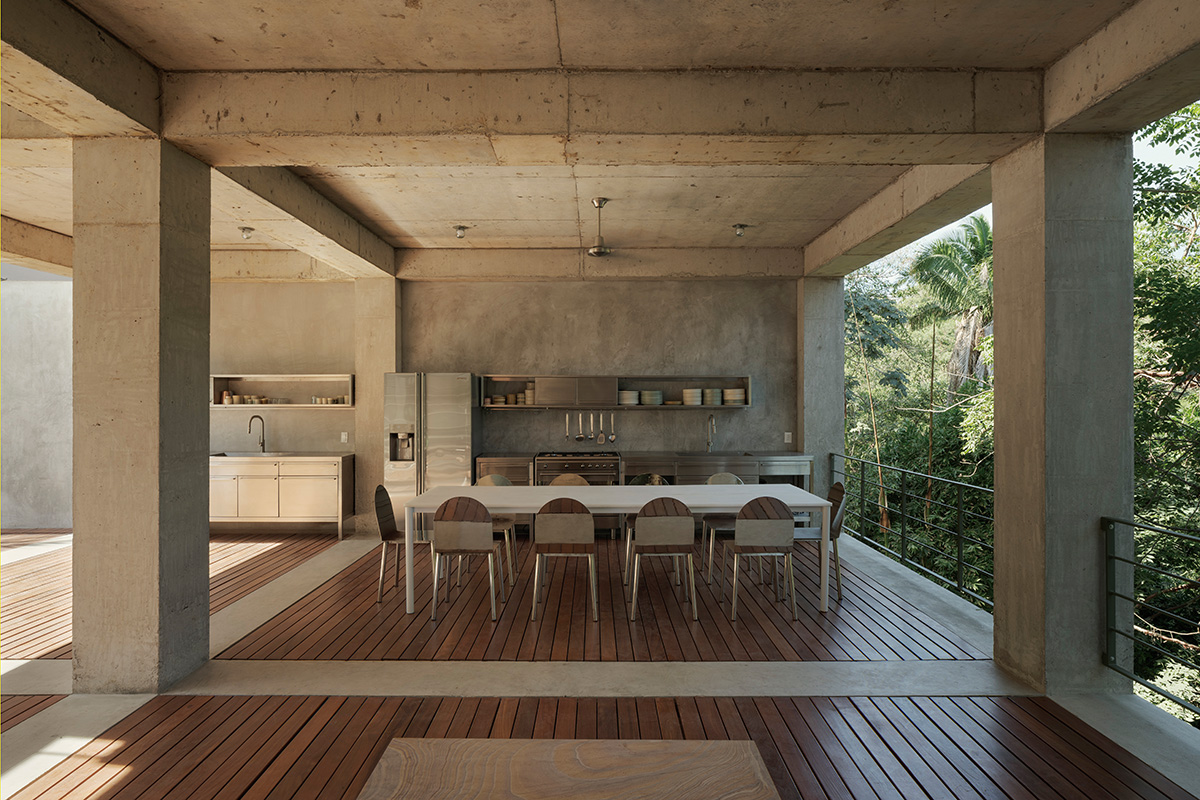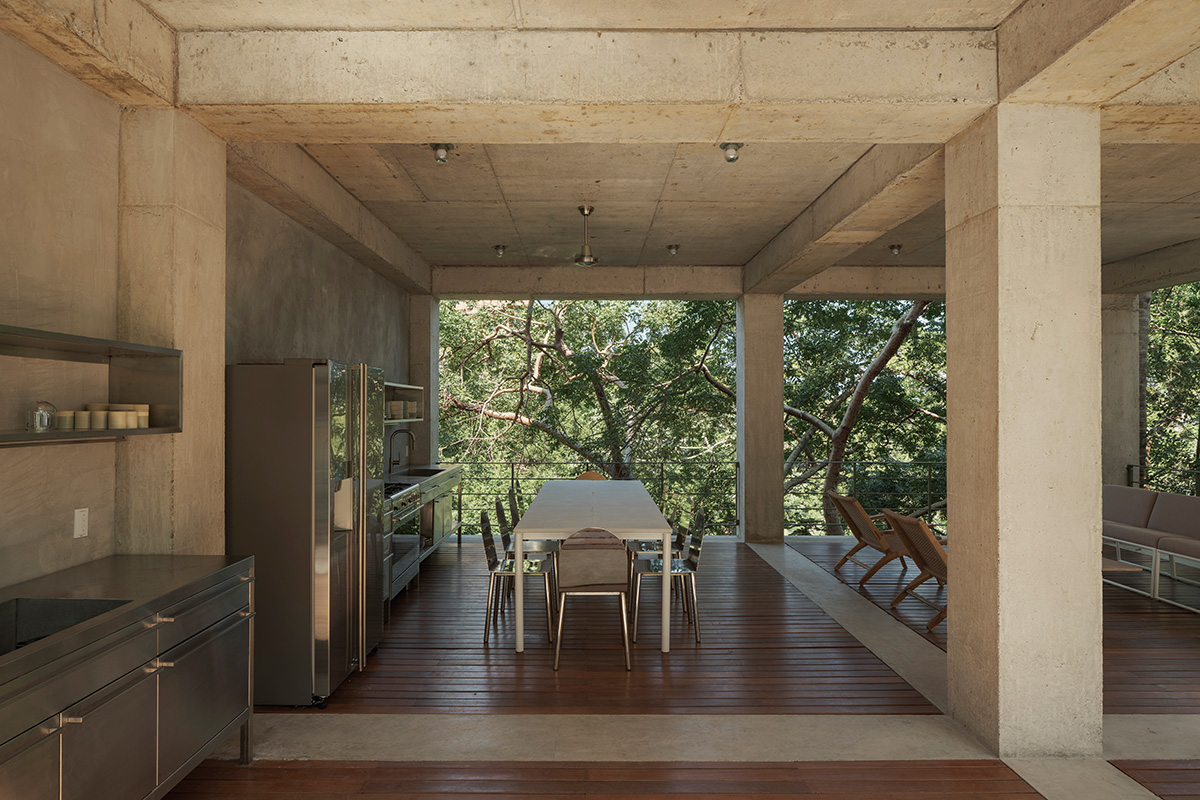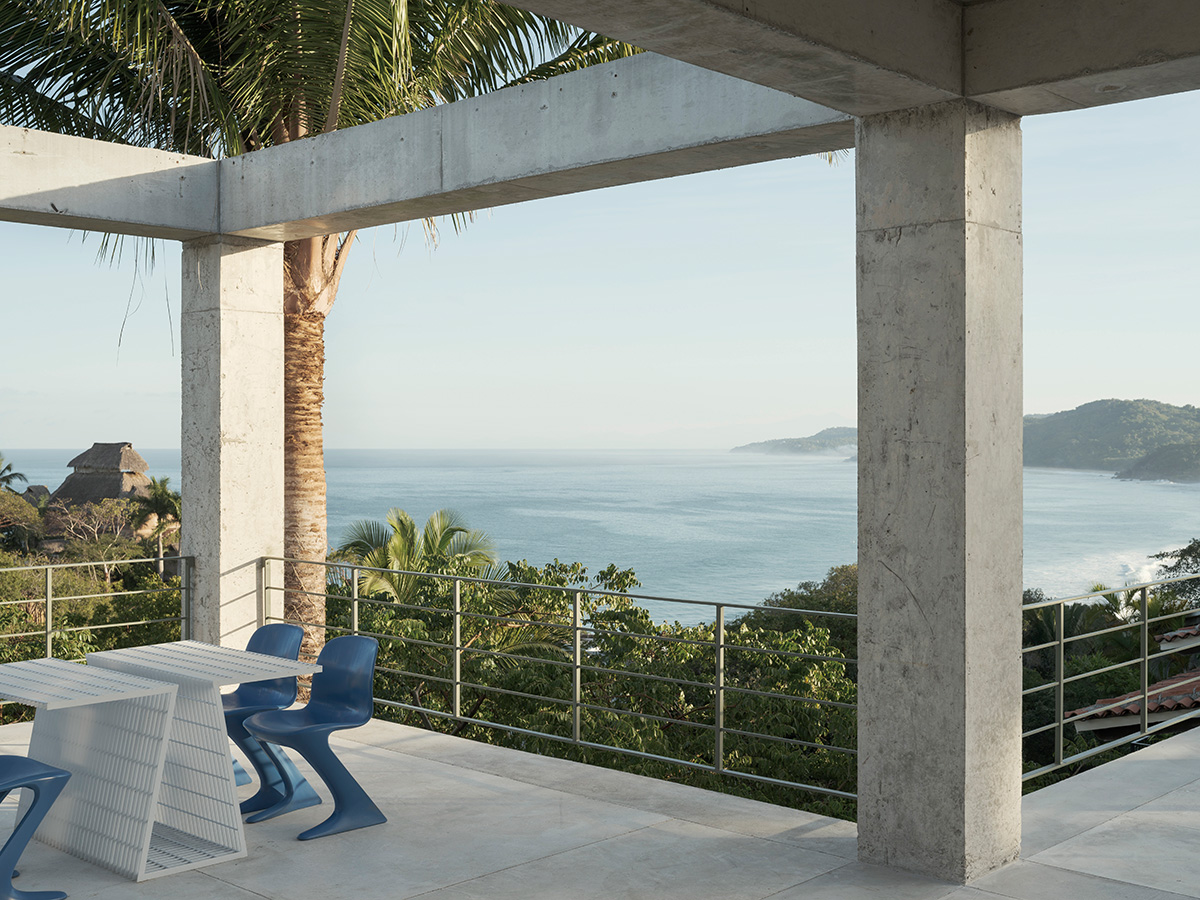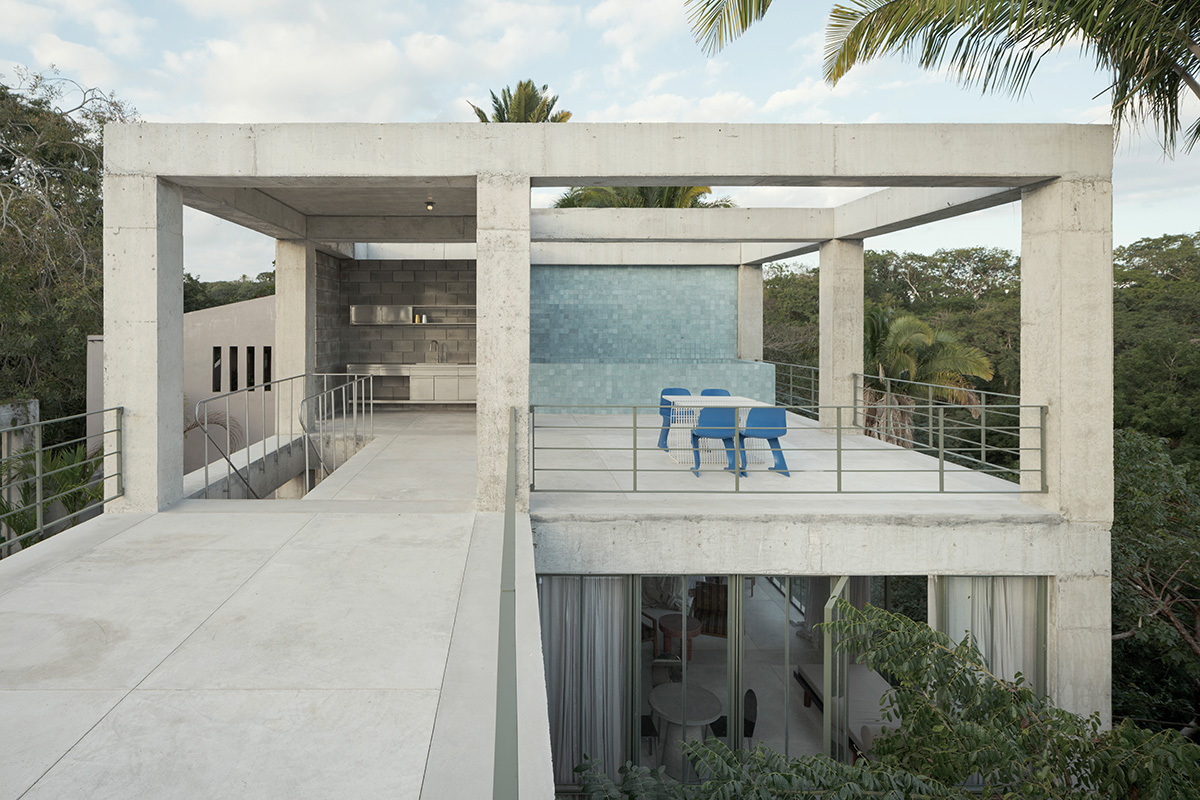 The building reads as a two-level structure from the street, after crossing a bridge over the main pool the user discovers the rest of the program by literally descending into the jungle. Indoor and outdoor spaces combine throughout the building in a concrete grid structure, exploring thresholds and making the most of the local climate with a fully open level that welcomes the ocean breeze and immerses guests in nature. Once inside, visitors discover both private and social areas with unexpected viewpoints of the ocean and jungle. Views vary from airy and open on the rooftop to surrounding lush tree-tops on the middle level and then descending to a more terrestrial level where the 'Jungle suite' is located—a room encircled by native foliage that features a concrete built-in tub for a spa-like experience.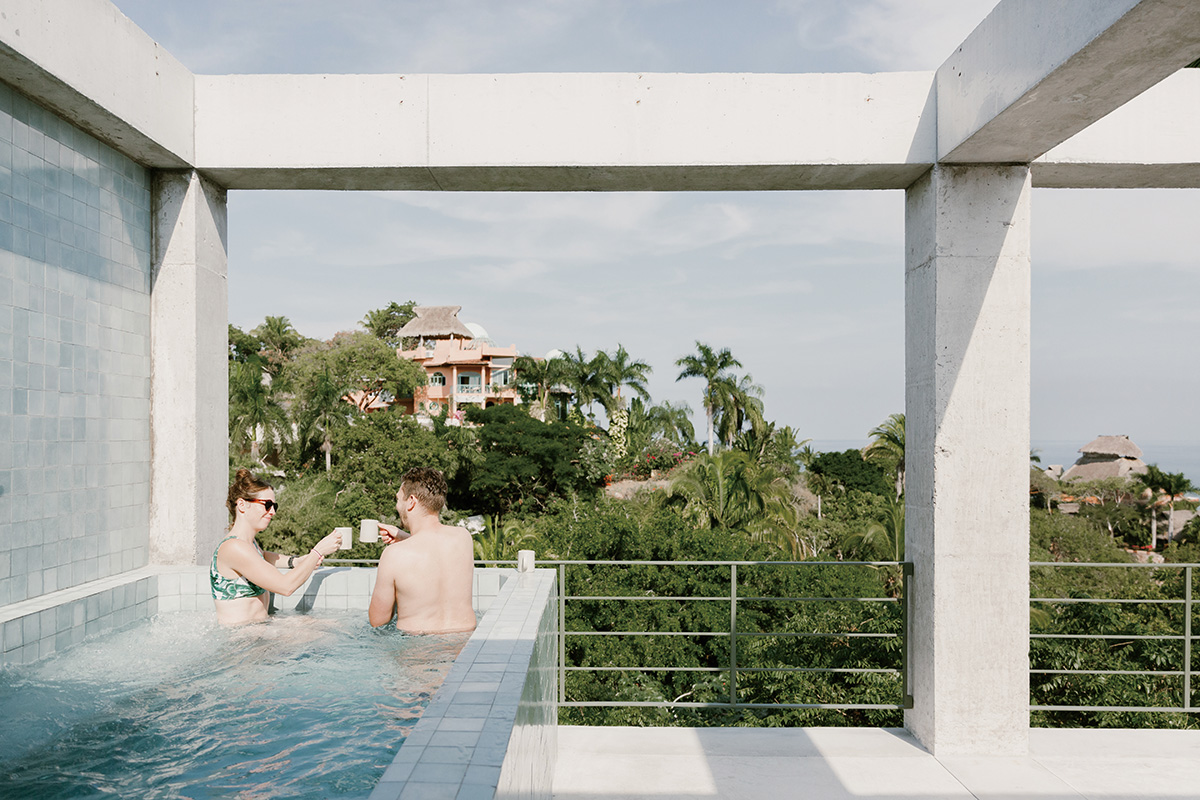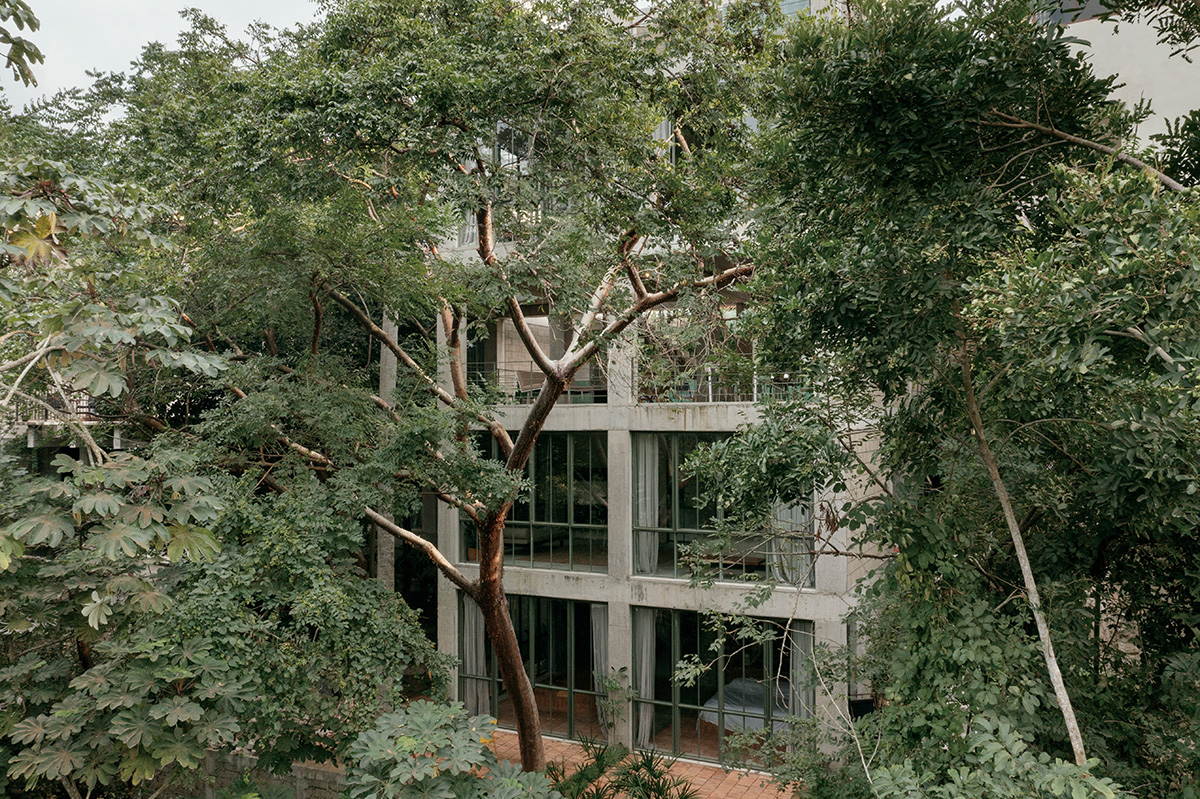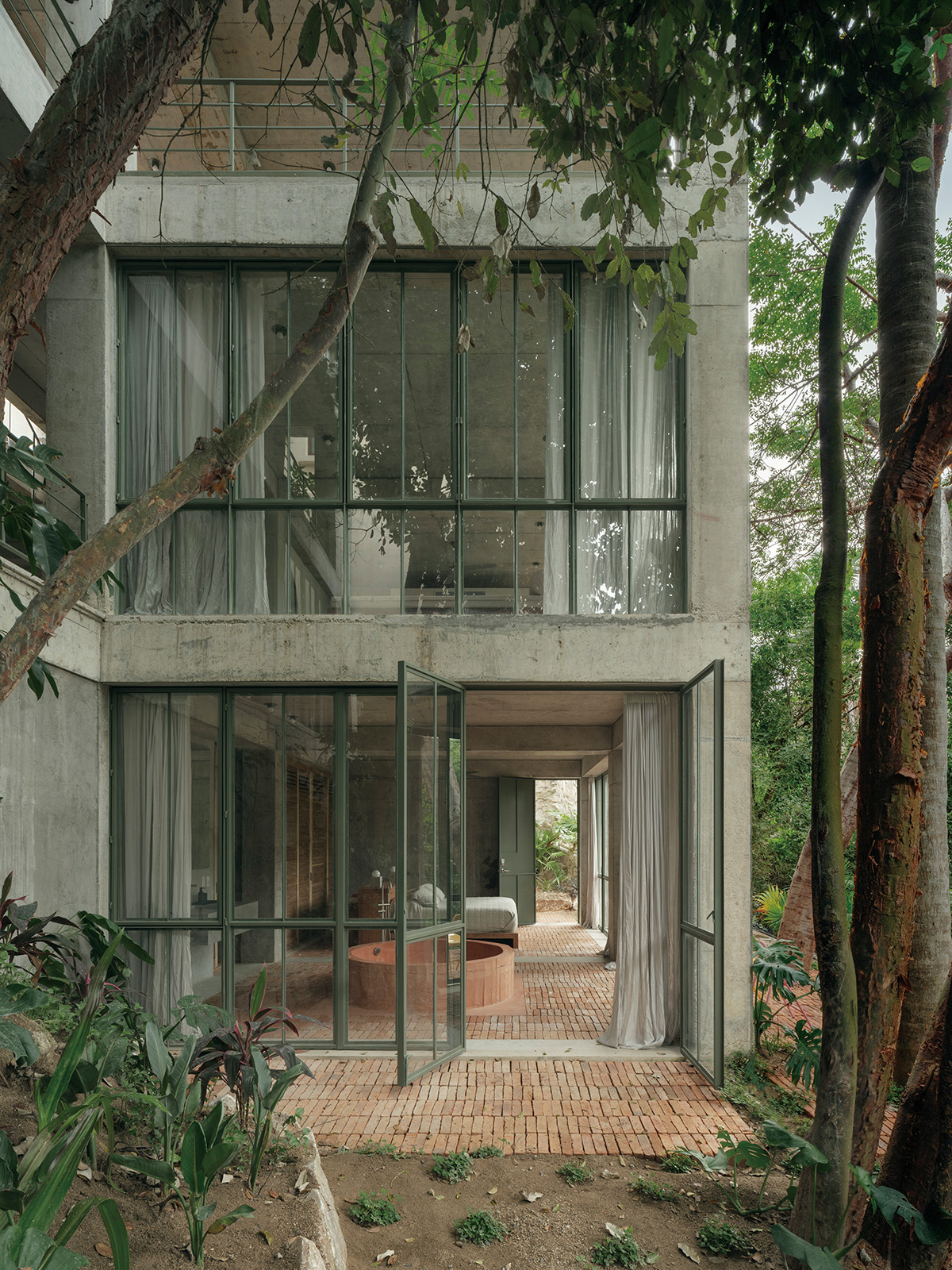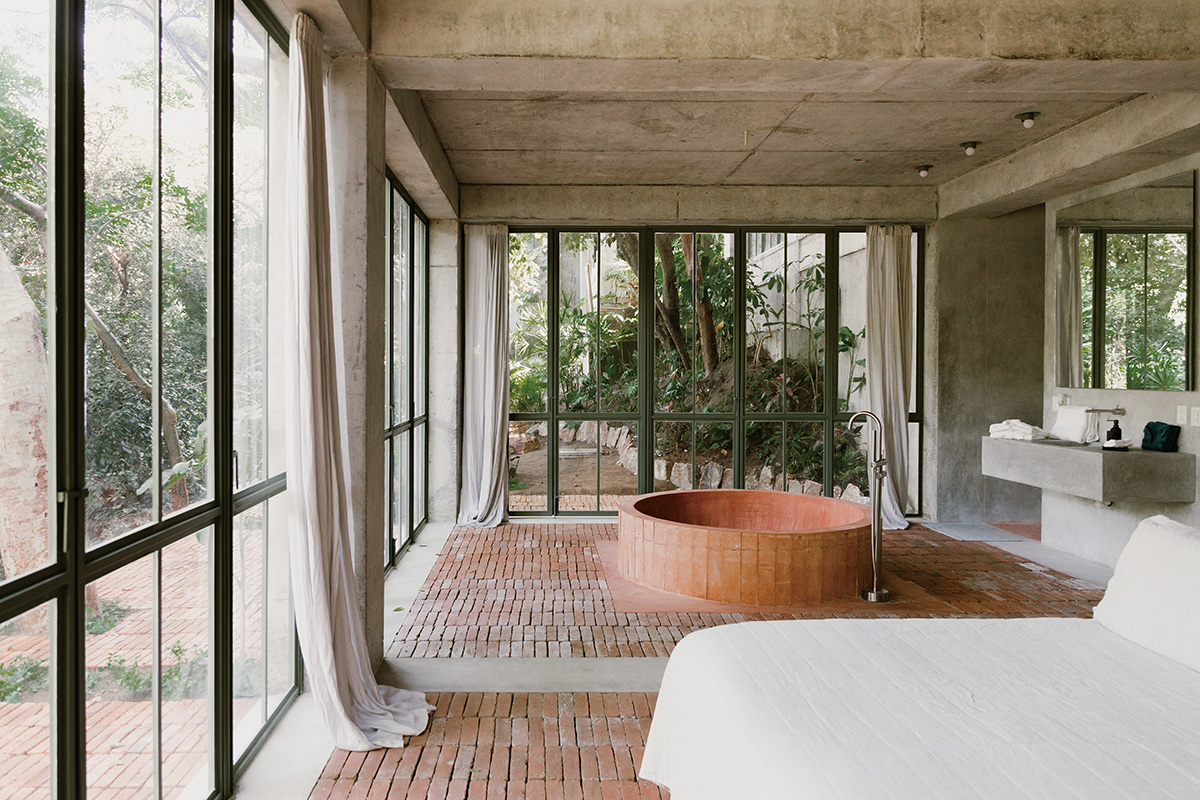 NICO는 고급 스위트룸, 야외 공용 공간 등을 갖춘 부티크 호텔 스타일의 안락함을 자랑하며, 울창한 정글과 탁 트인 바다를 품어 사적이면서 동시에 사회적인 공간으로도 작용한다. 콘크리트, 강철, 목재의 중립적인 색상 팔레트는 건물 전체의 공예감은 물론 일상으로부터의 기분 좋은 탈출을 표현한다. 5개의 스위트 객실은 개인 테라스를 비롯해 지역 장인의 맞춤 가구가 배치됐으며, 객실마다 각기 다른 풍경을 조망할 수 있는 공간 디테일이 마련됐다. 또한 사용자 그룹에 따라 변화하는 유연성까지 갖췄다.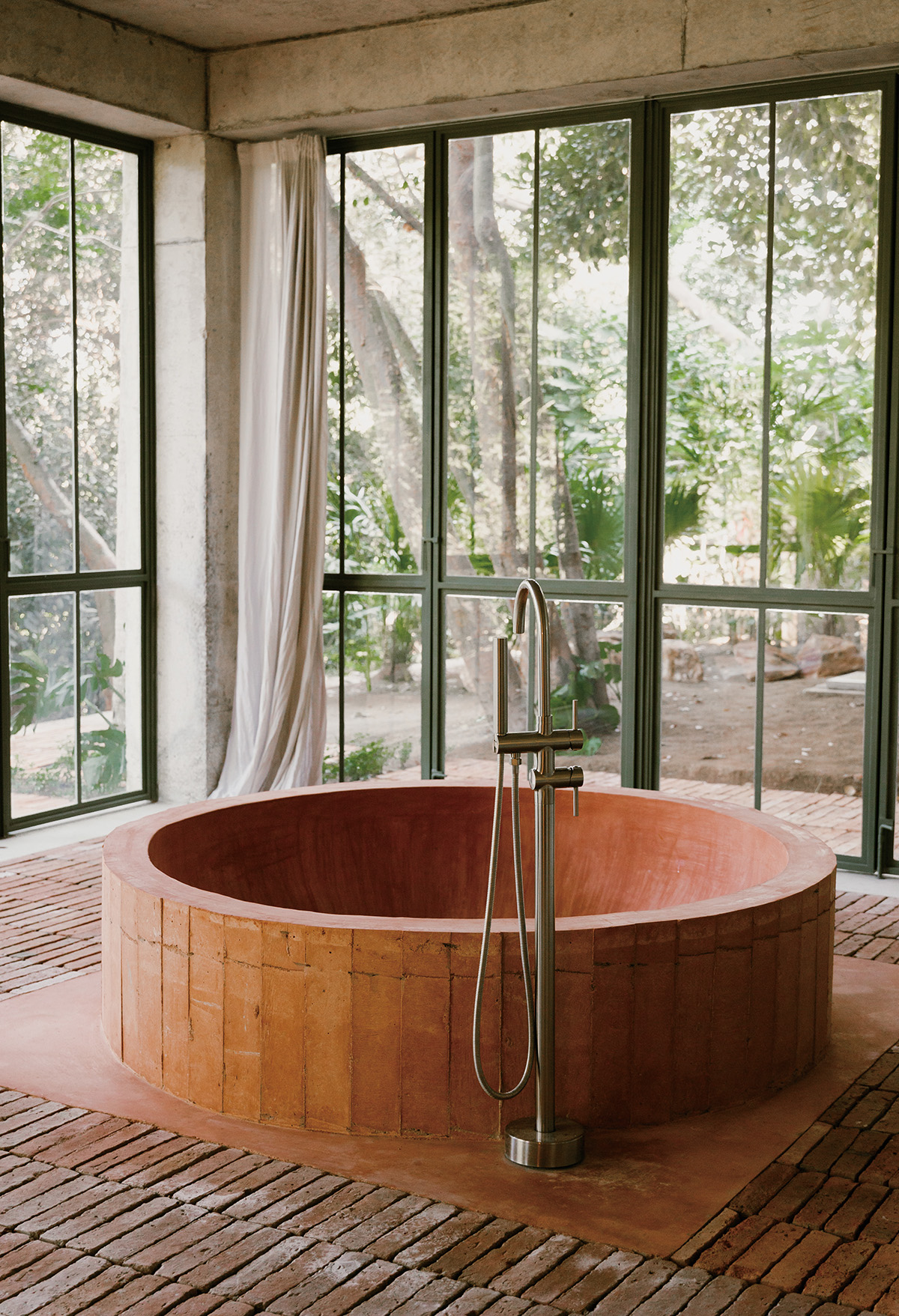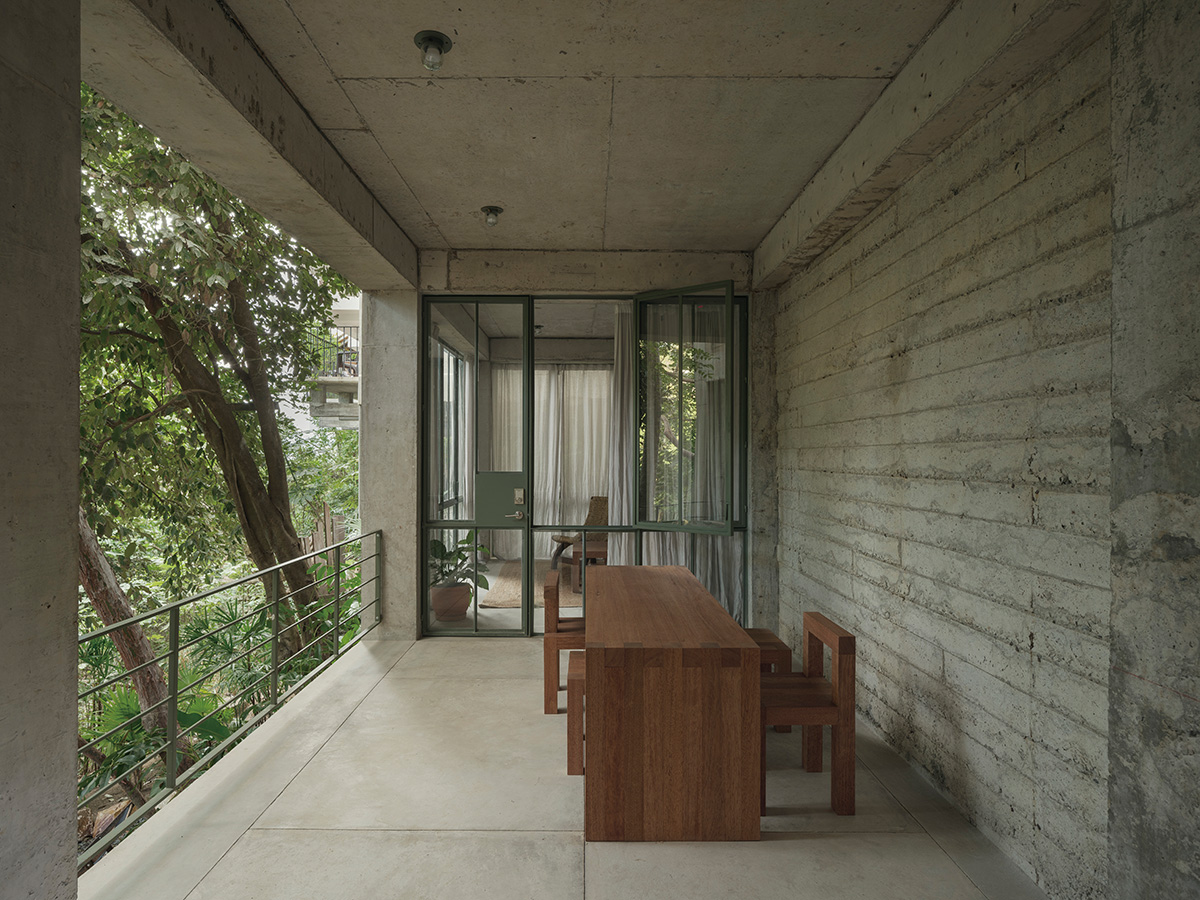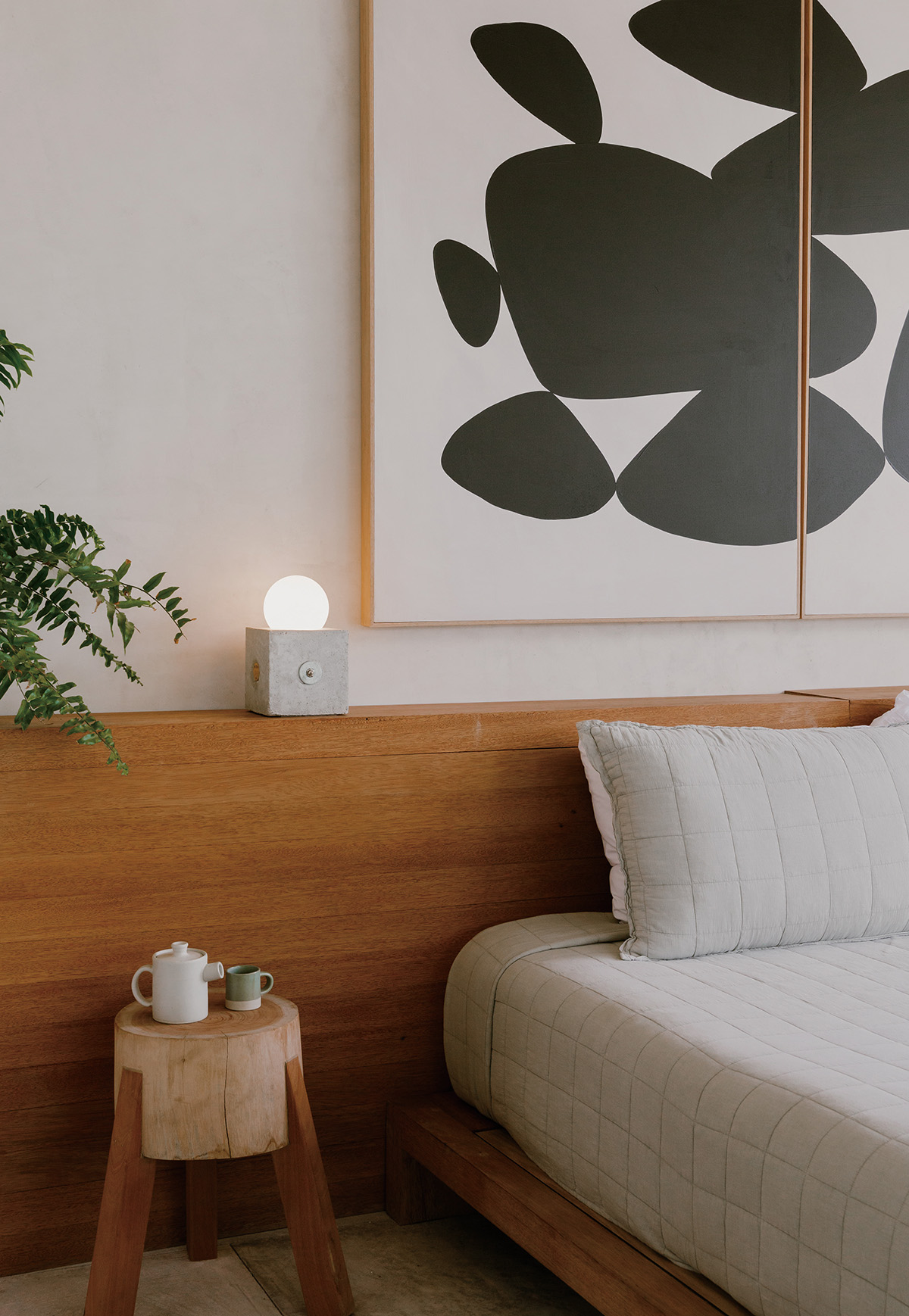 The common spaces are more brightly colored and playful to excite the senses and create a memorable experience. NICO's five guest suites were thought of as calming, tranquil spaces that offer the possibility to embrace the outdoors with floorto-ceiling windows and particular spatial details like private terraces as well as custom furniture by local artisans.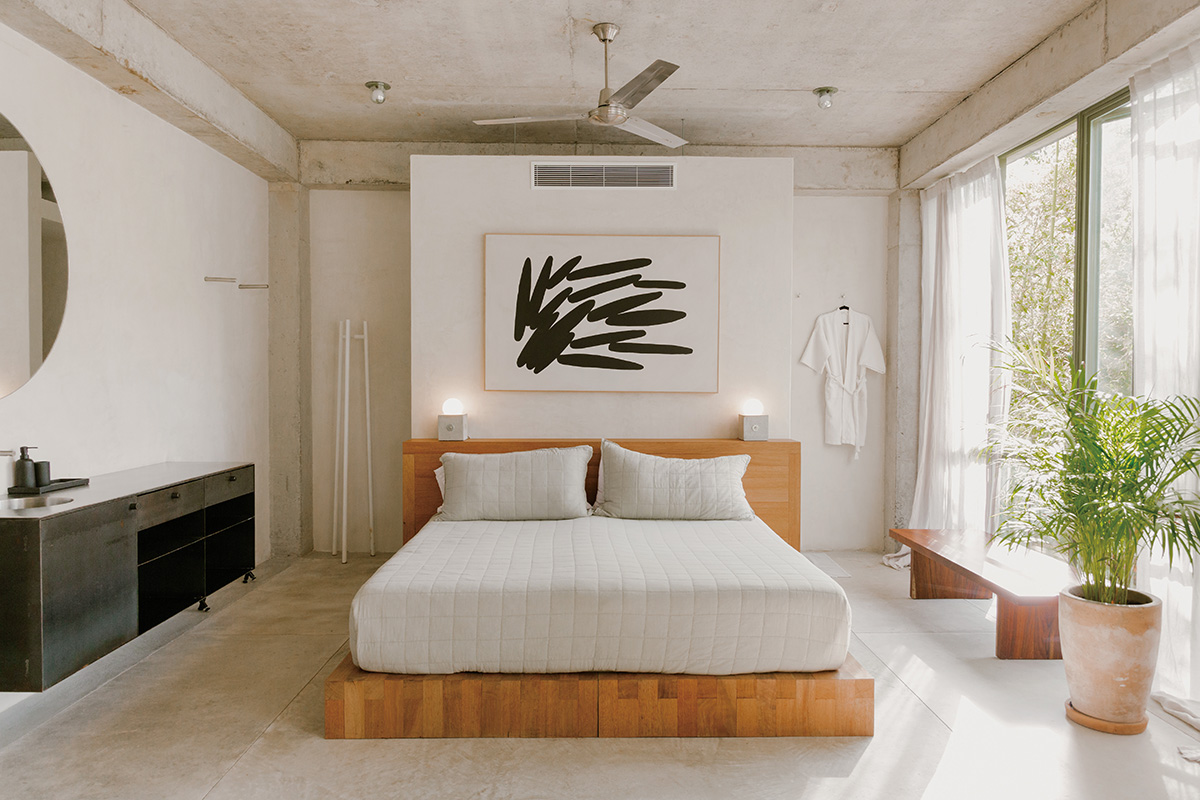 주변과의 동화를 중요시하는 NICO의 공용공간은 토종 식생들로 둘러싸여 있으며, 청록색 타일 포인트로 자연과 인공의 자연스러운 연결을 이끈다. 또 하나의 공용 공간인 루프탑은 열대 모더니즘을 연상시키는 콘크리트 빔 프레임 사이로 탁 트인 바다와 하늘이 장관을 이루며, 이 모든 것을 여유롭게 감상할 수 있는 다이빙 풀이 특징이다.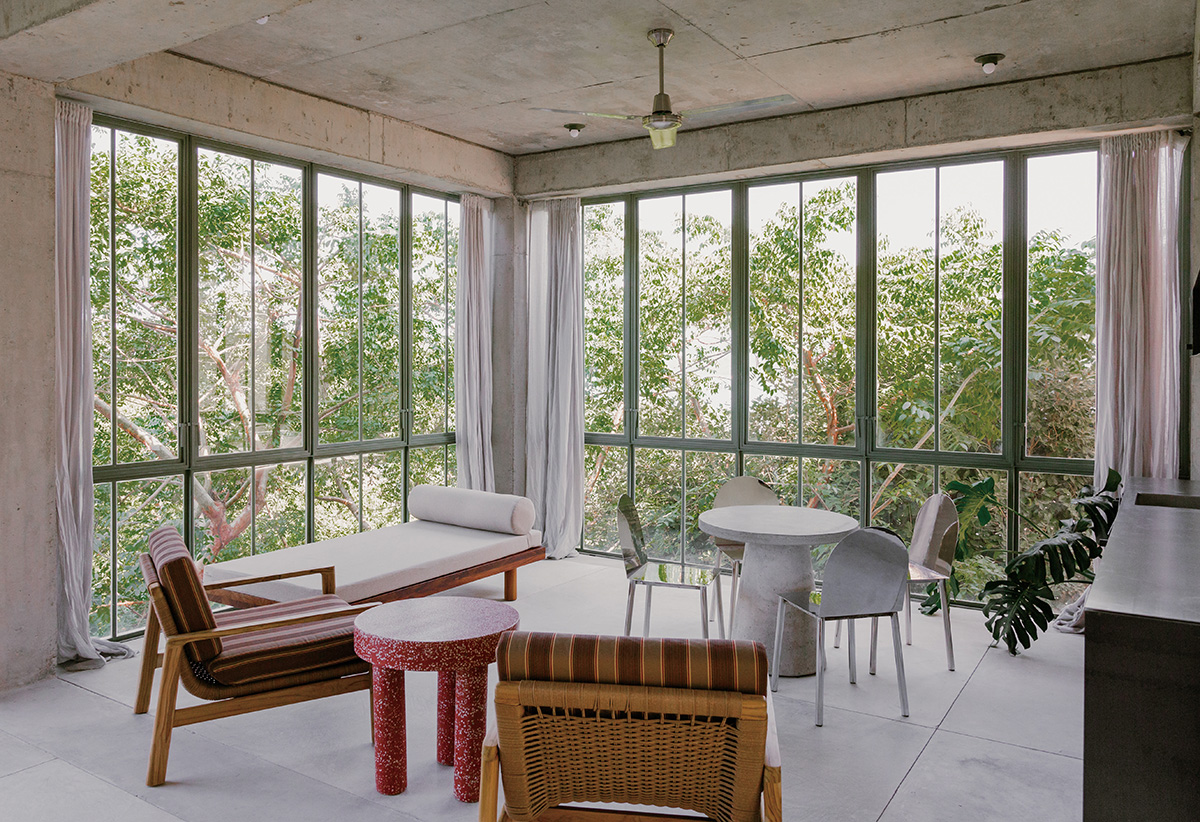 Hybrid
WEB. www.hybridarc.com
EMAIL. info@hybridarc.com
TEL. 206-267-9277
INSTAGRAM. @hybridarc
NICO Sayulita
Completion. Fall 2022
Square Footage. 3,000 sq ft
Architecture. Hybrid + Palma
Developer. Hybrid
Project Team. Humble, Adrián Ramírez,
Alex Herbig, Scott Goodner, Josué Granados,
Nia Jorquera, José Mendéz,
Constanza Ponce de León, Luisa Rizo, Decada
Contractor. Adrián Ramírez
Furniture Design. Roberto Michelsen
Landscape. PAAR
Branding. Trama
Photo. Luis Díaz Díaz and Alex Her
저작권자 ⓒ Deco Journal 무단전재 및 재배포 금지