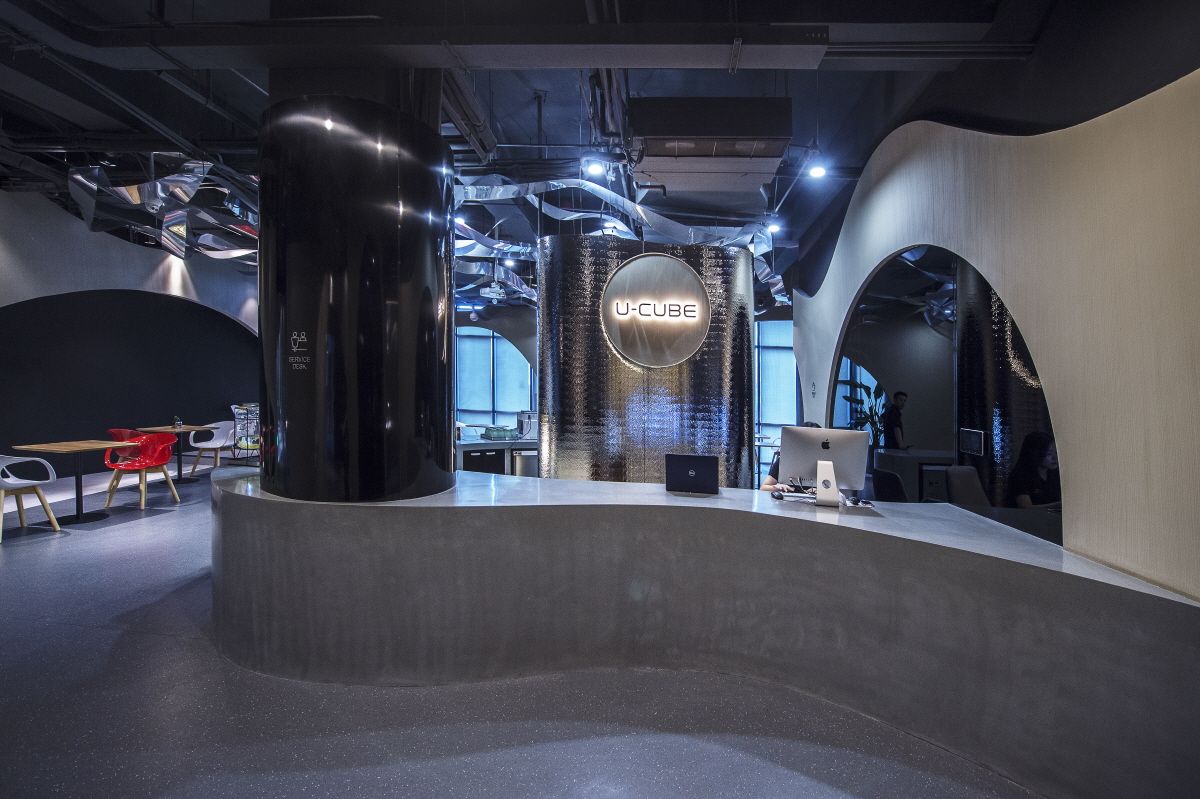 Located in the heart of Jiading new area, along with Poly Opera House and Jiading Library, U-CUBE Guangming is the most dynamic place in Shanghai. Young companies are gathering here, hoping to find their success in the commercial jungle. CROX is inspired by those courageous entrepreneur, designing U-CUBE Guangming as a symbiotic working zone full of optimism, freedom and flexibility for young adventurers who can share both working and life here. C.R. Lin, the director of CROX, believes that those who are willing to challenge themselves and could not stop the entrepreneurship are exactly the adventurers who are exploring an unknown forest. This exploration enriches their life. The concept of interior design is Forest. There is a continuous wooden wall implanted in the public space, which is undulating as a smooth and natural wave.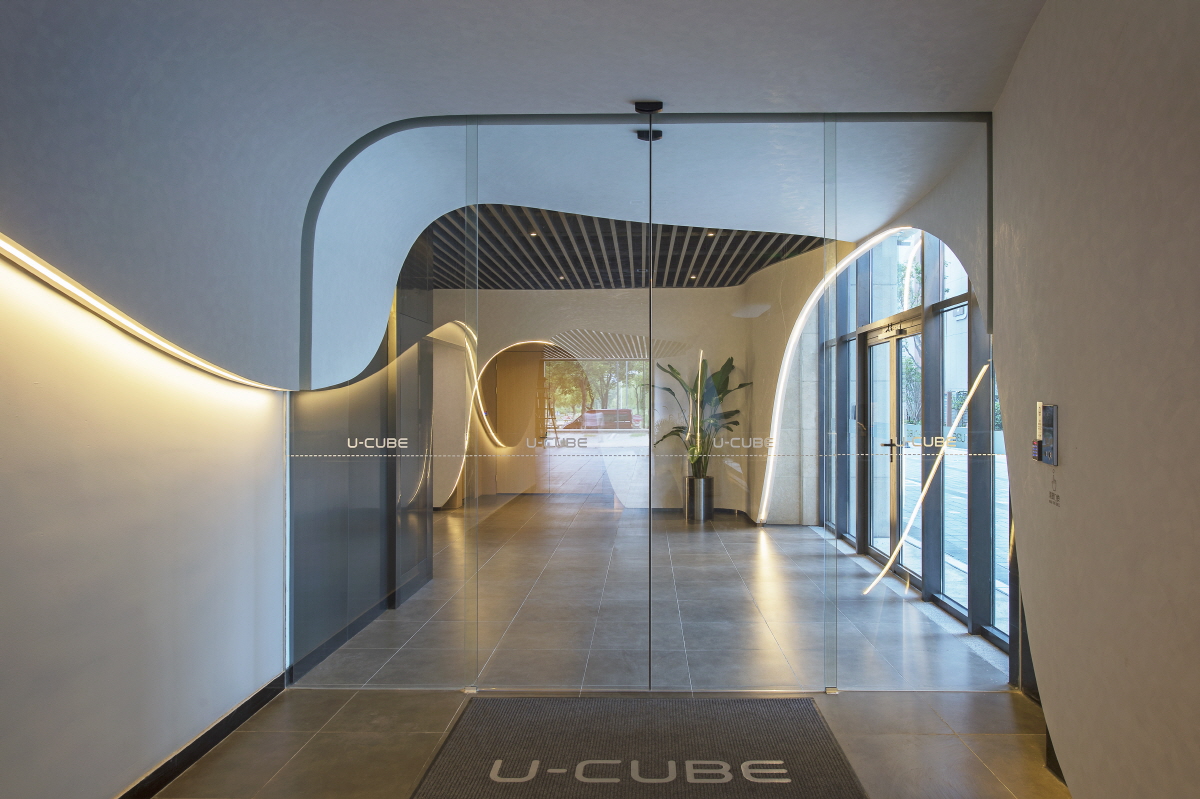 People walk around the space as if they walk around a live forest. The environment CROX creating also invisibly encourages entrepreneurs who are brave to take risks and face unknown challenges. The fluctuating forest planted in this rectangle space is main visual guideline, from entrance along the corridor to the restaurant then the leisure room, all the way combining top space with soundings, closing as a form of a irregular ring. Small areas of different functions are connected by the continuous wooden wall, breaking the old pattern of cubicles in traditional offices. Different areas overlapping with each other blur the boundaries, suggesting that young people from different fields can freely communicate, enhancing the community function of the space.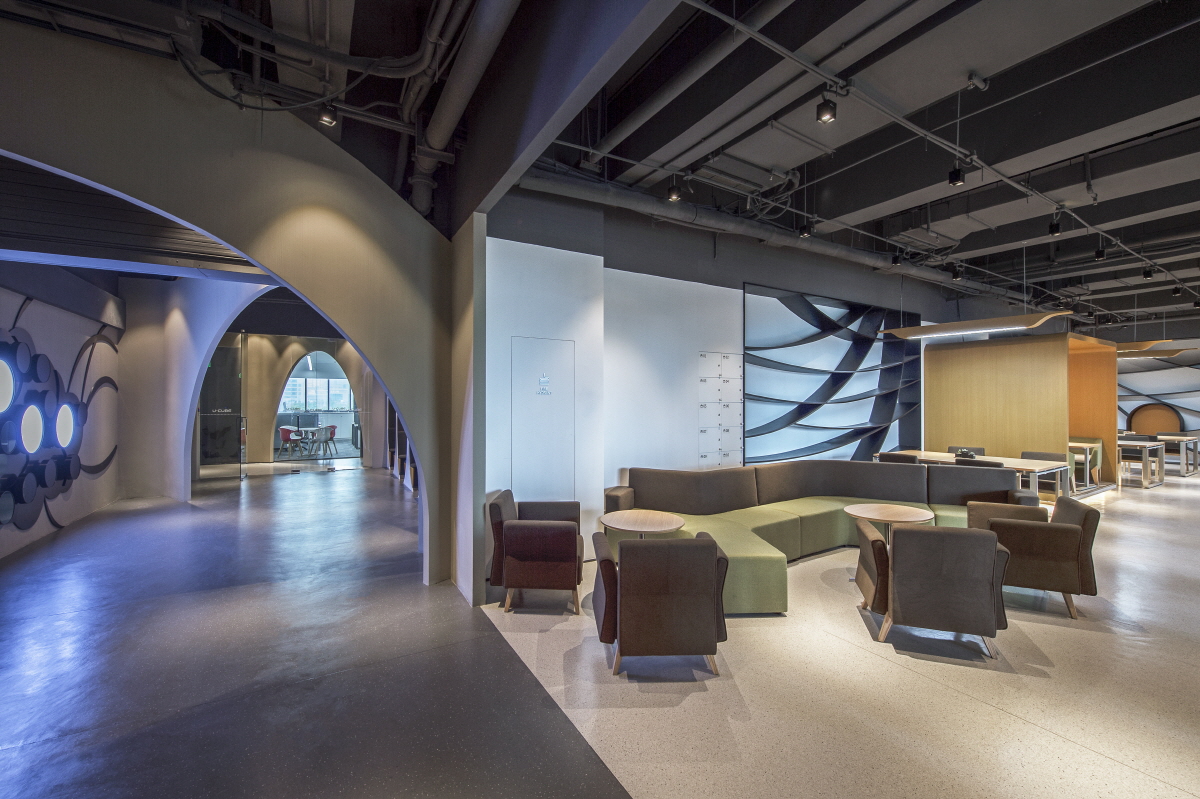 The reception of U-CUBE Guangming is designed as a flowing curved body. The artistic light-sensitive
ceilings is made up by PC panels can reflect different images and matching unique rhythm of wooden wall. With unadorned terrazzo and black mirrors, the whole space is dynamic but having stable stretch. Overall CROX creates a relaxed environment full of freedom and flexibility. This area serves as a leisure space for dining, coffee, and casual meetings. It can also be converted into a place for a variety of social activities, bringing young adventurers together as a communication platform. The power of sharing is highly liberalized here. In Oriental culture, sharing is a very intimate thing, and the meaning of business in Chinese is something achieved by close friends who sharing their minds. CROX's design highlights space enclosed or cut by different curves, which integrated internal and external world, becoming a both private and open space in line with Chinese.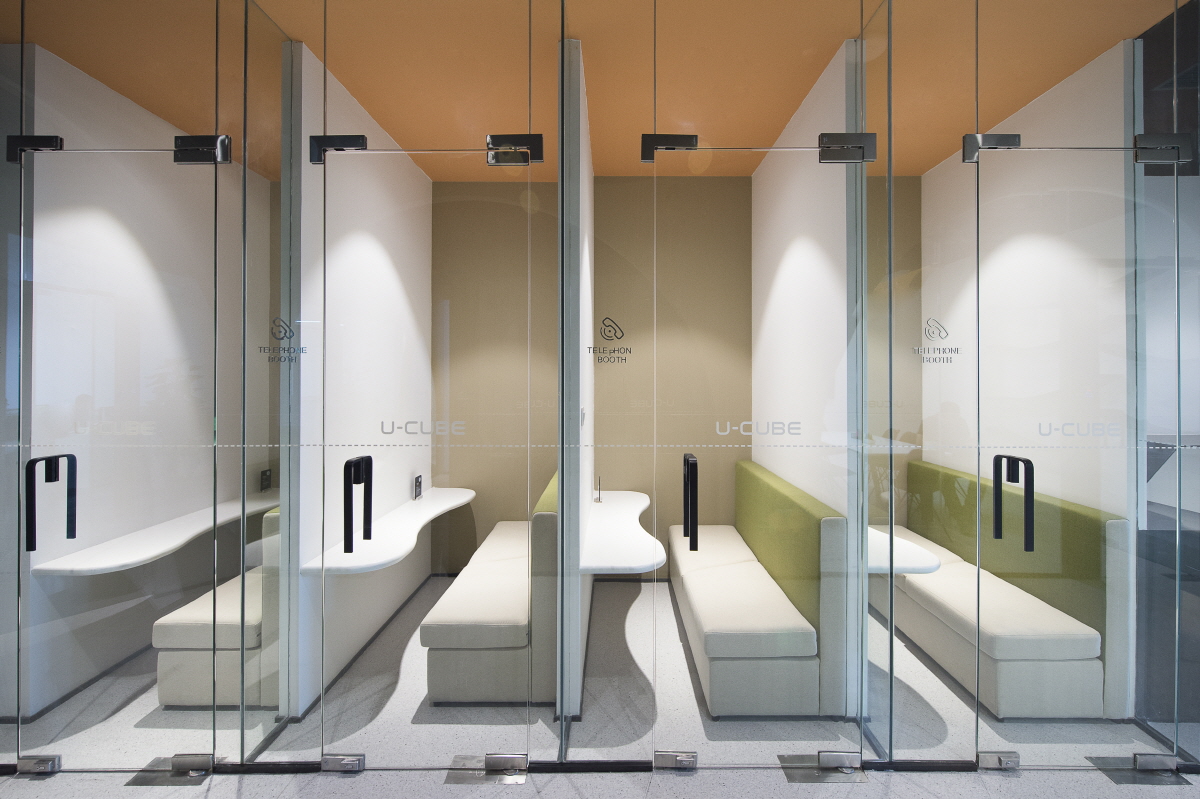 Culture of sharing. Several halfopened conference units are embedded in the public area to meet the needs of various types of meetings. Not only the distinctive phone booth but also the communication units guarantee the independence of either single or double users, in the meantime, it doesn't keep them from outside world completely. Five communication units symbolizing U-CUBE
letters also emphasizes U-CUBE brand and maximizes space usage.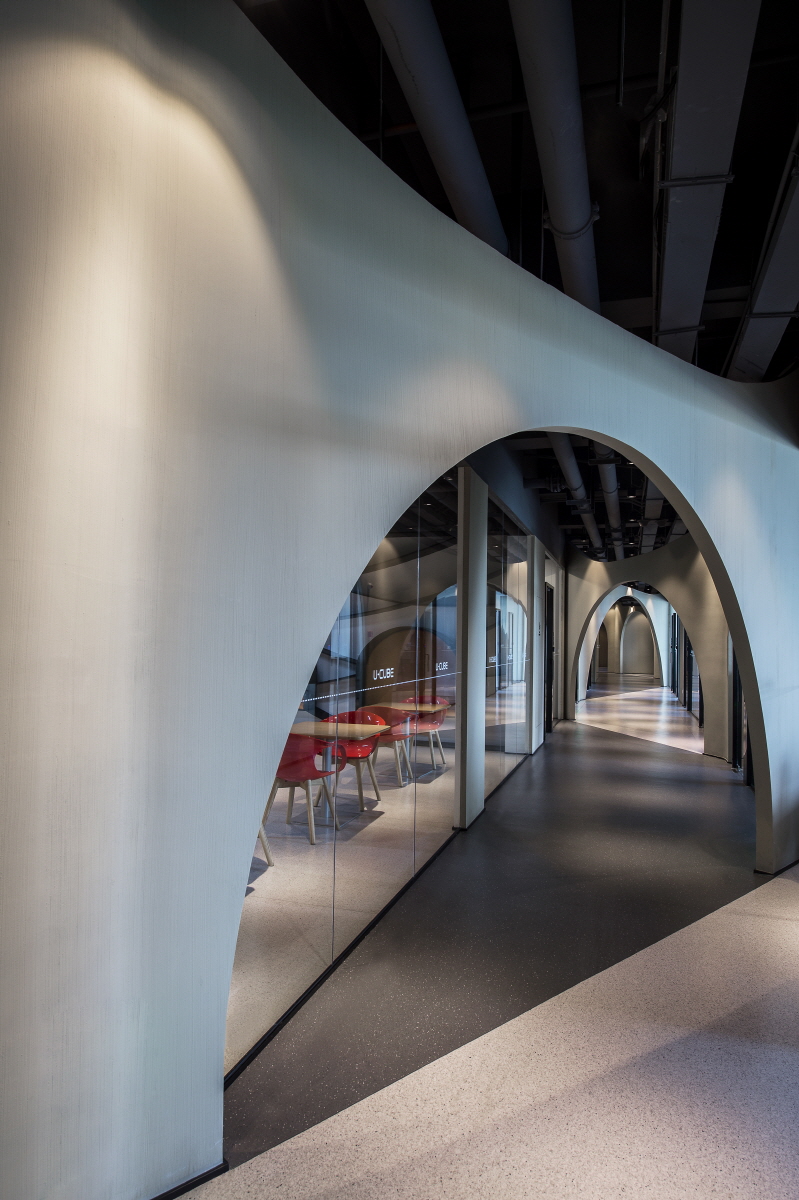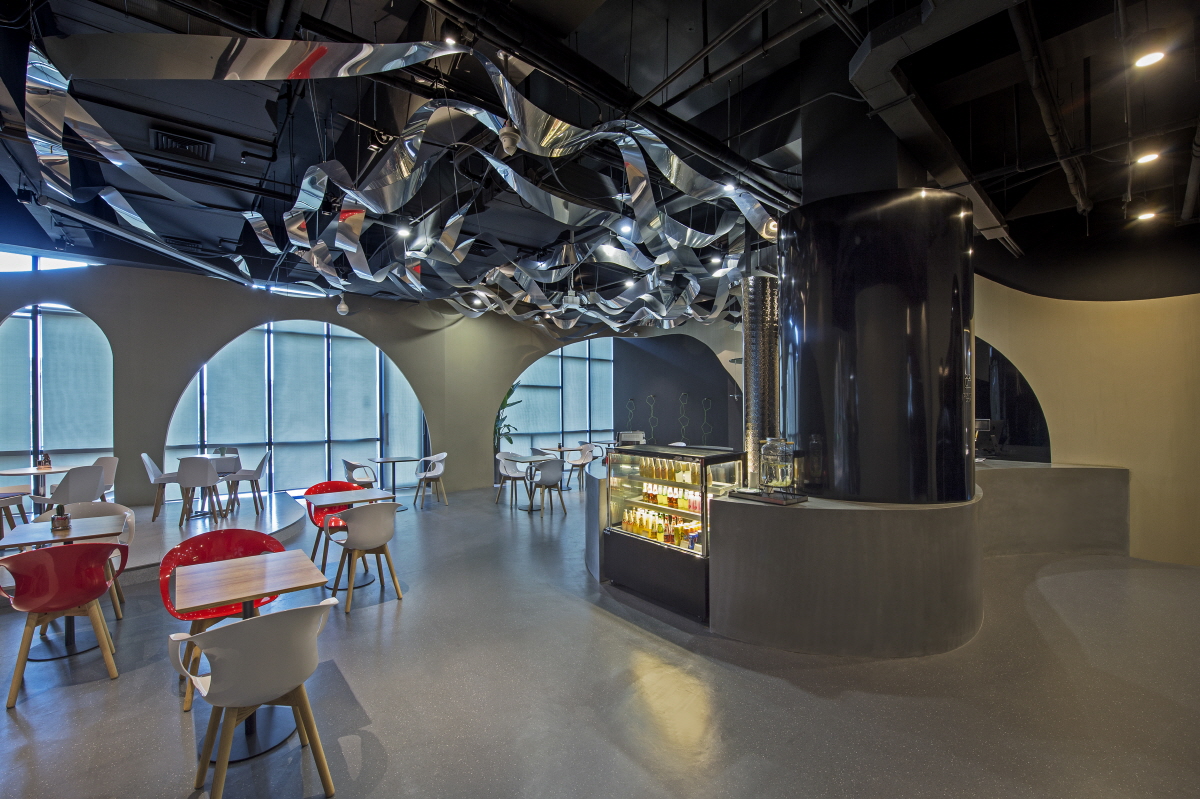 The undulating curves create a extending scenery inside the space, and provide a relaxed and pleasant atmosphere for people who didn't know each other before. Different combinations of furniture make up different conversation areas. These flexible and varied sections allow the functionality of this space to be fully exploited, paving the way for the future of adventurers in this forest.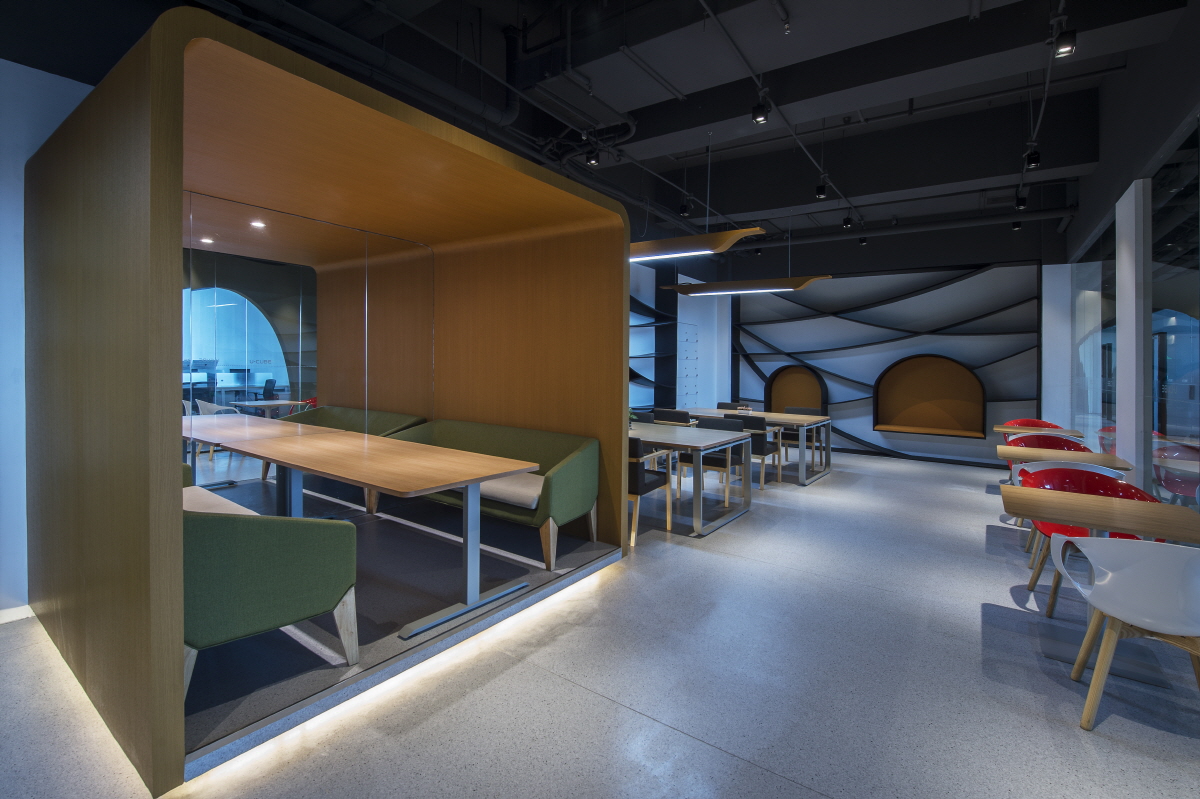 ixd.ejsung@gmail.com
PROJECT NAME: U-CUBE GUANGMING CO-WORKING SPACE
DESIGN FIRM: Crox
DESIGNER TEAM: C.R.Lin, Bentao Li, Meichen Duan, Yanna Lu, Shiyi Wen, Hanghan Yu, Chenxiang Xu, Zhuo Li
LOCATION: Shanghai, China
COMPLETION DATE: 2018.10
MATERIAL: diatom mud, terrazzo, black steel, artificial stone, PC panels
AREA: 2700 sqrm
PHOTOGRAPHER: Xuanmin Ji