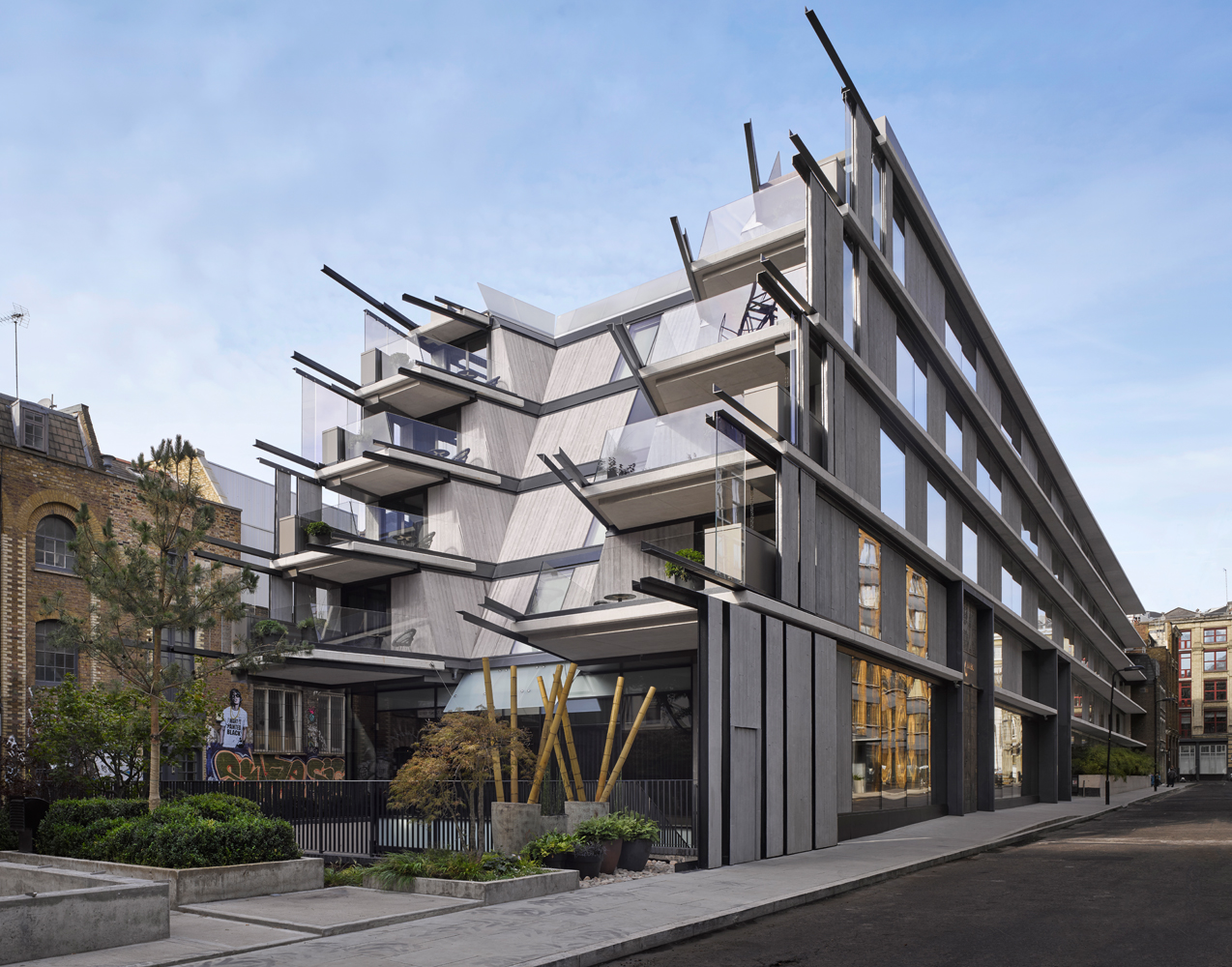 A DYNAMIC BLEND OF EAST-MEETS-WEST PHILOSOPHY
Instinctive and informal, Nobu Hotel London Shoreditch delivers a captivating and unique escape with the perfect balance of luxury, fun, craft and theatre.
Nobu Hospitality는 세계적인 일식 셰프 Nobu Matsuhisa의 이름을 딴 글로벌 호텔 브랜드로, 전 세계 어느 지점이든 동서양 철학과 예술의 접목, 그리고 미식의 향연을 특징으로 한다. Nobu Hotel의 런던 지점인 Nobu Hotel London Shoreditch는 오랫동안 런던의 화가, 시인, 작곡가와 배우, 그리고 패션 디자이너에 이르기까지 수많은 예술가들에게 영감을 불러일으킨 런던 예술의 중심부 Shoreditch에 위치했다. 또한, Nobu Hotel만의 아이덴티티인 동서양 미학의 조화, 그리고 Shoreditch 거리 특유의 인더스트리얼하고 독창적인 분위기가 141개의 객실과 7개의 스위트에 녹아들어 있으며, 활기 넘치는 인근의 관광 요소와 5성급 호텔만의 완벽한 서비스까지 모든 것을 갖추고 있다.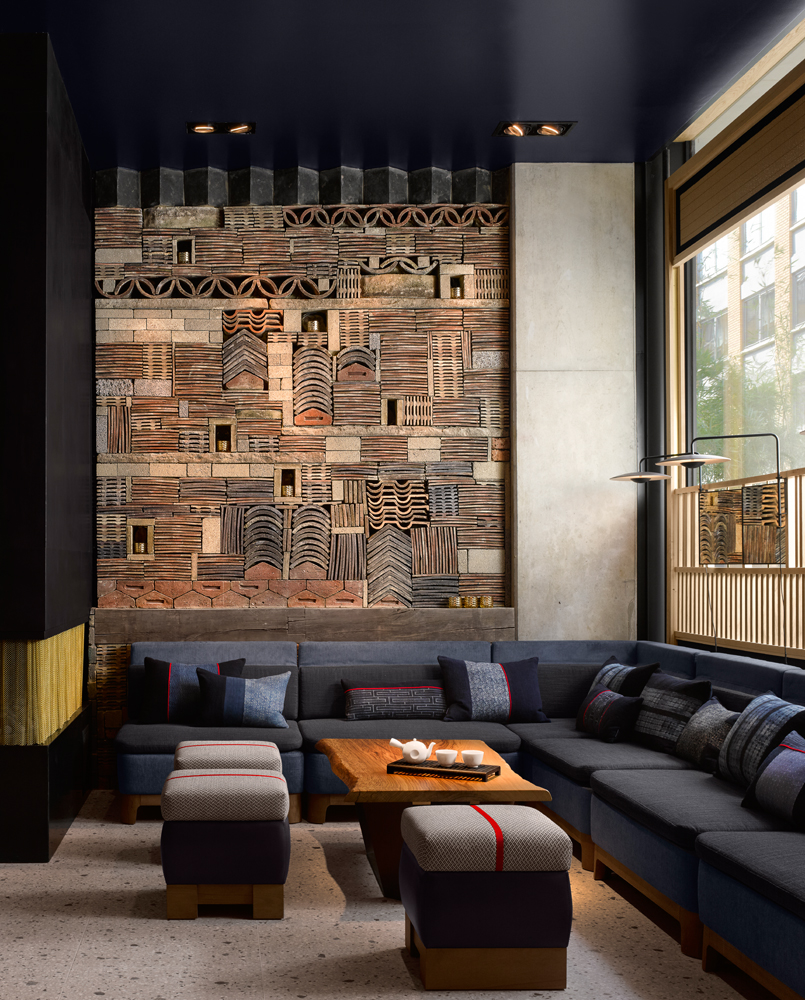 Nobu Hospitality is proud to introduce Nobu Hotel London Shoreditch, located in the heart of London's artistic quarter, offering 141 guest rooms and seven suites as well as an iconic dining experience at the new Nobu Shoreditch restaurant.
Set back from the lively hub of Great Eastern Street, Nobu Hotel London Shoreditch offers a dynamic blend of Nobu's signature east-meets-west philosophy and Shoreditch's creative and industrial energy. As well as an exclusive spa and fitness area, guests can take advantage of a series of innovative culinary experiences, available in London's newest Nobu restaurant, the lobby bar, meeting space and in-room dining.
The expressive and distinctive design for the new Nobu Hotel London Shoreditch is the result of the collective efforts of Ron Arad Architects and Ben Adams Architects featuring overhanging floor slabs and cantilevered steel beams forming a frayed edge to the east, where a landscaped garden is terraced to provide natural light to the restaurant space. The interior of the hotel was designed by local designers, Studio Mica. All parties worked in collaboration to create a seamless transition between the hotel and the restaurant.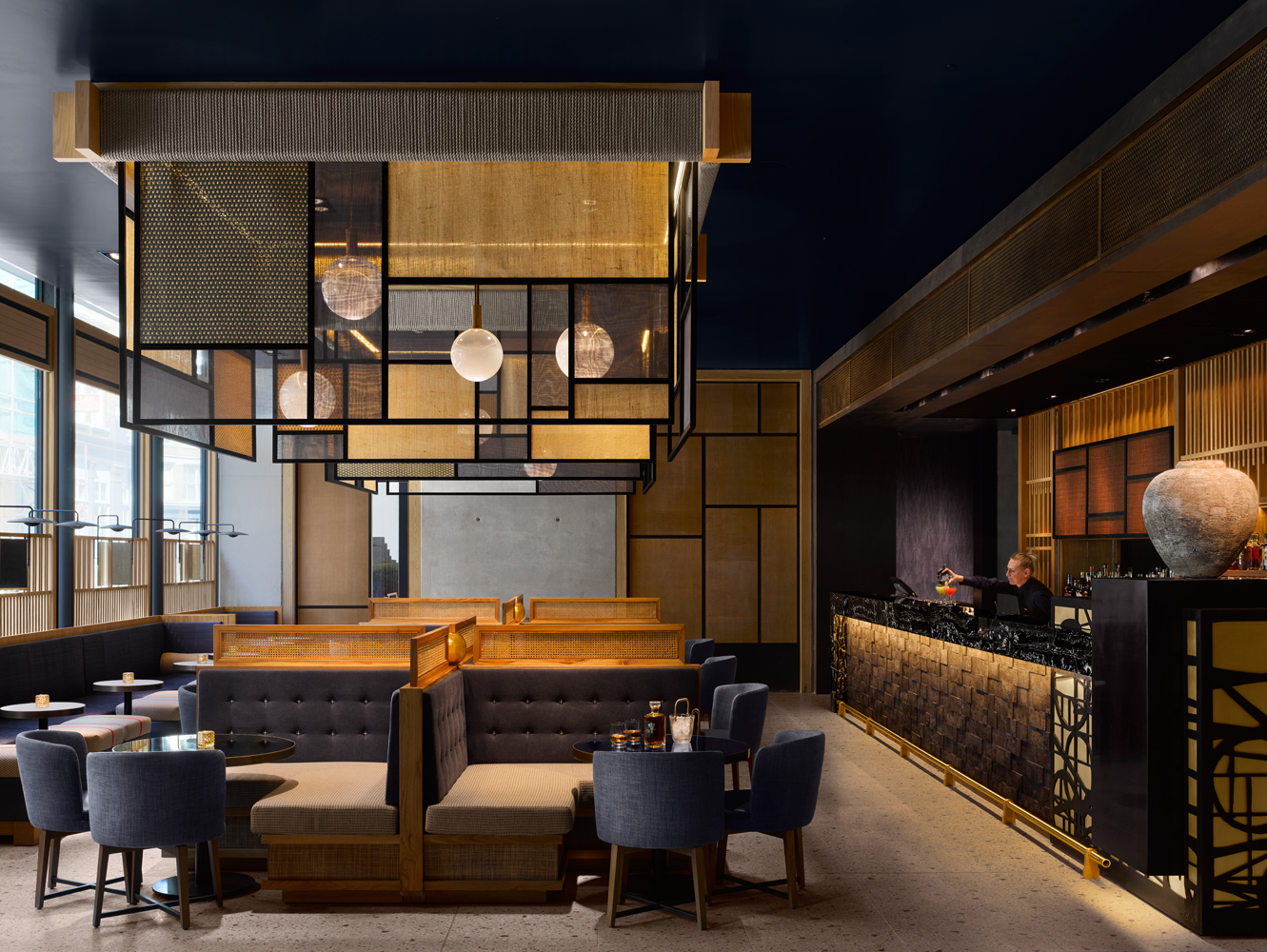 Giving back to the local area, Nobu Hotel London Shoreditch will be opening its stunning pocket garden, creating a public space between the vibrant streets and the calmness of the hotel, offering an oasis in the heart of East London.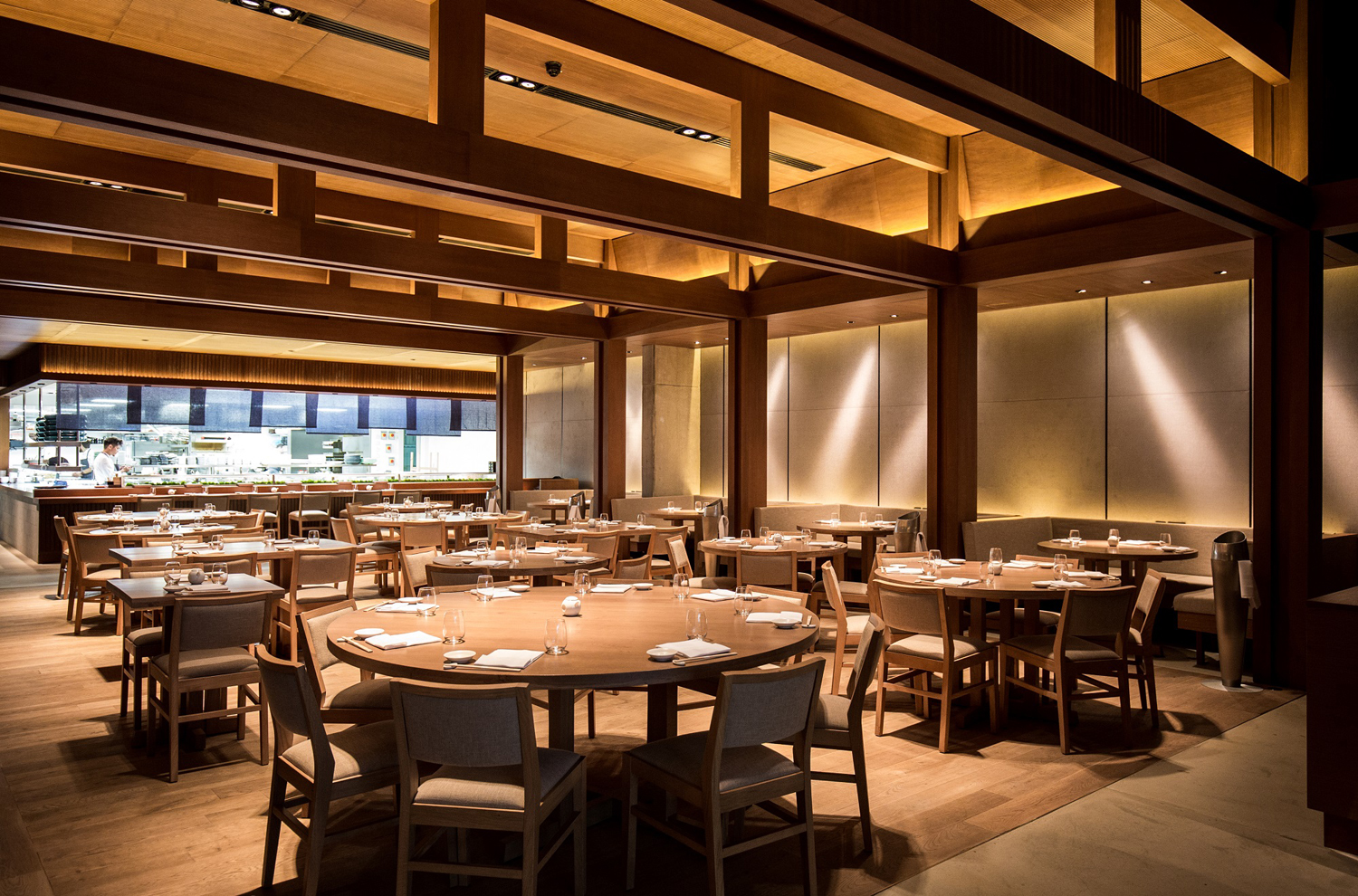 Nobu Restaurant & Bar
Nobu Restaurant은 Nobu Matsuhisa의 미식 세계를 펼쳐낸 레스토랑이다. 그는 도쿄를 기반으로 수십 년간 일본 전통 요리를 연구하다가 세계를 여행하며 그만의 독자적인 스타일을 만들어 냈고, 이를 통해 세계적인 호텔 브랜드 Nobu Hospitality가 문을 열 수 있었다. Nobu Hotel London Shoreditch에서는 클래식한 기존 메뉴들 외에도 지역의 독창성과 활기에 영감을 얻어서 개발한 퓨전 푸드 등 식도락가들의 미각을 즐겁게 할만한 다양한 메뉴를 제공하고 있다.
The 240-seat, Nobu Shoreditch restaurant was designed by Studio PCH. Inspired by the iconic Nobu aesthetics, the 340m² restaurant space's sleek wooden finish creates a cool and contemporary environment. Known around the world, Nobu cuisine is an innovative interpretation of Japanese, Peruvian and other South American elements pioneered by Chef Nobu Matsuhisa and influenced by his years of studying Japanese cuisine in Tokyo and his extensive travels.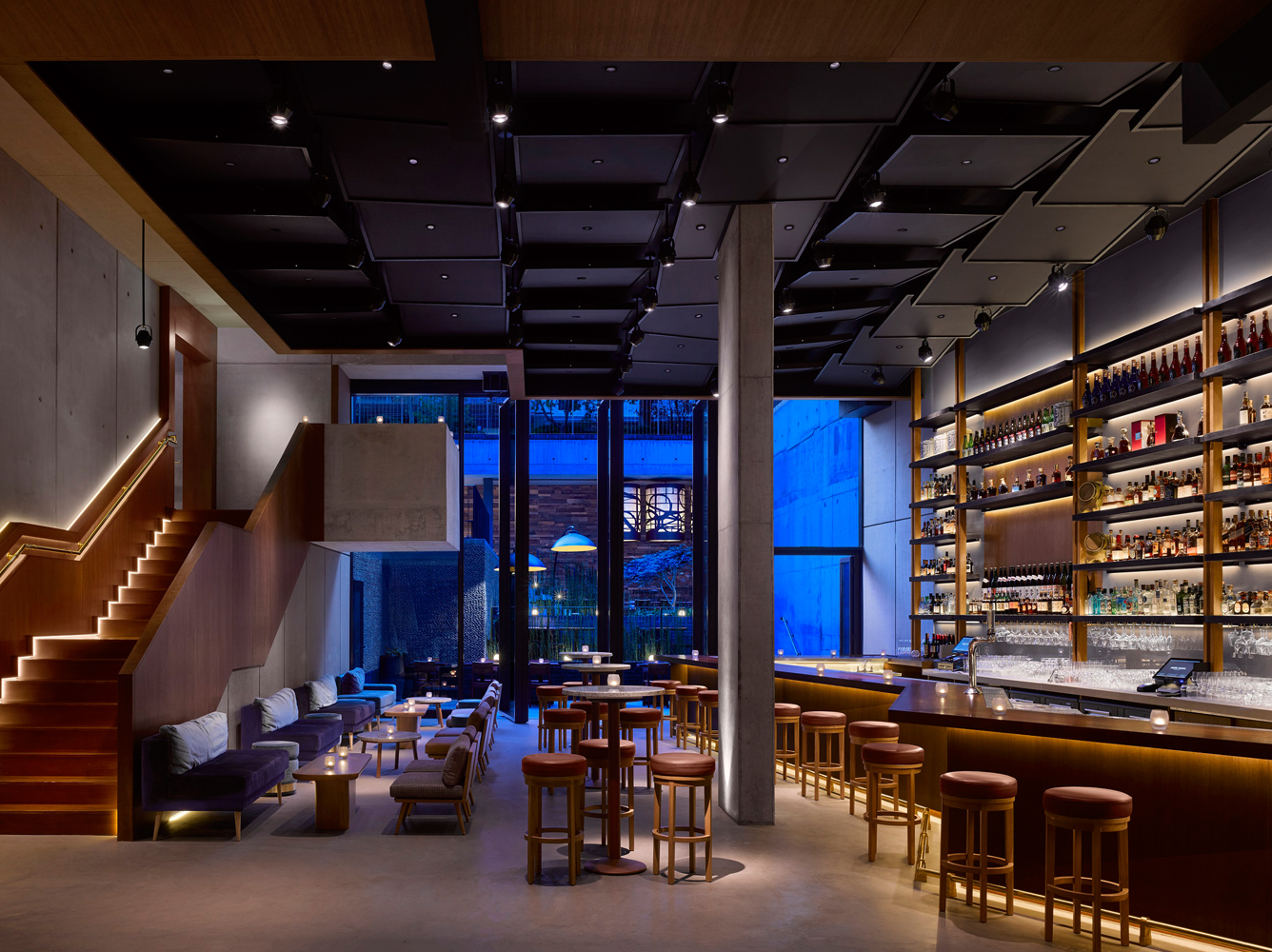 The Nobu Shoreditch menu will feature many of Nobu's timeless dishes, such as Black Cod Miso and Yellowtail Sashimi with Jalapeno, as well as plates inspired by the creativity and vibrancy of the local area. Reached via a grand staircase, Nobu Shoreditch is bathed in natural light from the five-metre tall glass doors leading out to the charming Nobu Terrace. The separate Lobby Bar on the ground floor is also available to both guests and the public, offering a comfortable atmosphere. Alongside a range of Nobu dishes and award-winning cocktails, the Lobby Bar provides a sophisticated retreat in which to socialise, relax or watch the world go by.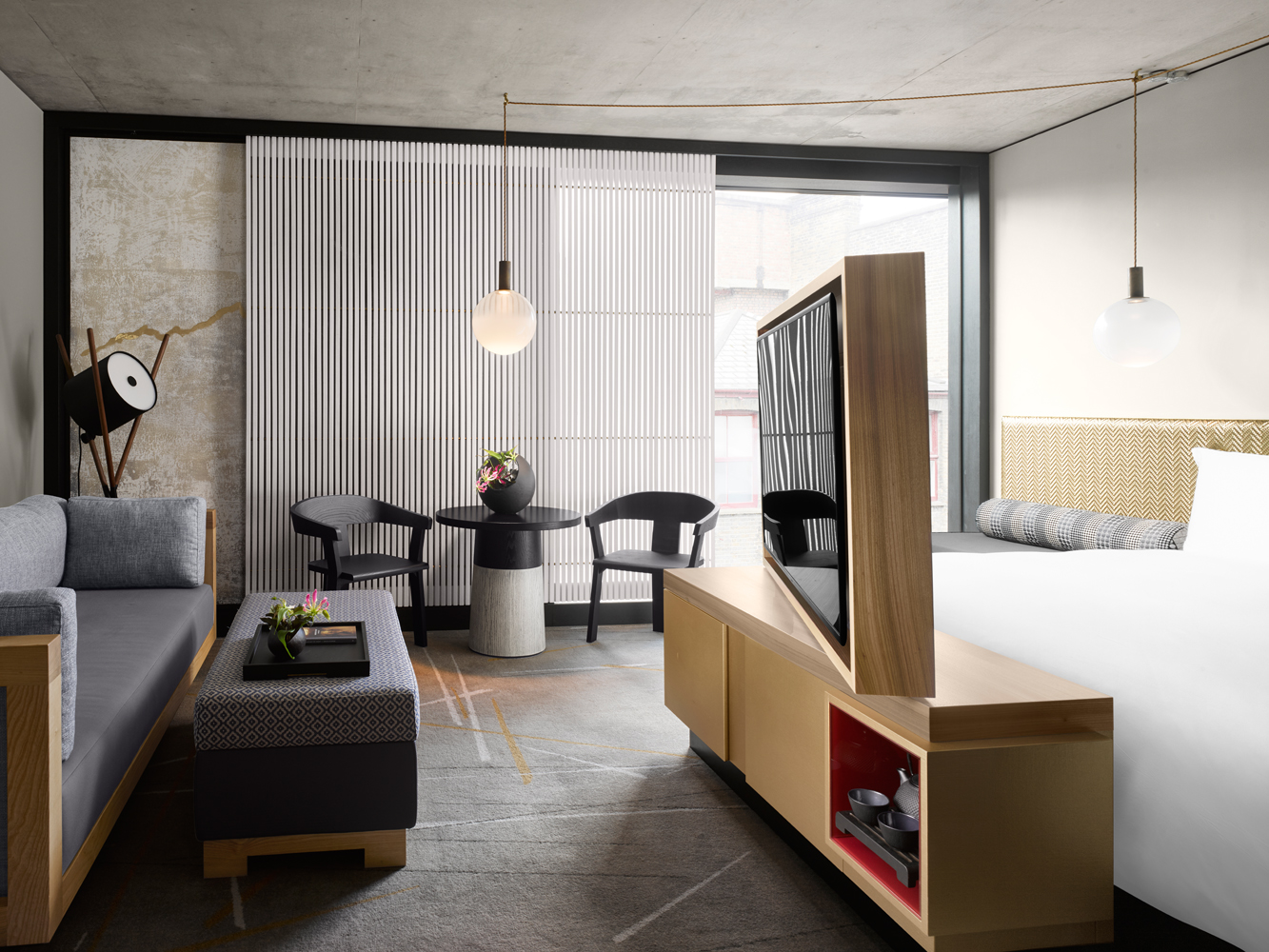 Each of the guest rooms exudes refined, relaxed sophistication, linking timeless design with contemporary functionality. Black joinery contrasts with the exposed concrete structure and soft textiles of the furniture to create an interior that is at once visually appealing to sight and touch. This is juxtaposed with the bright white bathrooms, featuring a walk-in rain shower and stunning custom-designed gold washbasin. Nobu Hotel London Shoreditch also features unique suites overlooking the courtyard and pocket garden from their own private balconies. These dynamic spaces have been meticulously designed to embrace the property's distinctive architecture with Japanese aesthetic subtleties. The largest suite is the exclusive Nobu Suite, featuring two private balconies with views across London's iconic skyline, a dining area, a lounge, and a bathtub.
STUDIO SUITE
10평 규모의 Studio Suite는 5종류의 스위트 중 가장 기본적인 스위트로, 단순하지만 정적인 동양의 아름다움을 느끼게 해주는 타입이다. 오픈 플랜 형식의 라운지 공간에는 다이닝 테이블이 마련되어 있으며, 킹사이즈나 더블 트윈 베드, 넓은 욕실에 워크인 샤워나 욕조를 선택할 수 있다.
The Studio Suite offers a simple aesthetic with warm textiles and hand-finished touches, providing an atmospheric and quintessentially Nobu experience. It features Either a King sized bed or twin beds, open plan lounge area with a dining table and a large bathroom with either a Walk In shower or bath.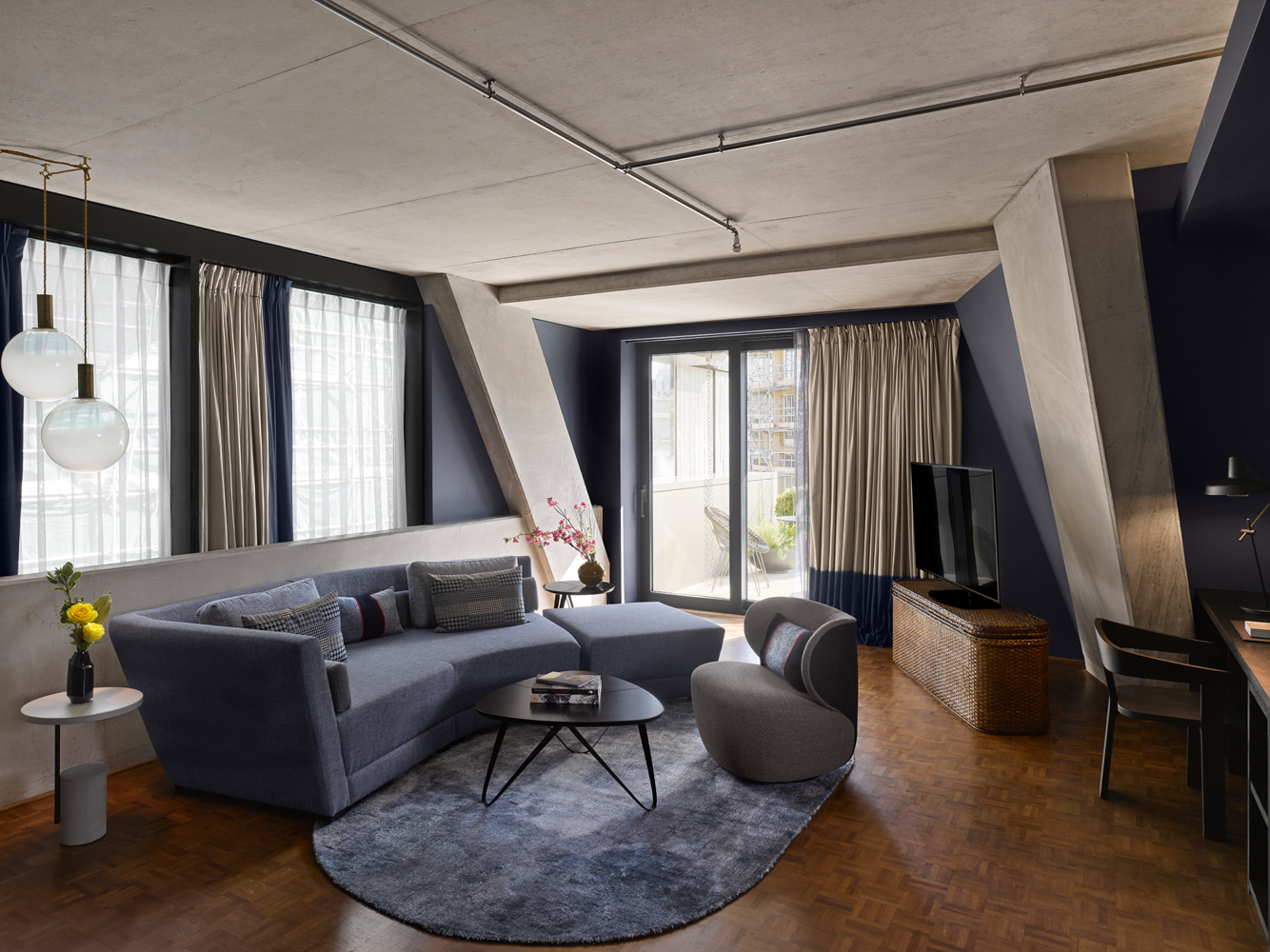 THE NOBU SUITE
25평 규모로 가장 넓은 스위트 타입인 The Nobu Suite는 두 개의 발코니를 갖추고 있어 런던의 스카이라인을 바라보기 좋다. Nobu라는 이름에서 드러나듯 호텔이 추구하는 최고의 서비스를 제공하며, 관광, 휴식을 원하는 모든 이들에게 최고의 여행 경험을 선사한다.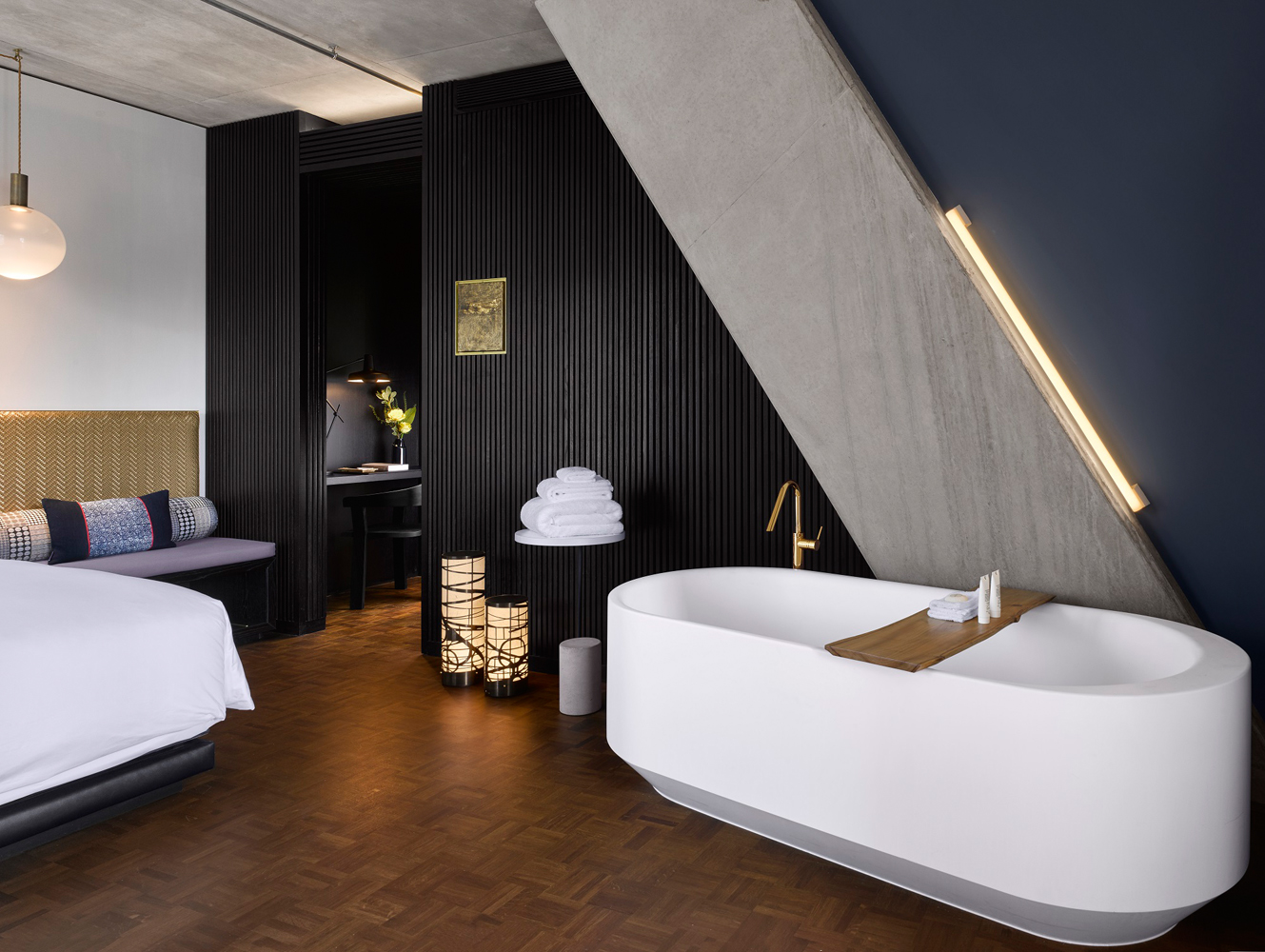 HIKARI SUITE
Hikari Suite는 차분하고 평화로운 분위기로 디자인했으며, 부드러운 물성과 색조를 활용해 연출했다. Hikari Suite의 테라스에서는 호텔의 정원과 런던시의 전경이 내다보이며, 오픈 플로어 형식의 거실과 간단한 업무를 볼 수 있는 공간이 갖춰져 있다.
The Hikari Suite has been designed to create an ambiance of serenity and calm, with soft textiles and an earthy color palette. In the Hikari Suite, you can enjoy the view of the garden & the city in your private balcony. Alongside with the open floor plan living area, the Hikari Suite also provides work desk for your business.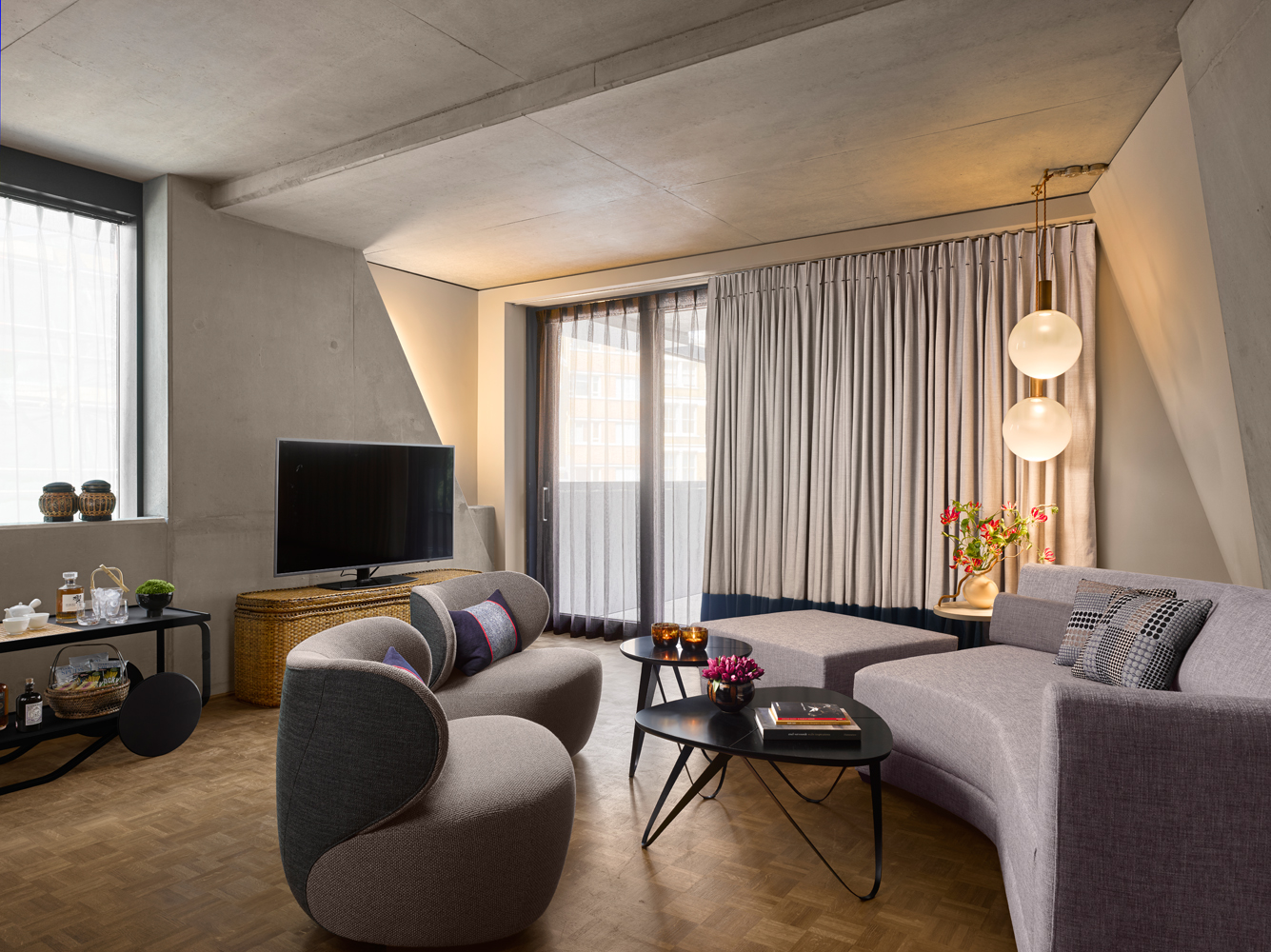 MIYABI SUITE
자연적인 소재로 마감된 Miyabi Suite는 쪽모이 세공 바닥 등 섬세하고 미려한 터치로 꾸민 스위트 타입이다. 일본어로 우아함을 뜻하는 Miyabi Suite에는 침실과 넓은 다이닝, 테라스와 거실 공간 외에도 다용도실까지 갖춰져 있으며, Hikari Suite와 마찬가지로 업무 공간이 마련되어 있다.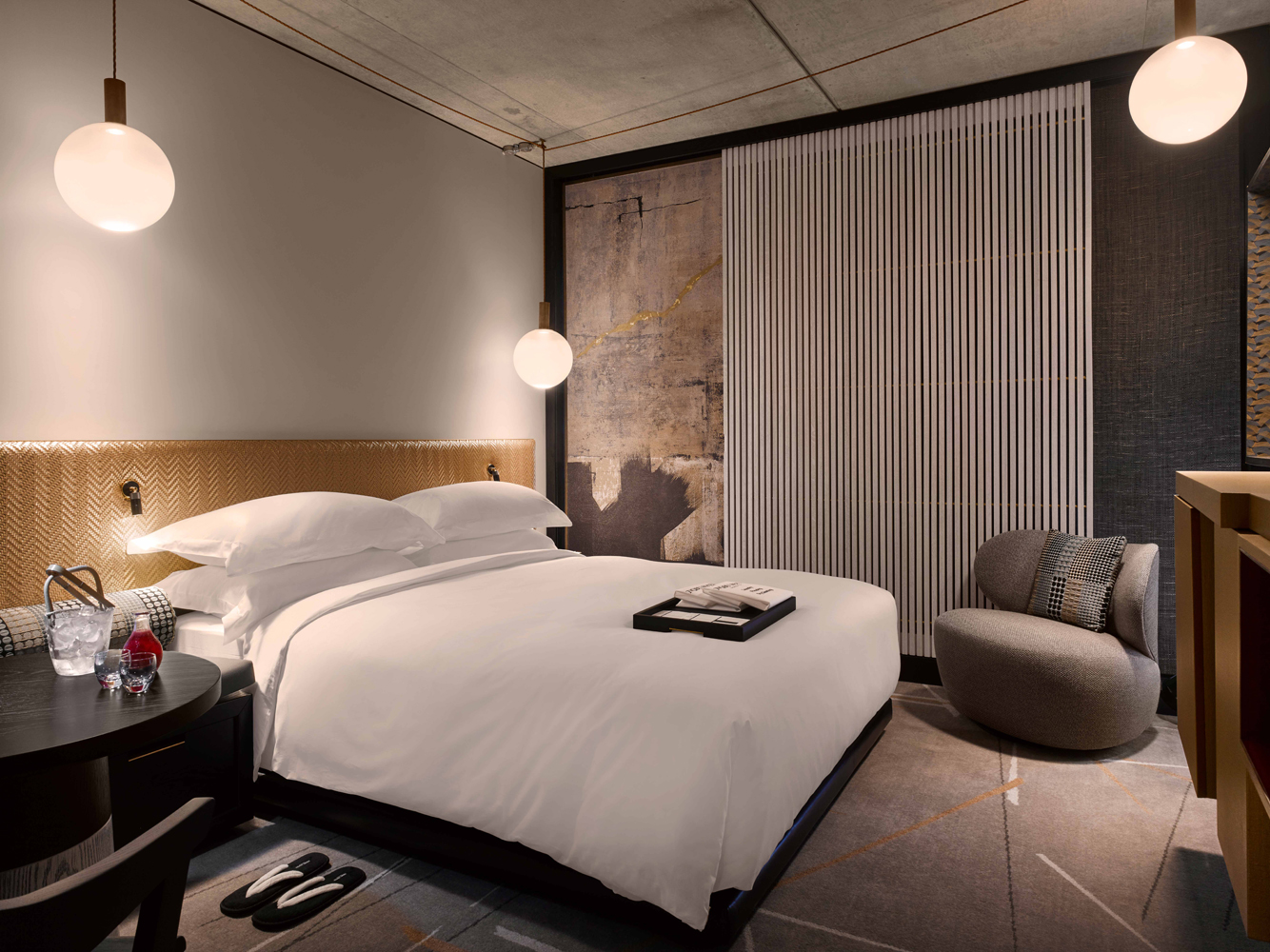 EXECUTIVE ROOM
기본적인 타입의 객실인 Executive Room은 컴팩트한 공간 안에 일본풍의 고요함과 정적인 디자인을 담았다. 노출 콘크리트 소재와 트렌디한 가구, 마감재 등이 조화를 이루며 편안한 숙박 서비스를 제공한다. 스위트 룸과 마찬가지로 55인치 대형 TV도 갖춰져 있다.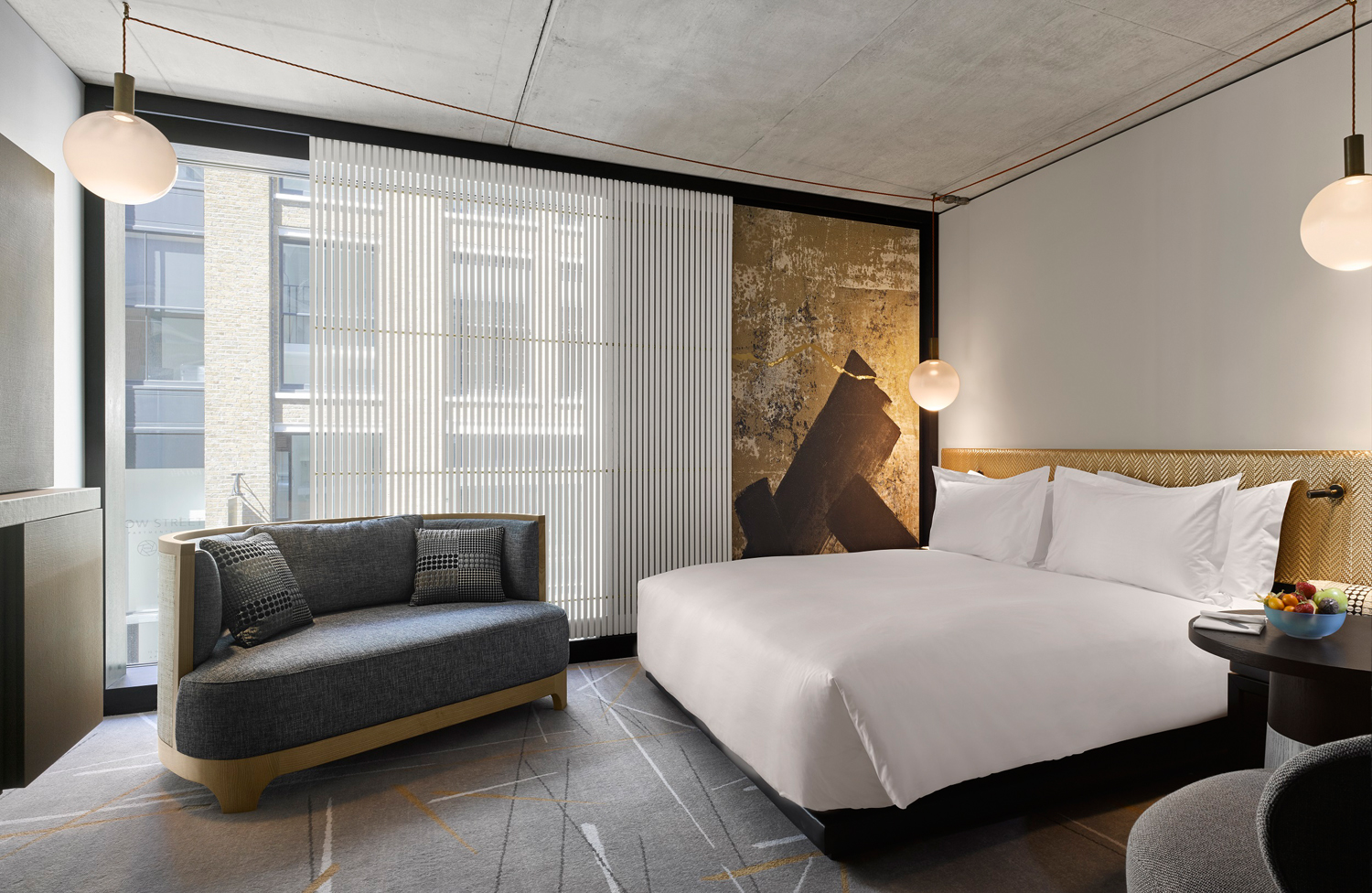 PREMIUM ROOM
다른 호텔의 스위트룸에 비할 만큼 호화로운 Premium Room은 정제된 세련미, 럭셔리를 키워드로 디자인됐다. 객실의 모든 요소는 투숙객들의 즐거움과 머무르는 동안의 편안함을 고려했으며, 현대적인 스타일과 동양 고전풍 인테리어가 어우러진 객실이다.
ixd.jhcha@gmail.com
Photo credit: ⓒ Nobu Hotel London Shoreditch / Will Pryce