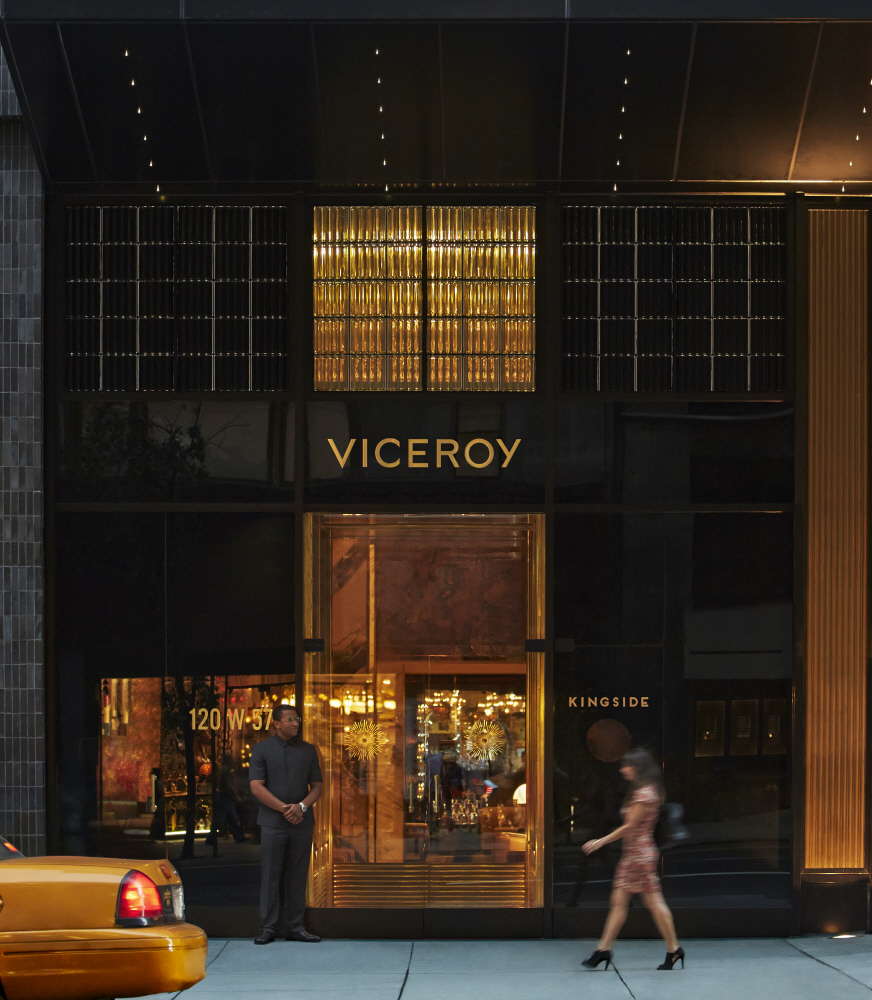 미국 최대의 도시이자 브로드웨이와 센트럴파크로 유명한 뉴욕. 이곳 뉴욕 맨해튼 미드타운에서 가장 활기를 띠고 있는 곳에는 Viceroy Central Park가 자리해 있다. 6번가와 7번가 사이 West 57th Street에 위치해 있는 Viceroy Central Park는 비지니스와 레저의 조화로운 융합으로 평가받고 있다. 맨해튼 57번가는 뉴욕의 상업 및 문화 중심지로 세계에서 가장 매력적인 상점들, 도시에서 가장 아름답고 중요한 건축물, 그리고 비교할 수 없는 다채로운 문화의 본거지이기도 하다.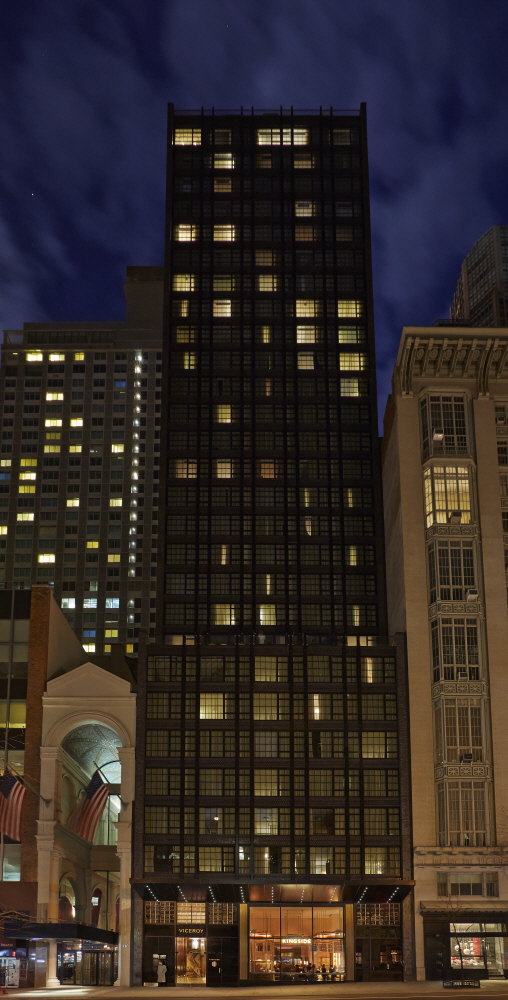 Viceroy Central Park is a boutique hotel occupying one of the most energetic locations in Midtown Manhattan; the fusion of business and leisure on West 57th Street between 6th and 7th Avenues. Viceroy Central Park's unparalleled amenities and culinary program pulsates throughout the 29 stories, featuring The Roof, a paramount rooftop lounge in addition to Kingside, a signature restaurant located off the lobby and fronting 57th Street. Helmed by celebrity chef Marc Murphy, Kingside features a small plates menu of New American cuisine and sets the standard for quality dining and exceptional service in a buzzing, vibrant atmosphere.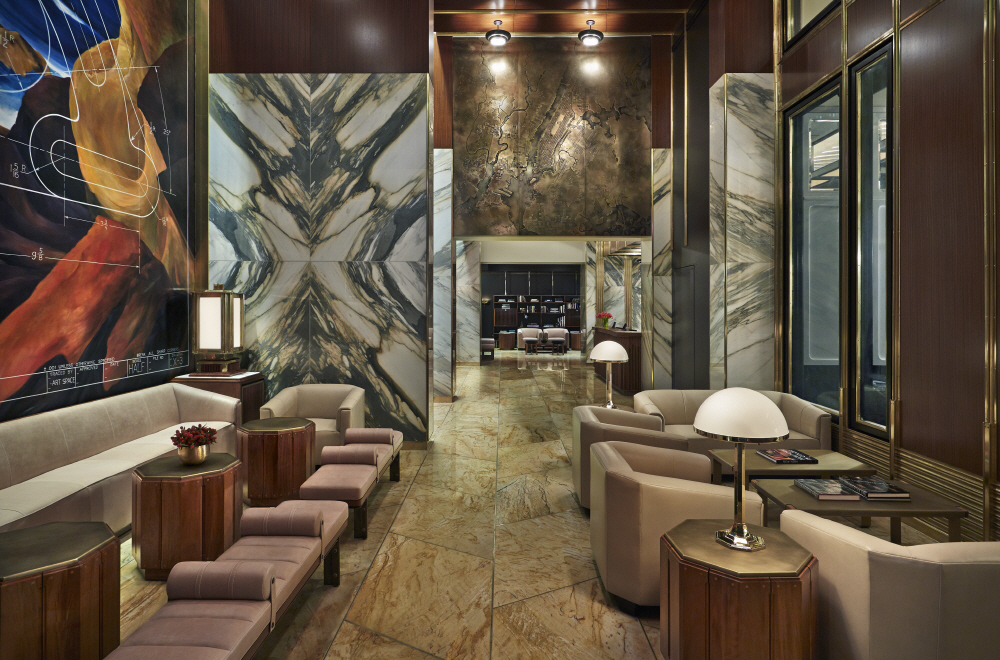 Viceroy Central Park는 박물관과 미술관, 콘서트 홀, 쇼핑센터 등 뉴욕에서의 경험할 수 있는 모든 것을 즐기기에 최적의 위치에 자리해 있다. 세계 최고 수준의 쇼핑 명소뿐만 아니라 맨해튼 내 주요 회사들과도 가까워 비지니스와 여행 모두에 적합하다. 도보 또는 택시를 이용하면 몇 분 이내에 센트럴 파크, 록펠러 플라자, 카네기 홀, 링컨 센터, 라디오 시티 뮤직홀, 콜럼버스 서클, 타임스퀘어, 브로드웨이 극장 등에 쉽게 갈 수 있다. 뉴욕의 활기찬 에너지와 유니크한 스타일을 통해 다양한 감정, 감동을 불러일으키는 Viceroy Central Park는 뉴욕에서 머무르는 시간을 최고의 순간들로 만들어줄 것이다.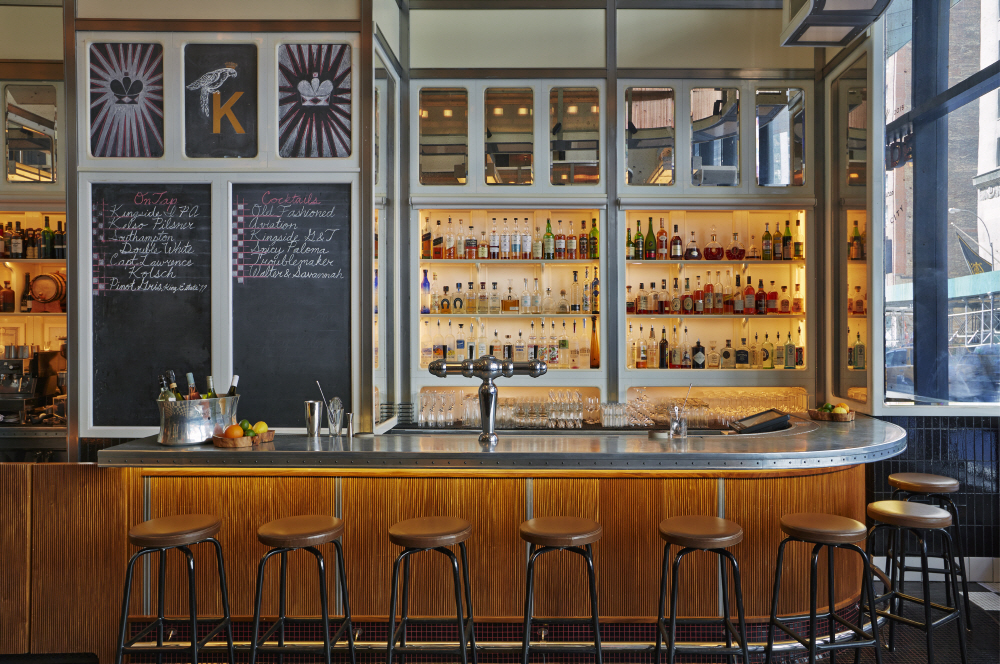 Set in the best location for accessing all that the city has to offer, Viceroy Central Park provides excellent proximity to Manhattan's major businesses as well as most popular attractions, including museums, art galleries, concert halls and the finest shopping. Within a few minutes by foot or by taxi, guests can visit such New York landmarks as Central Park and its Zoo, Rockefeller Plaza, Carnegie Hall, Lincoln Center, Radio City Music Hall, Columbus Circle, Times Square, the Broadway Theatre District, Time Warner Center, Fifth Avenue shopping, St. Patrick's Cathedral and several museums. Imagined by Roman and Williams, Viceroy Central Park offers bold and uniquely designed guest rooms reminiscent of a tailored ship's cabin to maximize space and comfort. The hotel's restaurant Kingside has the feel of a modern American diner with an accessible menu taking inspiration from the Best of European and American Cuisine. Capping the top of the hotel is The Roof, a fantastic indoor and outdoor bar on the 29th floor. The Roof gives guests the opportunity to enjoy a cocktail while soaking up the uninterrupted view of Central Park and the New York Skyline.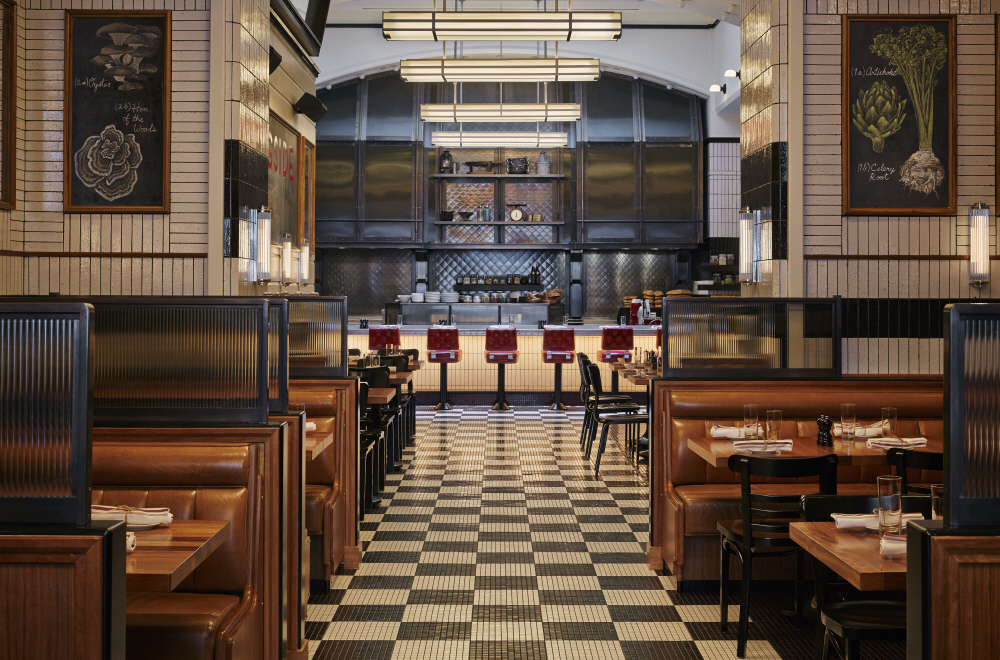 Manhattan's 57th Street, while not quite the geographical center of the island, is certainly the commercial and cultural heart of the city. This location is home to some of the world's most glamorous shopping, some of the city's most beautiful and important architecture, and unparalleled cultural institutions.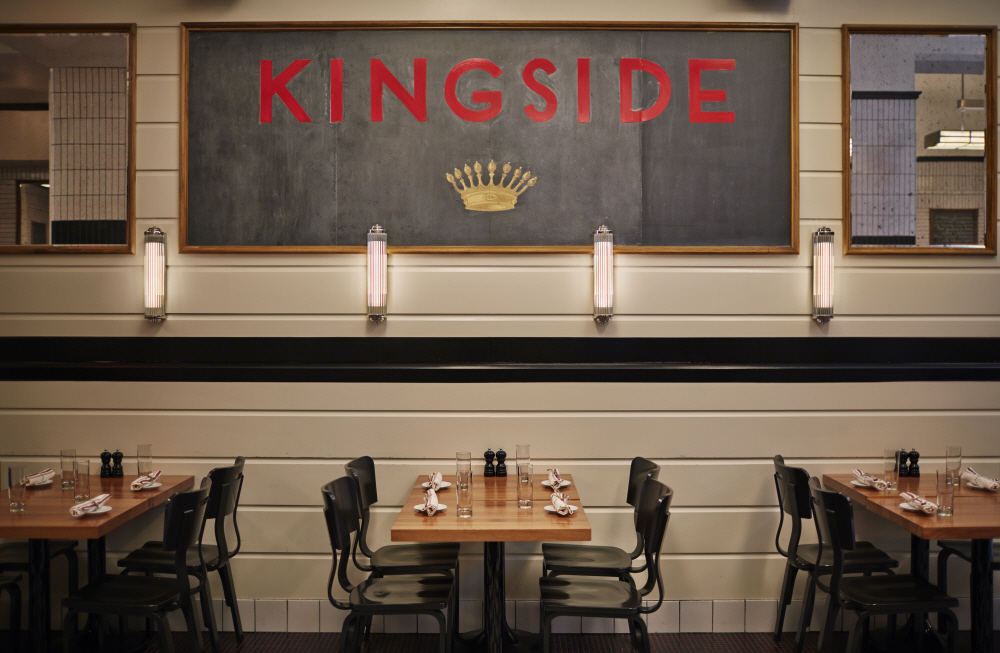 총 29개 층의 높은 건물에는 높은 퀄리티의 레스토랑과 우아하면서도 편안한 각종 시설, 고급스러운 객실, 옥상 라운지 The Roof가 있어 화려한 뉴욕의 전경과 라이프를 경험하고 느껴볼 수 있다. 호텔 내 다양한 시설과 공간, 객실은 뉴욕 스타일을 그대로 담고 있으며, 사용자를 배려한 디자인과 시설을 자랑한다. 호텔 객실은 공간의 편안함을 극대화하기 위해 우주선을 연상케 하는 대담하고 독특한 디자인을 추구했다.
호텔의 레스토랑 Kingside는 모던하고 트렌디한 미국 레스토랑의 느낌을 그대로 가지고 있으며, 이곳에서는 근사하고 화려한 식사를 만끽할 수 있다. 호텔의 최상위층인 29층에는 환상적이고 우아한 분위기의 바(Bar), The Roof가 있다. The Roof에서는 센트럴 파크와 뉴욕 스카이라인의 탁 트인 전망과 함께 로맨틱한 분위기에서 칵테일을 즐길 수 있다.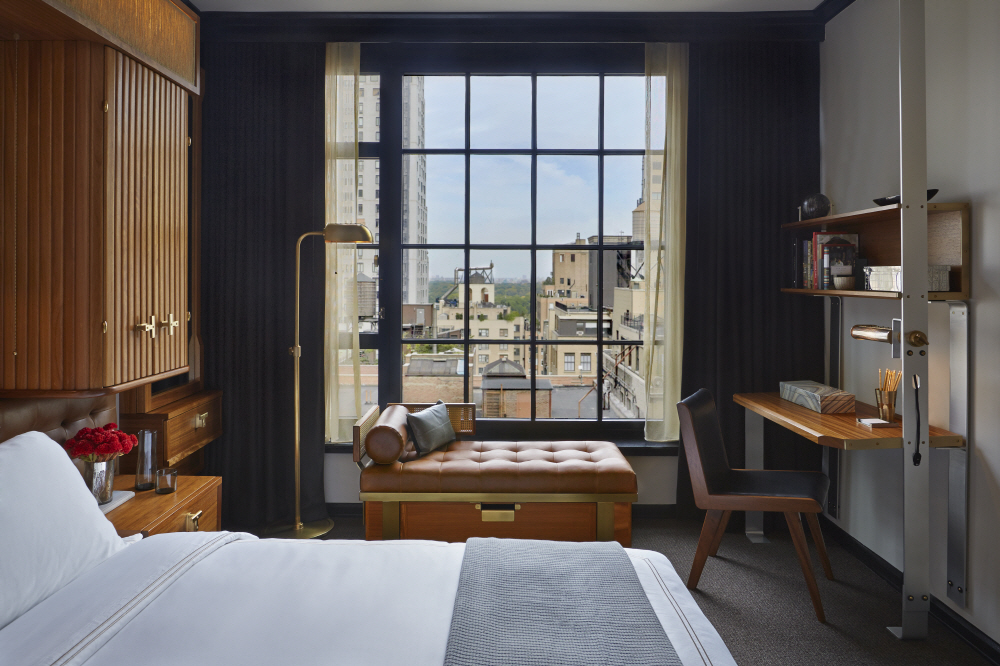 ▲Viceroy Park View
18층부터 위로 쭉 이어져 자리한 Viceroy Park View에서는 천장부터 바닥까지 내려오는 창을 통해 센트럴 파크의 아름다운 전망을 장애물 없이 완벽하게 즐길 수 있다. 객실 내에는 뛰어난 품질의 킹사이즈 침대와 별도의 샤워 시설을 갖춘 대리석 욕실이 있다. 또한, 객실에 머물면서 시티 스카이 라인을 포함한 뉴욕의 많은 볼거리를 즐길 수 있는 것이 가장 큰 장점이자 특징이다.
Scaling the heights of the building on the 18th floor or above, our Park View rooms with their floor to ceiling picture windows offer a spectacular unobstructed view over Central Park. The room has a brilliantly comfy king sized bed and marble bathroom with walk in rainfall shower. This room allows you to see the City skyline without ever having to leave the hotel. This room type offers interconnecting options with a Park View Suite.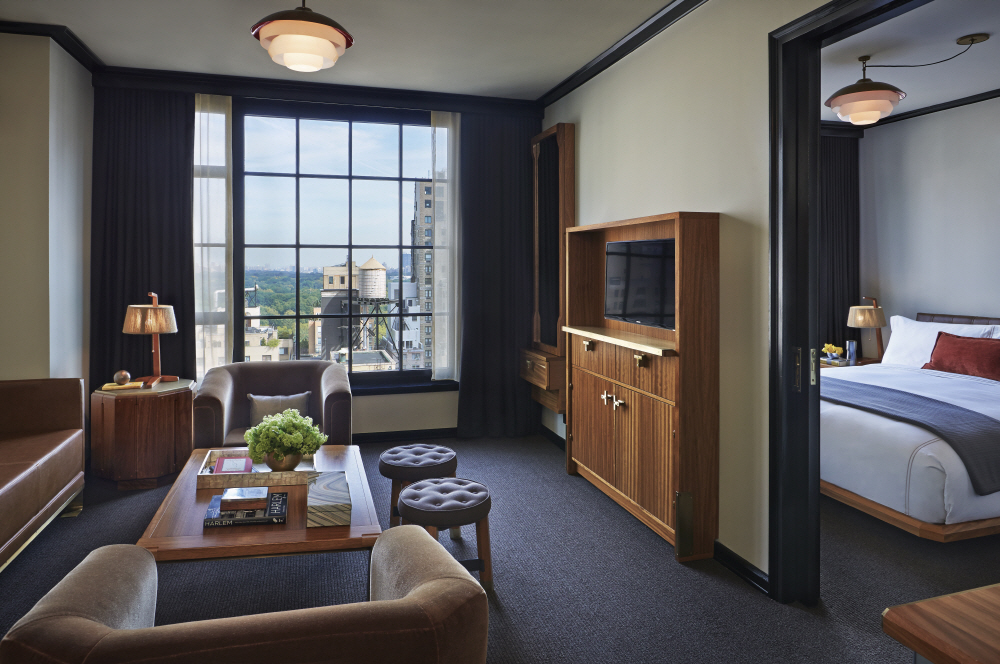 ▲Viceroy Park Suite
Viceroy Park View Suite는 뉴욕 스타일을 그대로 반영해 뉴욕의 로컬 라이프를 그대로 경험할 수 있는 객실이다. 커다란 침실과 바(Bar)가 마련된 넓은 생활 공간을 갖추고 있으며, 퀸사이즈 소파가 있어 대가족이 머물기에도 충분하다. 넓은 대리석 욕실에는 2개의 세면대와 별도의 샤워실이 있어 편하게 사용할 수 있다. 호텔 내 가장 인기 있는 객실 유형 중 하나로 탁 트인 전망과 다양한 시설, 특별한 경험 등을 제공하며, Viceroy Park View Room과 상호 연결이 가능해 더욱 넓게 공간을 사용할 수 있다.
The Viceroy Park View Suite allows you to live like locals wish they could. This one bedroomed suite has a large living space including a small wet bar and pull out queen sofa making it a perfect choice for families visiting the City. The separate bedroom features one of our brilliantly comfy king sized beds, and the spacious marble bathroom has a double vanity and walk in rainfall shower. Allowing the luxury of space with unobstructed views of the Park it is easy to see why this is one of the most popular room types in the hotel, this room offers an experience hard to find anywhere else. This room type offers interconnection options with a Viceroy Park View Room.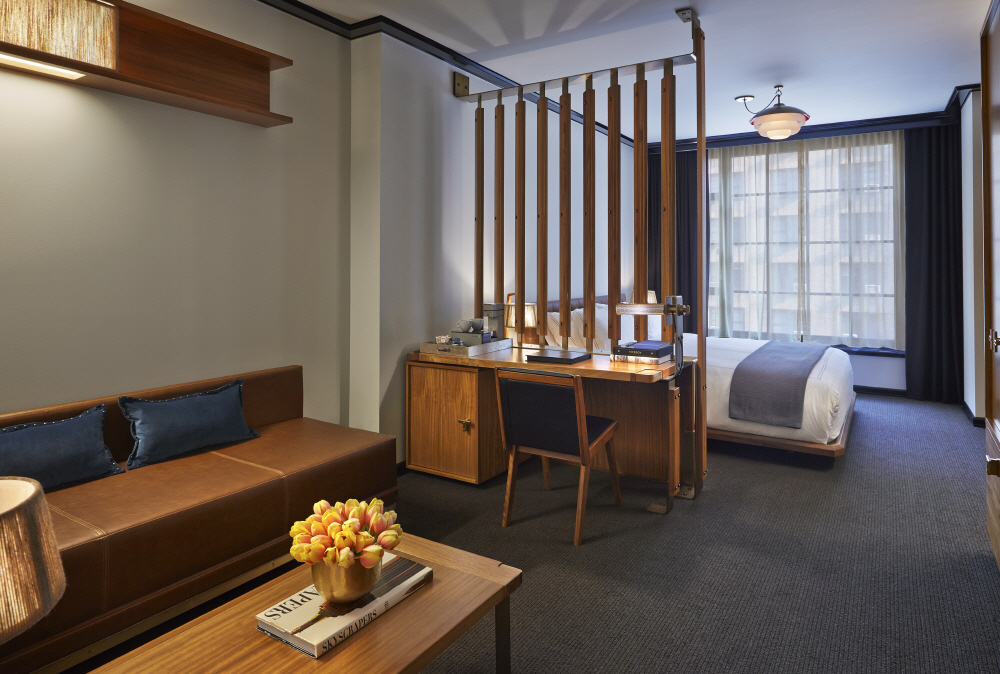 ▲Viceroy Junior Suite
57th Street이 훤히 내려다보여 화려한 도시의 전망을 감상할 수 있는 Viceroy Junior Suite는 오픈 플랜 스타일로 넓고 편안한 공간을 자랑한다. 고급스러운 인테리어의 객실은 킹사이즈 침대와 퀸사이즈 소파를 갖추고 있어 가족들이 머무르기에 완벽하다. 호텔 낮은 층에 위치해 있으며, 객실 천장부터 바닥까지 이어진 창문은 전형적인 맨해튼의 다락방 스타일을 연상케 하고, 커다란 창은 풍부한 자연 채광을 제공한다.
ixd.ejsung@gmail.com
Viceroy Central Park New York
Location: 120 W 57th St, New York, NY 10019 미국
Number: +1 212-830-8000
Website: www.viceroyhotelsandresorts.com/en/newyork

All rights reserved.
© Viceroy Central Park New York